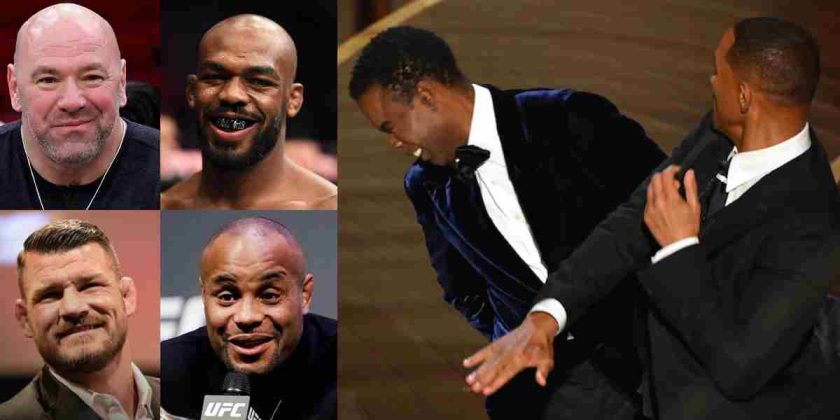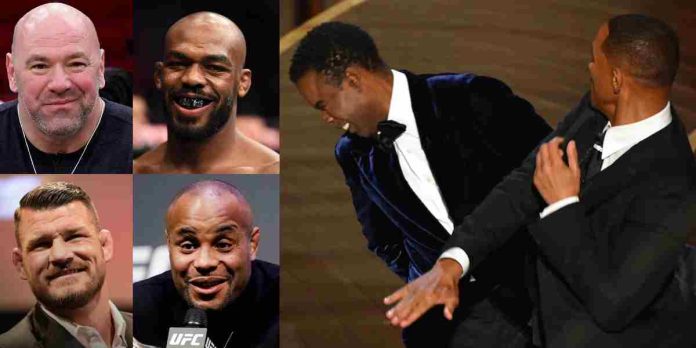 The MMA community has reacted to Will Smith striking Chris Rock in the face during the 94th Academy Awards ceremony Sunday night.
While presenting the best documentary feature at the Oscars, Rock joked about Jada Pinkett Smith's shaved head by comparing her to Demi Moore's character in the 1997 movie 'G.I. Jane'. Rock said that he couldn't wait to see Pinkett Smith, who has alopecia, an autoimmune condition that leads to hair loss in the G.I. Jane sequel.
Pinkett Smith, who was seated next to her husband, rolled her eyes at the insensitive quip. Moments later, Smith walked towards Rock on the stage and struck him in the face with an open hand, before returning to his seat and telling the comedian to "Keep my wife's name out of your f***ing mouth."
Minutes later, Smith returned to the stage to accept the Oscar for best actor for his portrayal of Richard Williams, the father of tennis legends Serena and Venus Williams, in the movie 'King Richard'. The veteran actor apologised for the incident but did not mention Rock by name.
"I know to do what we do, you gotta be able to take abuse and have people talk about you. In this business, you gotta have people disrespecting you. And you gotta smile and pretend that's okay," Smith said in his speech.
MMA Stars React To Smith-Rock Drama
After the incident, MMA stars, including Jon Jones, Michael Bisping, Dana White and Daniel Cormier among others took to Twitter to react to the incident.
Jones called Smith a "gangster" for doing what he did, but also appreciated Rock for how he handled the situation.
Bisping called him a "f***ing legend".
Dana loved this year's edition of the Oscars for obvious reasons.
Cormier was taken by surprise.
Dillon Danis isn't sure whether the incident was real or staged.
Kelvin Gastelum reacted with a meme.
And here's how others in the MMA community reacted to the incident.
What do you make of Will Smith slapping Chris Rock at the Oscars?
See also: