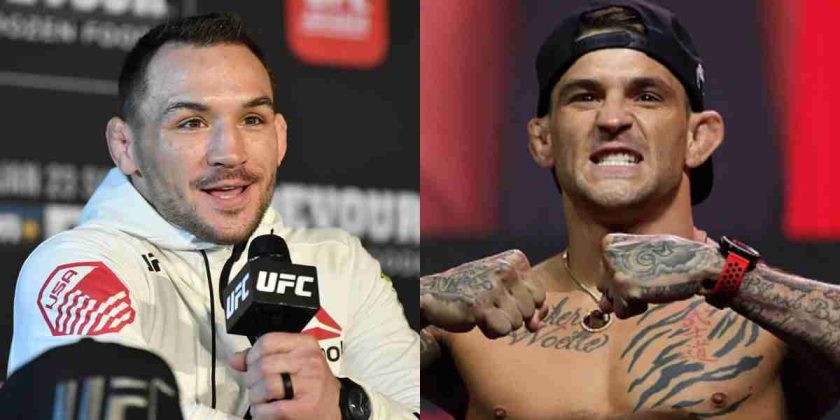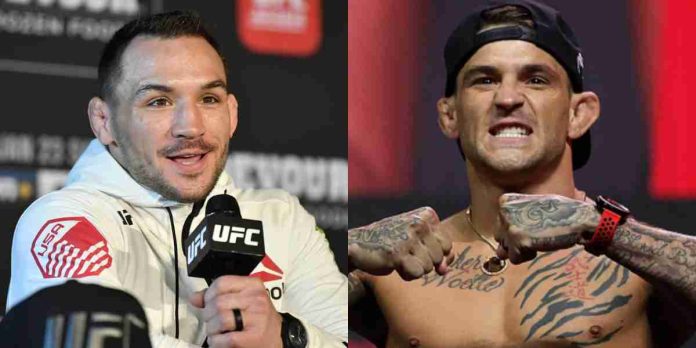 Michael Chandler has revealed why he isn't interested in fighting Dustin Poirier, after his spectacular second round knockout win against Tony Ferguson at UFC 274.
After brutally knocking out Ferguson with a front kick in their high octane fight at UFC 274, Chandler called out Conor McGregor in his fiery post-fight Octagon interview. He later called for a showdown with Nate Diaz, who tweeted that he's also willing to lock horns with the former Bellator champion.
Poirier, who last year said that he'd rather sell hot sauce than fight Chandler, likes the idea of fighting 'Iron' Michael now.
Michael Chandler On Dustin Poirier
Speaking on MMA Fighting's The MMA Hour, Chandler said that he hasn't forgotten what Poirier said about him in the past, and he's not interested in fighting him for that reason.
"I have no interest in fighting Dustin, honestly," Chandler said. "To be quite honest, I think he's a great dude. I think I like him for the sport, but I also think I was completely disregarded and pushed aside whenever I came into the organization. He completely disregarded me, he acted as though I didn't deserve to be where I was.
"Maybe it's a bit more of a personal issue, but I also don't think… is Dustin a draw? I guess he's the No. 2 guy [in the UFC rankings] now, but he's just kind of stayed at No. 2 and I don't know how active he's going to be. I did see him tweet that I was saying everyone else's name but his as if I didn't want to fight him because of technical reasons or what not, but it's more like I forgot about him."
Who do you think would win a potential fight between Michael Chandler and Dustin Poirier?
See also: