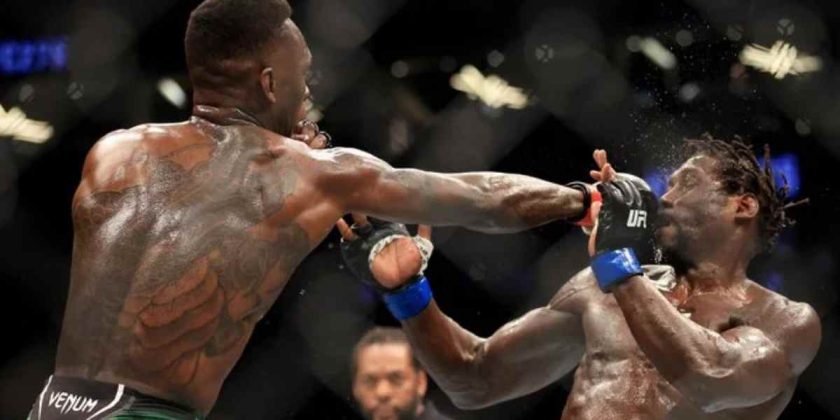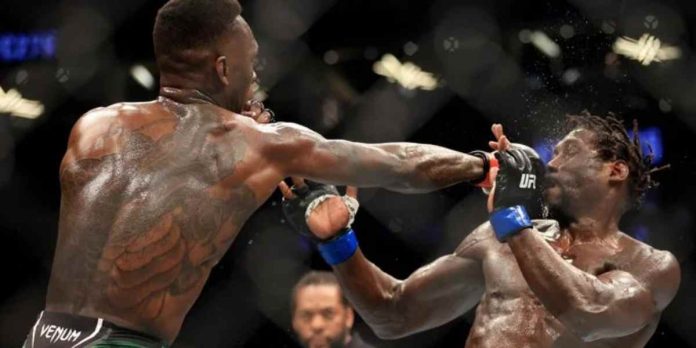 Israel Adesanya has come under fire for his lacklustre performance against Jared Cannonier at UFC 276, where he won by a comfortable unanimous decision.
Adesanya maintained his position at the top of the middleweight division with a comfortable win over Cannonier, and left the Octagon without a scratch on his face. The Nigerian-New Zealander's gameplan revolved around working the jab, feinting and landing leg kicks, which worked great against a powerhouse like the American, but left the crowd disappointed.
Hollywood star Chris Pratt, who attended the event, criticised Adesanya for his lackluster performance.
"I don't know this game, I'm just an actor, man. But, I'm not a fan of coming out with all that talk and then putting on a little bit of pitter patter," Pratt said.
Michael Bisping On Israel Adesanya
Speaking on the UFC 276 post-fight show on BT Sport, Bisping said that although Adesanya did what he ought to do, he needs to show a bit more urgency and willingness to entertain the crowd.
"Israel Adesanya showed once again his technical brilliance," Bisping said. "Problem is, that was never in question. People always knew he was technically fantastic, and you know, without flaw. What I wanted to see was a little more urgency, a willingness to entertain the 20,000 people that have paid for very expensive tickets.
"However: and still. That is the main thing. The walk, as we know here, was legendary. And he came out, and he was ahead in every round. I agree with 50-45. But as I say, a sense of urgency from both men was what was required. Listen, at the end of the day, Adesanya did what he set out to do. That was defend the belt. But however, he's not wowing audiences. He would probably say that's not his job, his job is to win fights and that's what he did."
Do you agree with Michael Bisping?