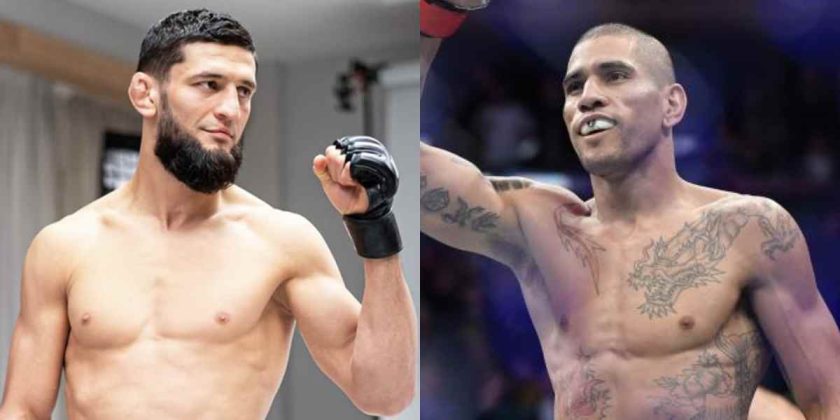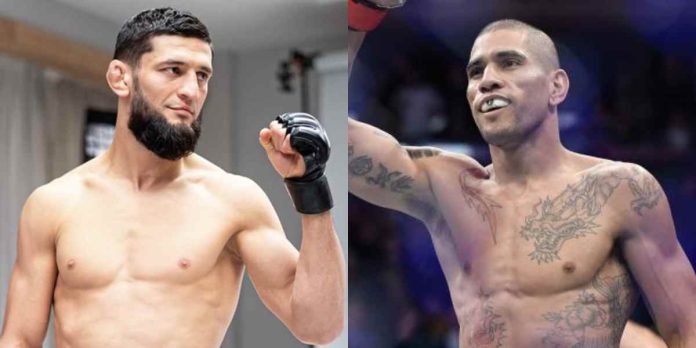 Alex Pereira's massive knockout victory against Sean Strickland at UFC 276 has caught the attention of many, including Khamzat Chimaev.
Despite suggesting that he may abandon his striking tendencies at UFC 276, Strickland paid a heavy price for trying to walk down Pereira, who initially relied on his kicking before landing a devastating left hook that dropped his opponent. The Brazilian landed a vicious right hand as the American tried to rise back to his feet, dropping his opponent for the second time, forcing the referee to intervene and call a halt to the contest.
Khamzat Chimaev Calls Out Alex Pereira
Pereira's thumping victory has caught the attention of Chimaev, who wants to lock horns with the kickboxing phenom.
Speaking to Helen Yee (as transcribed by BJPenn.com), Pereira said that he'd be open to fighting Chimaev in future, but a title fight against Adesanya is the priority.
"Well, I'm gonna keep the same line that I always do," Pereira said. "See what's in front of me you know, what is ahead. Same with Sean Strickland's fight. People were talking about Israel's fight, and I say 'Look, I've got this first.' Right now, I'm gonna take care of my fight with Israel for the title, and then after that we'll see about that."
Alex Pereira Slams Israel Adesanya
During a UFC 276 post-fight interview, Pereira, who holds two wins over Adesanya in kickboxing, slammed his arch-rival's 'disrespectful' performance against Cannonier in the main event, saying that the champ would be 'screwed' if he fights the same way against him.
"What really upsets me is to see the way that he fought tonight," Pereira said. "A performance like that because it is a disrespect to the crowd. I saw thousands and thousands of people here, I couldn't even count how many and it's sad to see people booing like that during a title fight. People were leaving in round four like the fight was over. It really upsets me. So I hope he do a much better fight with me cause otherwise your screwed."
Who do you think would win a middleweight title fight between Israel Adesanya and Alex Pereira?