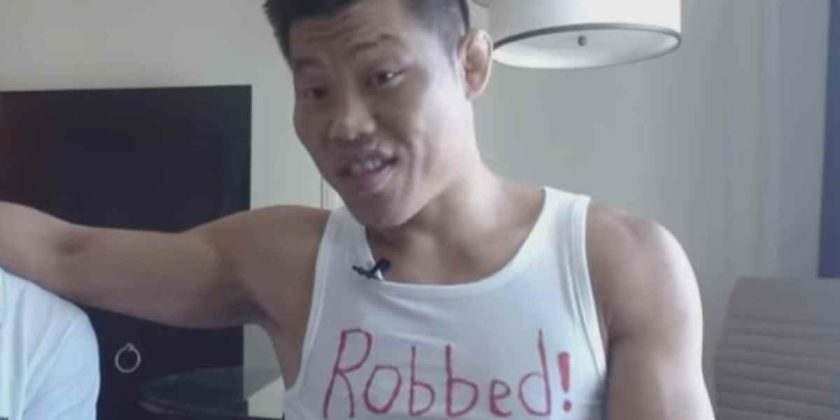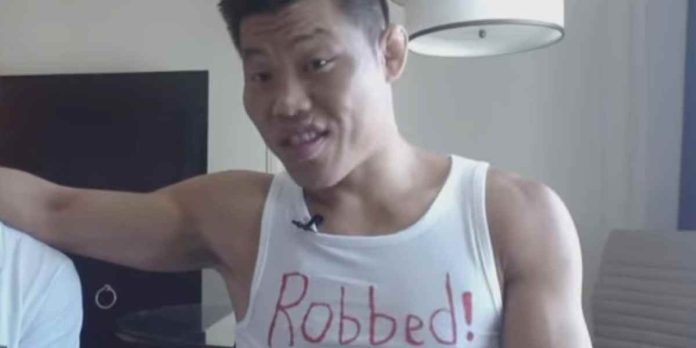 Li Jingliang believes he was robbed at UFC 279, where he lost his 180-pound catchweight bout against Daniel Rodriguez by split decision.
Jingliang's trip to Las Vegas was one to forget. He was initially booked to fight Tony Ferguson in the co-main event and even had a nice custom suit made for himself which he planned to wear at the press conference, but couldn't show it off as the press conference was called off after Khamzat Chimaev, Kevin Holland and Nate Diaz got into a scuffle backstage.
'The Leech' had to face a new opponent in Rodriguez after Chimaev's weight-cutting troubles forced the UFC to make three last minute changes. Jingliang's week went from bad to worse when he lost a controversial split decision to 'D-Rod'. Even Dana White said the Chinese star deserved to win.
Li Jingliang Records His Protest
During an appearance on MMA Fighting's The MMA Hour, Jingliang protested against the judges' decision by wearing an undershirt emblazoned with 'Robbed!'.
"It's a robbery," Jingliang told Ariel Helwani through his translator. "Last Saturday was an awful Saturday to me. Awful. All the athletes, all the fighters on this card prepared for these fights very seriously, but [there was] a lot of chaos during the last week. I think it's a terrible situation. I made weight. Tony made weight. Why don't [they] let us fight? It's not our fault. So why? Tony fought Nate as the main event — why don't they let me fight Nate? It's unfair. I cannot accept that. The only option I have at that time [was Rodriguez].
"I won the fight. … When Bruce Buffer declared a result, I couldn't believe that. I couldn't believe that. It's already an awful matchup, and the result was worse. And I think it just [is an] injustice. I can accept a loss, that's fine. But please tell me why, why I lost the fight. Please, the three judges, tell me why you think I lost the fight. Tell me. Explain to me, please."
Do you agree with Li Jingliang that he was robbed?