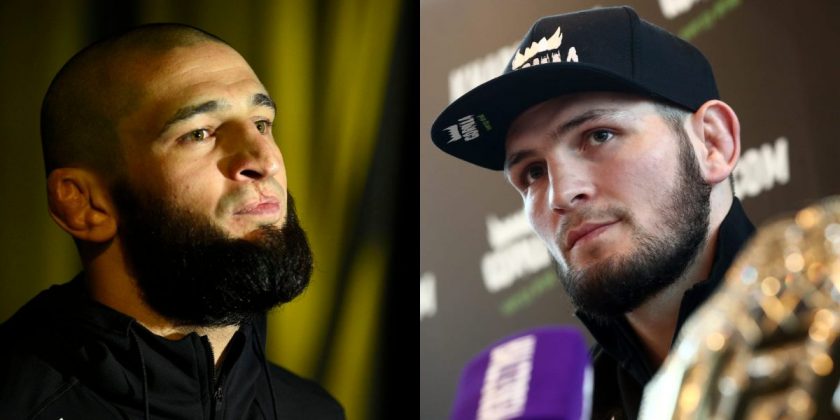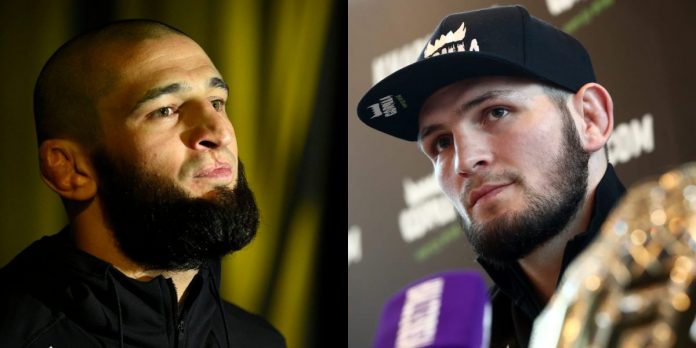 Former UFC lightweight champion Khabib Nurmagomedov wasn't impressed with the way Khamzat Chimaev carried himself in the lead up to UFC 279.
Chimaev was scheduled to face Nate Diaz in the UFC 279 main event, but was demoted to the co-main event against Kevin Holland after he missed the welterweight limit by 7.5 pounds. The Chechen-Swede showed no signs of regret for missing weight and forcing the UFC to make three crucial last minute changes. Instead, he flipped off UFC fans after being booed during the ceremonial weigh-ins.
Khabib Nurmagomedov On Khamzat Chimaev
Speaking at a recent event hosted by Human Appeal (as transcribed by Bloody Elbow), Khabib said that as a Muslim, Chimaev needs to surround himself with good people as he thinks 'Borz' is letting money and fame get to his head.
"If you are a Muslim, you should have good people around you – Muslims who can say: 'Hey, don't do this,'" Khabib said. "I recently watched the weigh-in of Khamzat Chimaev. I followed what was happening with his weight and looked at his team. There are no Muslims around him and this is very bad. Because if you are a Muslim, you need good, strong people around you. [They] will say: 'Come back, do this'.
"When you become famous and rich, when you gain power and [around you] there are no people who will give advice or you do not listen to them, then something will happen. You need good people, even if you don't like it, you need them."
Khabib also had trouble cutting weight during his career. He missed weight for his fight against Abel Trujillo in 2013, and was hospitalised two hours before weighing in for his UFC 209 bout against Tony Ferguson. 'The Eagle' also had a controversial weigh-in for his lightweight title defence against Justin Gaethje at UFC 254, where he won by second round submission.
Thankfully, life is good for Khabib now that he's retired.
Do you agree with Khabib Nurmagomedov that Khamzat Chimaev needs to surround himself with good people?