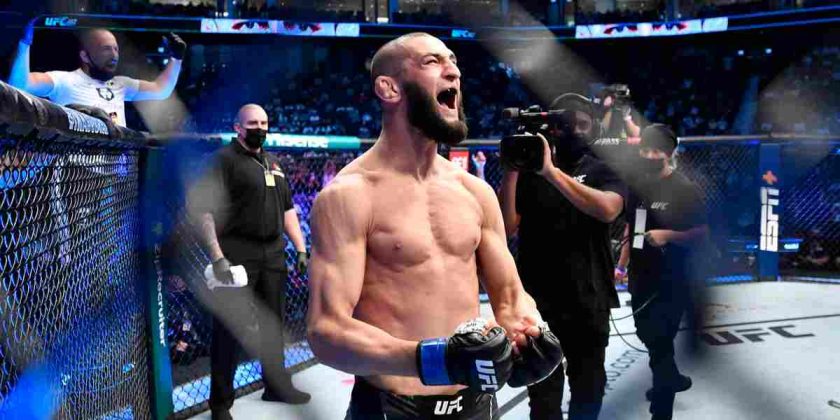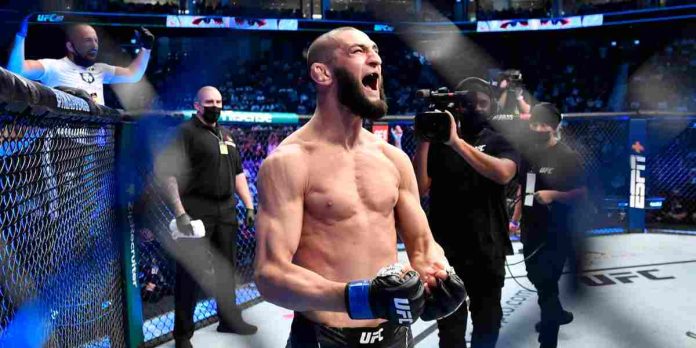 Khamzat Chimaev has revealed how he thinks a potential fight against UFC welterweight champion Kamaru Usman would play out.
Chimaev made his return to the Octagon against Li Jingliang at UFC 267, after more than a year out of action due to COVID. 'Borz' wasted no time whatsoever as he picked his opponent up seconds into the first round, and slammed him onto the ground, unloading a barrage of punches before choking him out in the fourth minute.
The Chechen-Swedish sensation now holds a total strike differential of 254-2 in his four UFC bouts and a control time of 11 minutes and 56 seconds. Chimaev's smashing return to fighting has people talking about how a potential fight between him and Usman would play out.
Chimaev On Potential Usman Fight
During the UFC 267 post-fight press conference (as translated by Young 'n' Faded MMA Society), Chimaev gave his thoughts on a potential fight against Usman.
"[Usman] is in his prime right now," Chimaev said. "He's doing good. I don't think they will give me the title fight immediately. I could wrestle him or… I don't know. I just go in there and fight. I don't have specific plans before bouts like 'I'm just going to submit them or outwrestle them'. If I can, I wrestle. Sometimes I throw punches and people fall unconscious. So maybe I'll submit him or maybe I'll knock him out or maybe I'll get knocked out. It could happen, this is the fight game. But I'm here to take my belt."
How do you think a potential fight between Khamzat Chimaev and Kamaru Usman would play out?
See also: