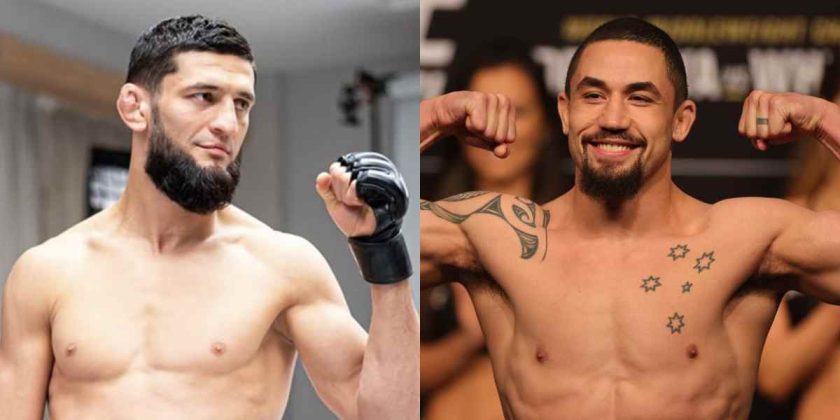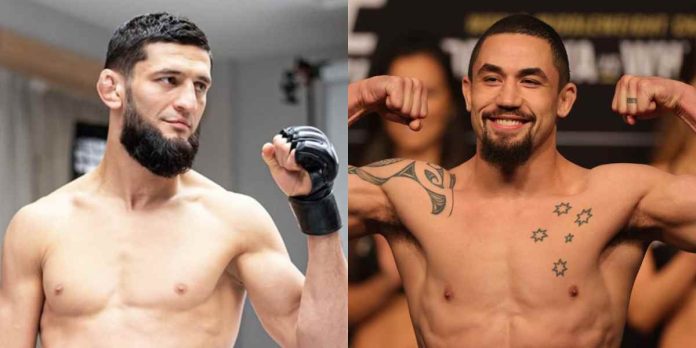 Khamzat Chimaev has explained why he doesn't want to fight former UFC middleweight champion Robert Whittaker.
Chimaev had a very animated UFC 279. He was scheduled to headline the card against Nate Diaz but was demoted to the co-main event against Kevin Holland after missing the welterweight limit by 7.5 pounds. The Chechen-Swede didn't let his troubles get in his head however and continued his winning ways with a trademark win over the American, submitting him in the first round without absorbing a single shot.
Khamzat Chimaev On Robert Whittaker
During the UFC 279 post-fight press conference (as transcribed by MMA Junkie), Chimaev said that he would "smash everybody" but he has a soft side for one UFC fighter.
"I like Whittaker, so I don't want to fight good guys," Chimaev said. "I need some bad guys, so I want to fight some bad guy, you know? And don't feel sorry for that.
"I want to train with that guy. He's really good, like one of the best guys in the world. I was watching his fight. … I'm a big fan, so I watch all things. I watch how he trains, and all these things. A lot of guys want to fight me, so Robert never said something bad about me. There's a lot of guys talking s*** about me. I'm gonna go take their heads off, you know? So, we'll see."
With Chimaev missing weight by a big margin, he might consider a middleweight bout next, with Whittaker fight being a possibility. 'Borz' said that he doesn't care who he fights next however.
"I'm going to go back and listen to my coach," Chimaev said. "If he says we go to 170, we go 170. If he says we go heavyweight, we go heavyweight. I don't care. I do my training camp how he said. We train hard, never stop. … I have nothing to do. Only gym is my life."
Who do you think would win a potential fight between Khamzat Chimaev and Robert Whittaker?