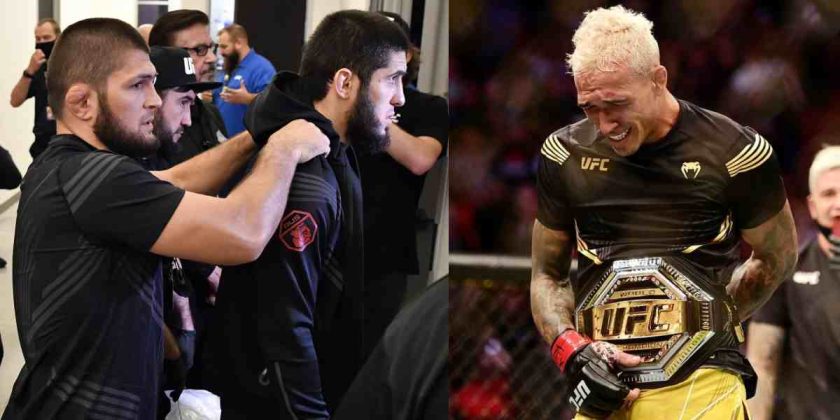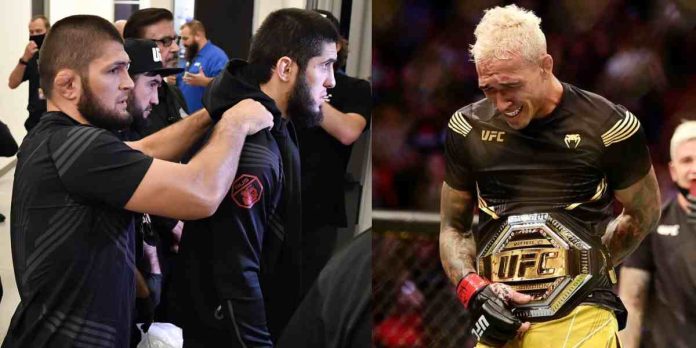 Khabib Nurmagomedov believes Charles Oliveira is starting to feel the pressure ahead of his vacant lightweight title fight against Islam Makhachev at UFC 280.
Makhachev and his team are oozing with confidence ahead of the fight, with Khabib saying that his best friend plans to finish the job early against Oliveira. Islam has also taken a few jabs at his opponent for calling out Conor McGregor, saying that it's "embarrassing" that a champion wants to fight someone like the Irishman or Nate Diaz.
Oliveira believes Makhachev and Khabib are being "arrogant" and they will pay the price when the time comes.
Khabib Nurmagomedov On Charles Oliveira
Speaking to Sambo Says during an Eagle FC event (as transcribed by MMA Fighting), Khabib denied being "arrogant", claiming that Oliveira is feeling the pressure because Makhachev is a tougher fight than his previous opponents.
"Tell me who offended him," Khabib said. "Not Ali [Abdelaziz], not myself, no one insulted him. Definitely not Islam, he has never insulted anyone. I don't see any kind of arrogance here. I simply think he's starting to feel the pressure of the fight.
"You know when you train to fight someone … for example, someone like [Justin] Gaethje, or [Michael] Chandler, or [Dustin] Poirier, you know that they have already lost in the past. You can see their pluses and minuses. And you can identify the 'switch' in their fights that lead them to victory or defeat. So what I believe, and this is solely my point of view, he may consider this arrogance as well but it doesn't matter … It appears to me that he looks at Islam and can't find that 'switch'. So because of that, he gets nervous. He starts to talk about this so-called arrogance and so on but who does this really concern?"
Do you agree with Khabib Nurmagomedov?