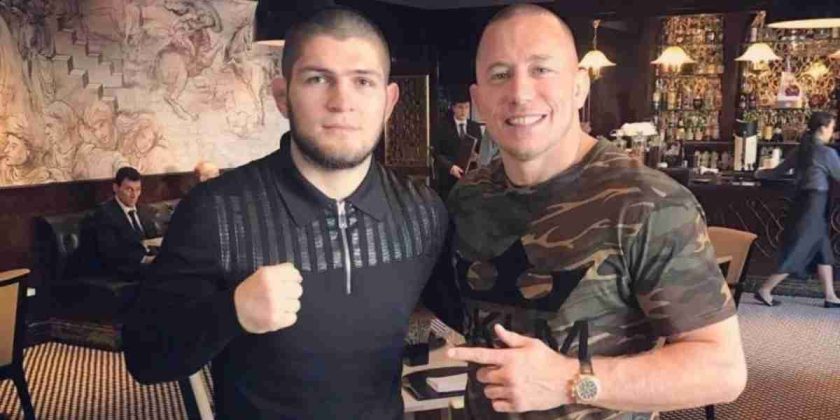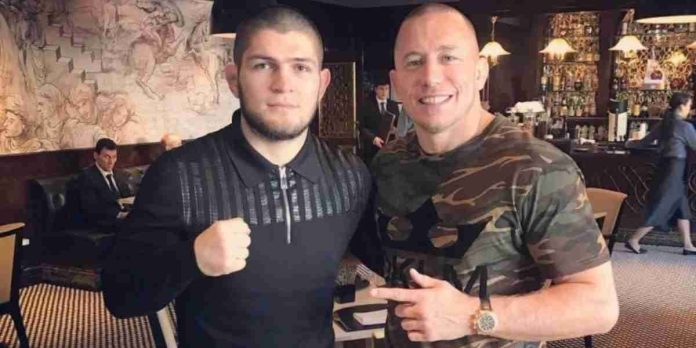 Former UFC lightweight champion Khabib Nurmagomedov has said that Georges St-Pierre was the ambassador of the UFC around the world during his prime.
St-Pierre is regarded as one of the greatest fighters of all time. He dominated the welterweight division for nearly a decade, becoming the undisputed champion twice, the interim champ once, and defending his title nine times before retiring in 2013. GSP returned to challenge Michael Bisping for the middleweight title at UFC 217 in 2017, when he won by third-round submission, but vacated the title a few months later.
'Rush' was also linked to a super fight with Khabib before he announced his retirement at UFC 254 last year, when he defended his title against Justin Gaethje by second round submission.
Khabib's Thoughts On St-Pierre
Speaking to Daniel Cormier for EA Sports UFC, Khabib heaped praise on St-Pierre, saying that he helped MMA grow in Canada and around the world.
"I think he was the first fighter who become a well rounded fighter," Khabib said. "He can strike, he can wrestle, he can take you down, he can hold you there, he can give you crazy ground and pound, he can do a lot of submission. He represents real mixed martial arts… And when Georges St-Pierre become [Canadian] athlete of the year, and he become I think three time. Hockey is huge in Canada and GSP beat him [Stanley Cup winner Sidney Crosby]. He put MMA on next level, in Canada. All these years, like five to six years, he was the ambassador of the UFC around the world. It's my opinion."
Khabib also picked his two favourite St-Pierre fights.
"Matt Hughes and Matt Serra, this is two fights my favourite GSP fights," Khabib said. "I think, my opinion it was GSP prime time, that time. I was watching with my father his fights. I think he was my father's favourite fighter. He all the time tell me look at how he uses his hips and elbows."
Do you agree with Khabib Nurmagomedov?
See also: