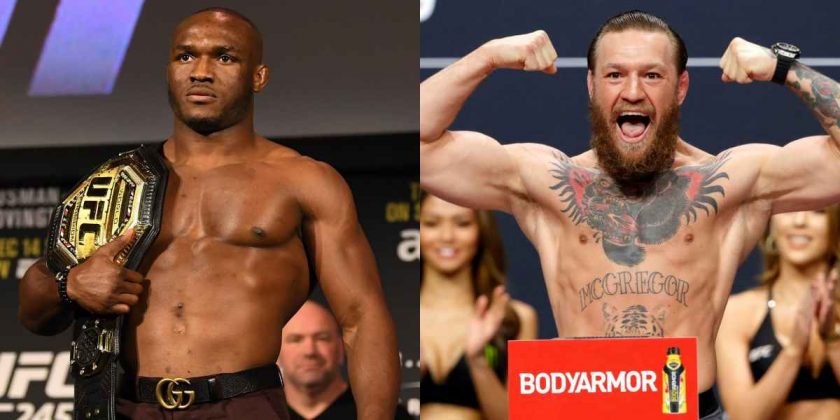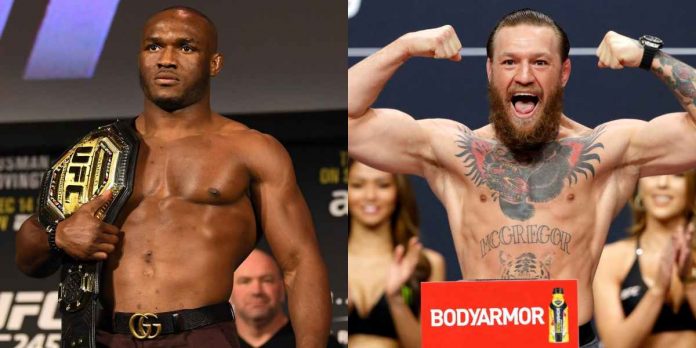 UFC welterweight champion Kamaru Usman believes Conor McGregor will never get his hands on a UFC title again because he's lost his competitive fire.
Usman is set to make his sixth title defence later this month at UFC 278, where he faces a tough challenge in Leon Edwards. Should he get past 'Rocky', the Nigerian wouldn't mind locking horns with McGregor, who hasn't competed since July last year at UFC 264, where he lost to Dustin Poirier by a doctor's stoppage after breaking his tibia in the first round.
McGregor, who recently resumed full training, needs more time to prepare for his return, which will likely take place at welterweight. The Irishman will also be filming for his Hollywood debut in the coming months, which further casts doubts over his return to the Octagon in the near future.
Kamaru Usman On Conor McGregor
In a recent appearance on 'I Am Athlete' podcast (as transcribed by MMA Junkie), Usman said that while he thinks McGregor still wants to fight, he doesn't believe he has the desire to become a champion again.
"He's not necessarily done, but he's done as a champion," Usman said. "This is my perspective, because when I fight guys, I study their hearts. When I watch fights, I watch their heart and for me, he's done. He's done, because I don't know whether the goal was to get the money.
"I don't know if that's what it was, because there's a story about him: He was broke. For me, it seemed like it was about not being broke, getting money. So I understand that. Now he's not broke. But how are you gonna be champion, because that's what drove you to become champion, because you didn't want to be broke? Now you're not broke anymore."
Do you agree with Kamaru Usman?