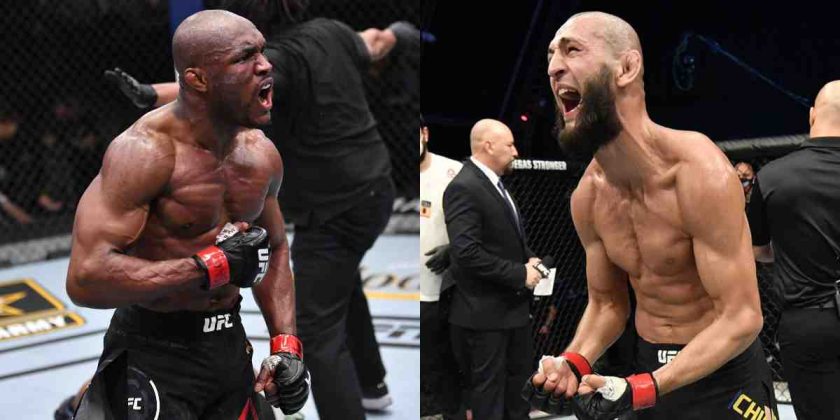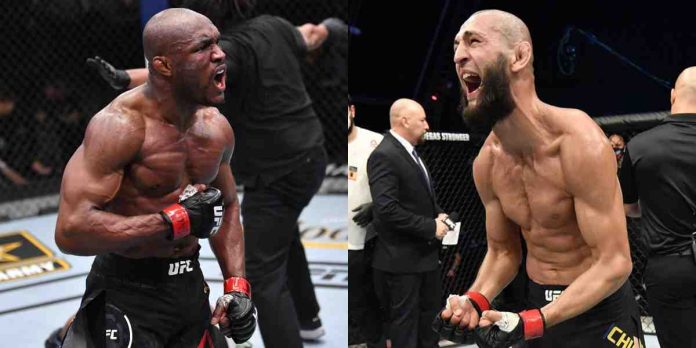 Kamaru Usman has a piece of advice for Khamzat Chimaev after his big win against Gilbert Burns in a closely contested bout at UFC 273.
Despite being a massive underdog, Burns proved that he was up to the task as he pushed Chimaev to the limit, clipping him in the second round and inflicting heavy damage on him. The Chechen-Swede stunned the Brazilian as well, and the back-and-forth action between the two earned them the fight of the night bonus.
With an impressive showing against Burns, Chimaev has certainly proved that he can go toe-to-toe with the best in the welterweight division, and that has caught Usman's attention.
Kamaru Usman Impressed With Khamzat Chimaev
Speaking to TMZ Sports (as transcribed by MMA Fighting), Usman said that Chimaev shouldn't get carried away with the hype despite a gritty performance against Burns.
"Khamzat's definitely showed [that he can fight against the best], he's done a great job," Usman said. "Props to the kid, he's done a great job with what he's been presented and the opposition. I take nothing away from him. I think if I had a word of advice for him, it's just to not get caught up in [the hype], because it kind of seemed like that was starting to happen.
"He's gone out there and he's beat the number two guy in the division. He got the 'W', so it's very difficult for me to say, 'No, he doesn't deserve anything.' No, he went up there, he's gone up against Gilbert Burns and he was able to go out there and do what he needed to do, so I take nothing away from him. If that's the fight then that's the fight. If that's not the fight, then that's not the fight."
Do you agree with Kamaru Usman?
See also: