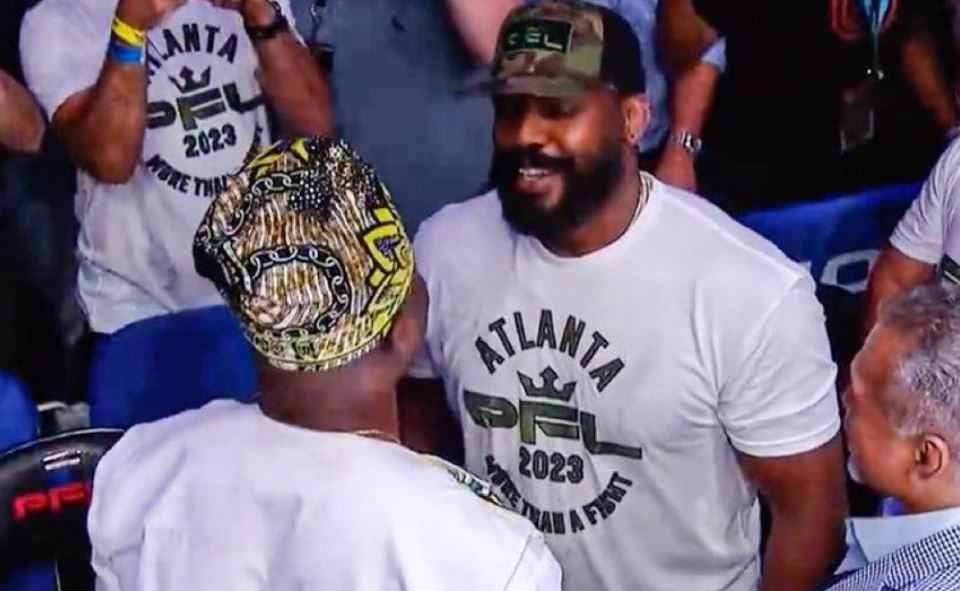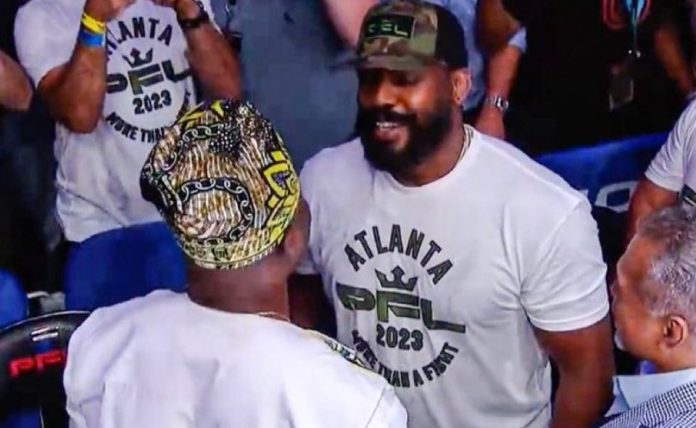 UFC heavyweight champion Jon Jones believes he's 'badder' than former champ Francis Ngannou.
Jones and Ngannou, who were supposed to take each other head-on in a clash for the ages when the Cameroonian was still in the UFC, had a recent run-in at PFL 5, where Jones was supporting heavyweight tournament contender Maurice Green.
Since Ngannou recently signed with the PFL, and is quite literally the star of the promotion, Jones said that he knew he'd run into him, but he wasn't really afraid of things getting out of hand.
"I've met Francis before," Jones said during the PFL broadcast before their face-to-face (as transcribed by MMA Fighting). "He's a sweetheart of a guy. Outside of the fight game, he's a pretty respectful guy. I can be very respectful as well. I'm looking forward to seeing the brother, and giving him some knuckles. If we're not fighting, there's no reason to have a bunch of beef, especially when we see each other in person."
When asked about a potential fight against Ngannou, Jones said that he doesn't really care about 'The Predator's' big muscles because fighting-wise, he's simply levels above.
"I know that I'm badder than him," Jones said. "I don't have to give him any weird looks or whatever. His big muscles, he's a very impressive looking figure, but when it comes to this fight game, it's my whole world and I know who I am."
Jon Jones made his return to the Octagon at UFC 285, where he defeated Ciryl Gane to win the vacant heavyweight title, and he's now expected to face Stipe Miocic by the end of this year.
Who do you think would win a potential fight between Jon Jones and Francis Ngannou?