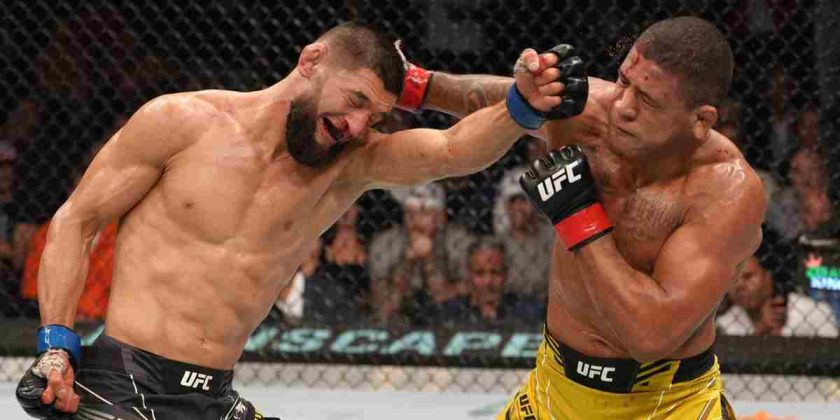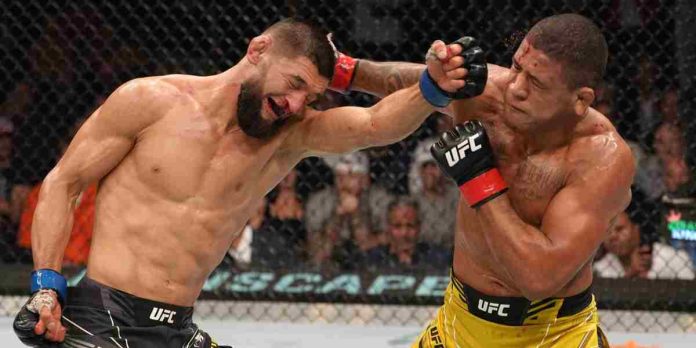 Gilbert Burns has warned Khamzat Chimaev against making a move up to middleweight to face the likes of Alex Pereira and Paulo Costa.
Chimaev is 5-0 in the UFC, with two wins at welterweight and middleweight each and one at 180 pound catchweight. He has blown his opponents away in four out of his five fights, with Burns giving him the toughest fight of his career, pushing him to the limit and hurting him viciously despite losing a closely-contested decision at UFC 273.
Gilbert Burns On Khamzat Chimaev
In an interview Super Lutas (as translated by Lucas Rezende), Burns said that if he can stun Chimaev with his power, Pereira being the more powerful puncher would make the Swedish-Chechen regret making a move up to middleweight.
"I knocked him down, imagine what Poatan can do," Burns said. "If I was able to knock him down (consider Poatan's power), his hands must be so heavy. I took him down and he is still talking trash to those guys. Poatan's hands are huge, Paulo Costa's hands are huge."
Chimaev kicked off his UFC career with three wins in a little over two months in 2020, but has since slowed down, fighting twice in over two years, mainly due to COVID-related health issues that kept him out for over a year. Burns thinks his rival has broken his "kill everybody" character and that he liked him better when he was willing to fight anyone.
"Things happened too fast for him," Burns said. "Three fights in and he was already a star. At first, I really liked him. He would call people out and keep fighting. Then he broke character. He's unwilling to make weight, he causes trouble. I like the guy who would call anyone out. Who would take any fight."
Do you agree with Gilbert Burns?