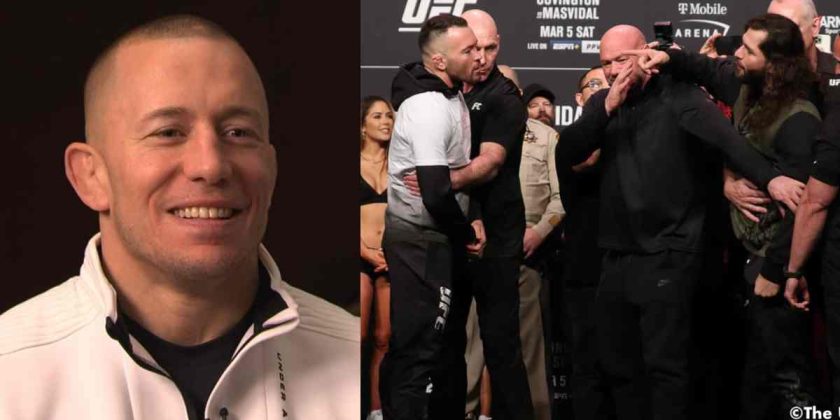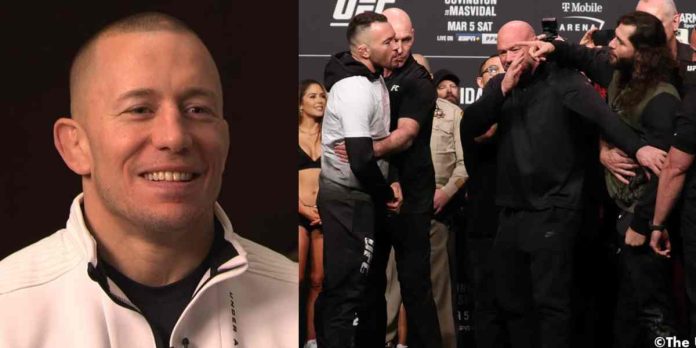 Former two division UFC champion Georges St-Pierre has given his thoughts on Jorge Masvidal's assault on Colby Covington.
Although he lost to Covington by a lopsided unanimous decision at UFC 272, Masvidal said during the post-fight press conference that his rivalry with Colby wasn't over and he'd punch him in the face the next time he sees him, which is exactly what he did last week outside the Papi Steak restaurant in Miami, where he sucker-punched 'Chaos' multiple times before fleeing.
Masvidal, who faces charges of aggravated battery resulting in great bodily harm and criminal mischief, will appear before the court on April 21st. He could face up to 15 years in prison if he's found guilty.
Georges St-Pierre On Masvidal-Covington Drama
When asked about the incident on MMA Fighting's The MMA Hour by host Ariel Helwani (as transcribed by BJPenn.com), St-Pierre said that some fighters take trash talking too personally, although it's a great way to promote fights and make more money.
"Things get out of hand," St-Pierre said. "I think guys, they take it too personal. For me, it never mattered what my opponent was saying to me. For me, it's not personal, it's about business, and the more he was trash talking me, the more, in a way, I was making money. So I really have to give a big thank you to all the ferocious opponents I had who were trash talking me, because they built up the fight in a better, interesting way for the audience, so I made more money. It's good for business."
Although St-Pierre doesn't mind trash talking, he understands that there are no holds barred, so the best thing fighters can do is keep their personal lives away from the limelight.
"There's a reason why I never put my family and my real private life public," St-Pierre said. "It's because I know if someone wants to get to me, it's easy for me. It comes from one ear and it goes out the other one and I don't take it personally. But if you tried to get to someone that I love or someone in my family, now it's gonna be a different story. So that's why I always tried to hide this part of my life… Most guys don't think like that.
"A lot of them, sometimes they want to use their families to build up a better platform, to showcase their — that's okay too. It's just for me, I knew coming from a martial arts background, it's not a game that we play, and if you want to get to someone to make him lose his chill, there's a way to get to someone and that's to attack someone that he loves."
Do you agree with Georges St-Pierre?
See also: