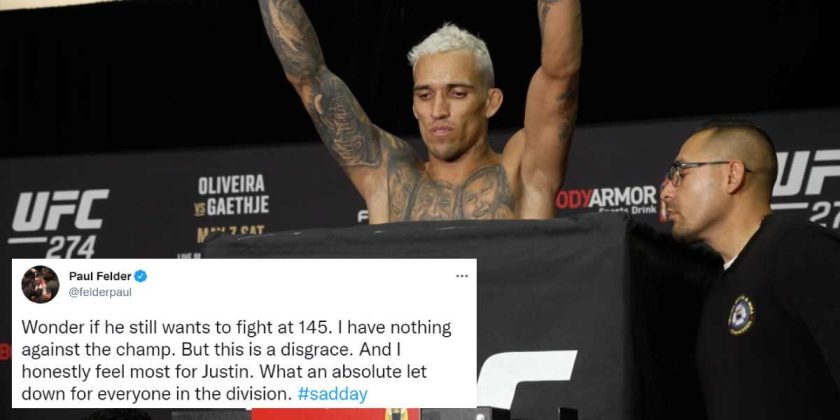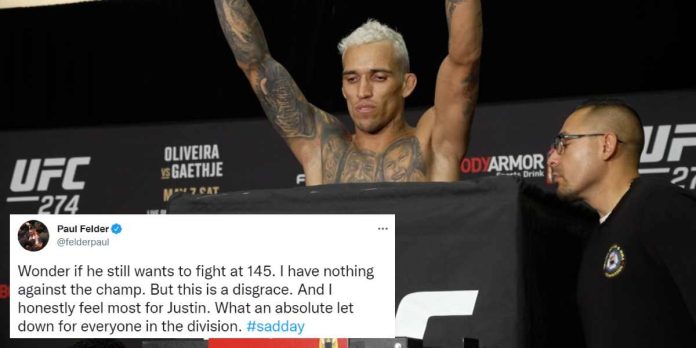 Charles Oliveira became the first UFC fighter to be stripped of a title after he missed weight for his lightweight title fight against Justin Gaethje at UFC 274 by half a pound. The Brazilian's team alleged that the hotel scales were at fault.
Moments after Oliveira missed weight, fellow fighter Ariane Carnelossi claimed that the hotel scale had been reset overnight. A UFC official allegedly told all the fighters competing at UFC 274 that the scale was not showing the same weight as before. Additional sources also claimed that the weight differential was from half a pound to two pounds, as reported by MMA Fighting.
Speaking to Combate, Oliveira's coach Diego Lima complained about the scale as well.
"We went to sleep on weight, we checked the weight on the scale the organisation leaves for us downstairs and everything was ok," Lima said. "When we checked it in the morning, [his weight] was off. We even posted last night that he had made weight because that's what really happened. You're witnesses of this, Charles has never missed weight since he moved up to 155. Even when there was no belt [on the line], he was under the limit, he didn't use the pound allowance. If I keep saying it, people will think it's an excuse, but that's the truth. We even posted last night he made weight well. He made weight and went to bed."
The lightweight title will be vacant if Oliveira wins at UFC 274. Only Gaethje is eligible to walk away with the belt wrapped around his waist if he wins.
Gaethje took to Twitter and told Oliveira and his team to 'cut the bulls***' because three out of the four fighters involved in the two title bouts at UFC 274 successfully made weight.
Islam Makhachev tweeted in support of Oliveira, adding that he's looking forward to fighting the winner of Saturday night's main event.
Paul Felder wasn't very supportive of Oliveira however.
Jake Paul also gave his two cents, suggesting the use of digital weighing scales.
Here's how others reacted to Oliveira missing weight.
What are your thoughts on Charles Oliveira missing weight?
See also: