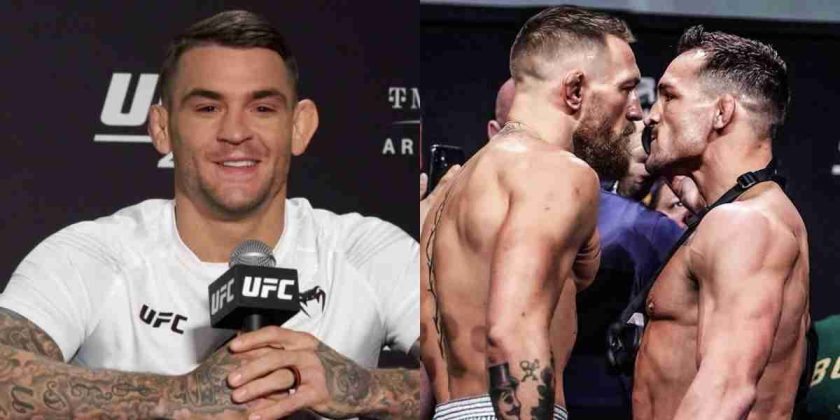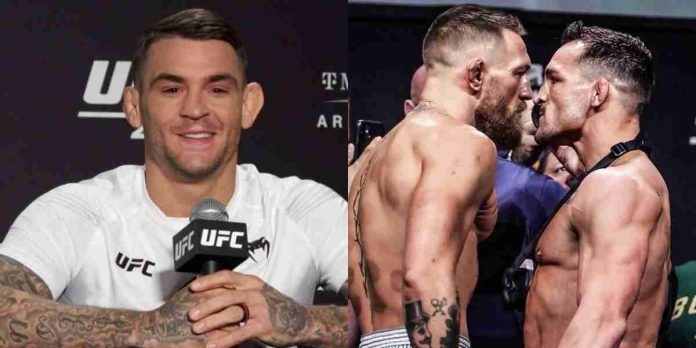 Dustin Poirier has given his thoughts on the blockbuster fight between Michael Chandler and Conor McGregor, which will take place later this year.
Chandler and McGregor will coach the next season of The Ultimate Fighter, which is slated to begin in May. The two fighters will clash at the end of the season at a time and date that are yet to be decided. It didn't take long for Poirier, who's finished both men in the past, to respond to the announcement.
Dustin Poirier Predicts Chandler vs McGregor
If there's one person who knows Chandler and McGregor inside out, it's Poirier. In a recent appearance of the 'Weighin In' podcast (as transcribed by BJPenn.com), 'The Diamond' gave his prediction for the most anticipated fight of 2023.
"Either guy can win," Poirier said. "I think if Conor comes back with the same timing and speed that he had before the injury, if he comes back to that, he's gonna stop Chandler. Chandler's very hittable. Conor's a guy that when you're in front of him, it looks like he can't touch you, but he touches you. He's longer than he looks when he's in there. He uses his length and speed and timing really well to close that distance.
"Chandler's a guy who needs explosive movements to get in and out. If Conor's timing's the same, I think he hurts Chandler. It's gonna be a five-round fight, Conor doesn't fight co-mains or three-round fights. So, if Chandler can get in there, get some blood in his legs, and get him to wrestle hard for the first few rounds, maybe it goes different. But if Conor has any similarity to who he used to be before the injury and before the layoff, I think he stops Chandler."
Poirier defeated McGregor twice in 2021. At UFC 257, he knocked the former two-division champ out in the second round, before defeating him by a doctor's stoppage in their trilogy at UFC 264, whereas the Louisiana native submitted Chandler in the second round of their barn burner at UFC 281.
Do you agree with Dustin Poirier?