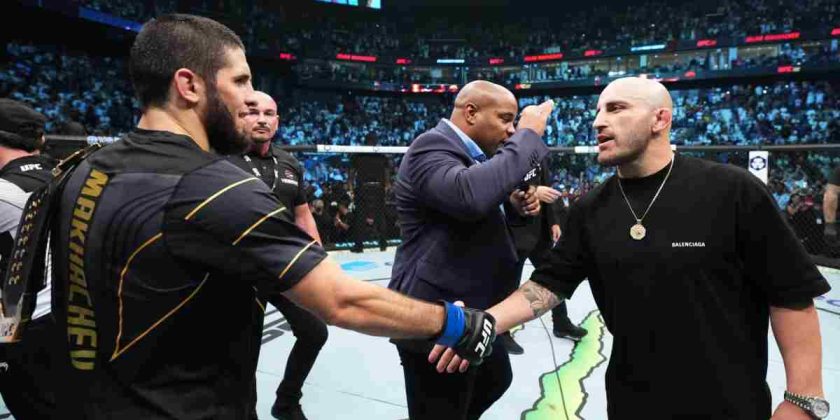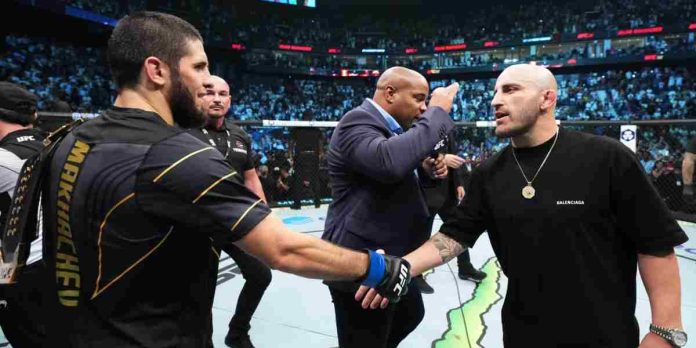 Daniel Cormier believes Alex Volkanovski defeating Islam Makhachev in their lightweight title fight at UFC 284 will be the biggest upset in UFC history.
Makhachev won the vacant lightweight title at UFC 280, where he defeated Charles Oliveira by second round submission. In his post-fight Octagon interview, he called out Volkanovski for a showdown in Australia, which was graciously accepted by the featherweight champion. The Aussie is an explosive striker with solid defensive wrestling, which makes many believe that he'll be the toughest test for the Dagestani. Cormier doesn't agree, however.
Daniel Cormier On Makhachev vs Volkanovski
Speaking on his '3 Rounds with Daniel Cormier' podcast (as transcribed by SportsKeeda), Cormier said that Volkanovski will pull off the biggest upset in MMA history if he beats Makhachev.
"There have been a number of upsets in mixed martial arts… In my opinion, (if) Volkanovski wins this fight, it's the biggest," Cormier said. "It's bigger than anything we've seen because, I'm telling you, when you get into the details of this matchup, it seems a very hard match for Volkanovski to win because his skill set is almost catered for a guy like Makhachev because of Makhachev's ability to stand and also his size.
"Volk is a very big guy. Remember, we've spoken ad nauseam about how big he was when he played rugby, but that doesn't matter, he's still shorter. Because he's shorter it makes for him – Makhachev – to use the leverage against Volkanovski. I believe that this would be the biggest upset in mixed martial arts history."
Do you agree with Daniel Cormier?