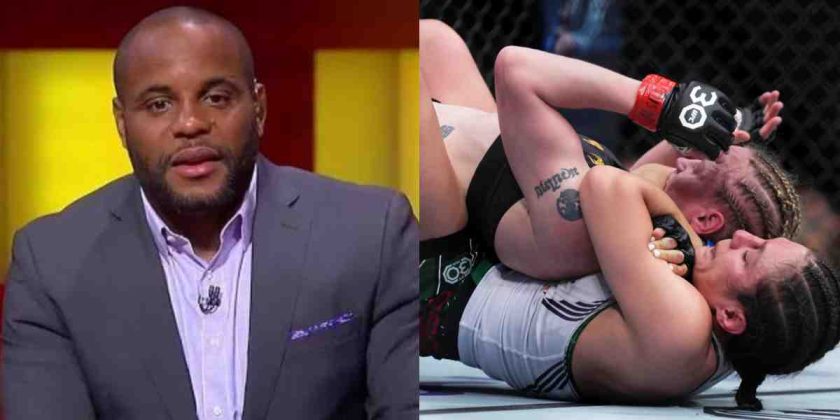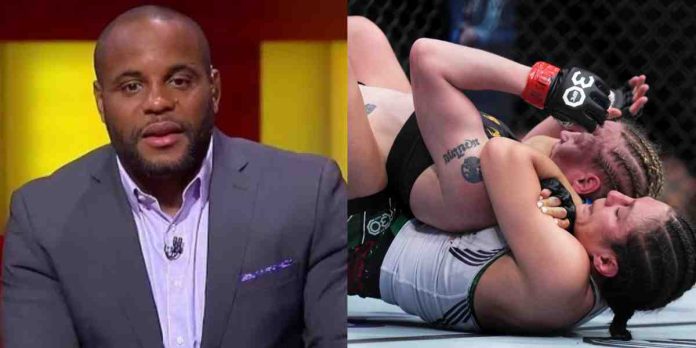 Daniel Cormier is surprised that Valentina Shevchenko has been consistently making mistakes inside the Octagon.
At UFC 285, Alexa Grasso shocked the world by submitting Valentina Shevchenko in the fourth round of their flyweight title fight. The Kyrgyzstani had a tough first round, but from the second round onwards, she was in cruise control until she attempted a spinning back kick and missed, allowing the Mexican to take her back and finish her with a brutal rear-naked choke submission.
Daniel Cormier On Valentina Shevchenko
Even in her previous title defence against Taila Santos, Shevchenko was pushed to the limit and barely managed to secure the win by split decision. Speaking on his YouTube channel (as transcribed by MMAJunkie), Cormier said that 'Bullet' has been missing her mark lately and that's surprising.
"I never thought I would see Valentina Shevchenko making consistent mistakes," Cormier said. "She made mistakes in the last fight against Taila, trying to score takedowns and rushing them, and she made mistakes tonight. Ultimately, the biggest mistake was trying that spinning back kick from in close.
"The last person I remember doing that was Chris Weidman trying an ill-advised spin kick against Luke Rockhold, got himself taken down and beaten up, which ultimately led to Luke becoming the champion. Same thing tonight. When Grasso saw that spinning kick, which she said she trained for, she jumped on her back like nothing I've ever seen before, and she went crazy trying to chase the finish."
It's true that Shevchenko made a big mistake by going for a spinning back kick from close range, but Grasso's perfectly executed back take was a result of sheer hard work. In a recently uploaded video on social media, the newly crowned champion can be seen practicing the fight-ending sequence with her coach.
What do you make of Daniel Cormier's comments about Valentina Shevchenko?