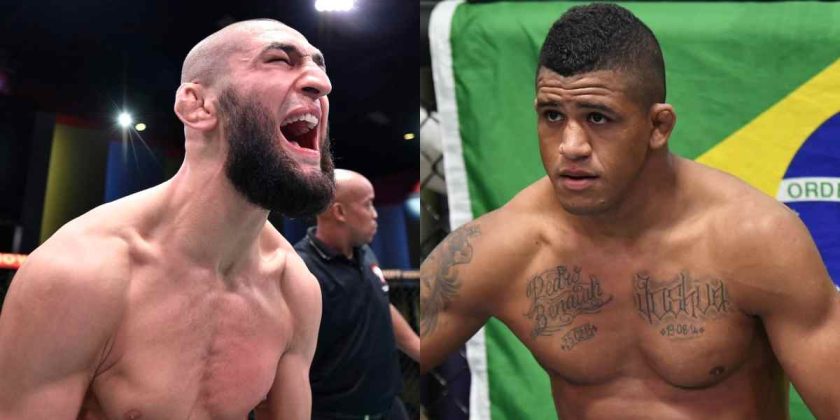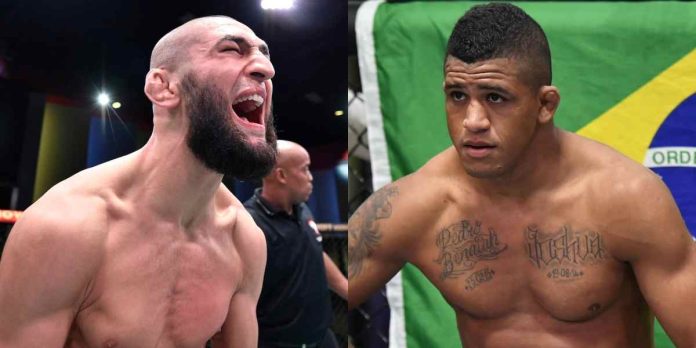 Daniel Cormier has explained why he thinks Khamzat Chimaev should fight former UFC welterweight title challenger Gilbert Burns next.
Chimaev, who spent more than a year on the sidelines due to long term effects of COVID, made a smashing return to the Octagon at UFC 267, where he choked out Li Jingliang in the first round. 'Borz' has a number of potential opponents for his next fight, with Nate Diaz being at the top of his list. The UFC also seems interested in a fight between the two.
Potential Nate Diaz Fight
Speaking to the media after UFC 267, Dana White said that the promotion will "100 percent" talk to Diaz about a potential fight against Chimaev.
"We're gonna talk to Nate about it," Dana said. "One hundred percent, this guy is like nothing that anybody's ever seen. When you think about, he's got more UFC wins than he's been hit inside the Octagon. Insane. And the other night, our social team, they filmed his walkout on Instagram Live, it broke the record. It's the biggest Instagram Live we've ever done."
Daniel Cormier's Pick
While many in the MMA community, including Dana, are interested in a potential fight between Chimaev and Diaz, Cormier believes the Chechen-Swedish star deserves to lock horns with a top-five welterweight.
Speaking on his 'DC and RC show' on ESPN, Cormier said that Gilbert Burns would be a good matchup for Chimaev.
"For Khamzat Chimaev? It's time to give him one of the higher-ranked guys," Cormier said. "And I think the guy that could be good for him, is Gilbert Burns. Because Gilbert Burns has a well-rounded skill set, he's a great wrestler, he's a great jiu-jitsu guy, his stand-up has improved and he's back. Right? So he lost the title fight to Kamaru [Usman] but then he beat Stephen 'Wonderboy' Thompson and showed that he's back on the winning track, so that makes sense for him."
Do you agree with Daniel Cormier?
See also: