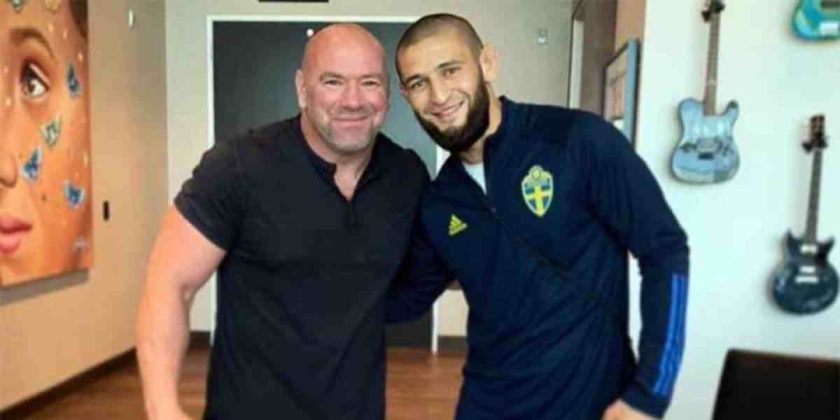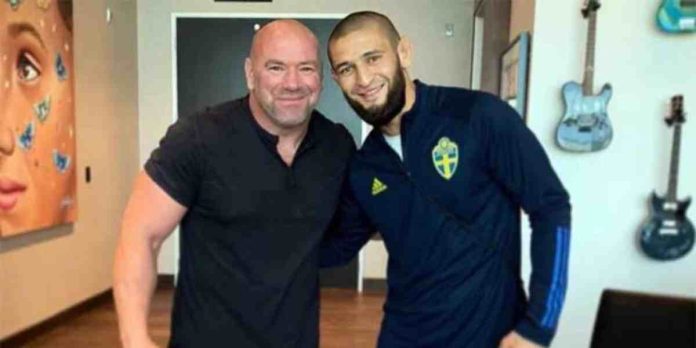 Dana White has said that those who believe Gilbert Burns 'exposed' Khamzat Chimaev at UFC 273 are out of their minds.
Chimaev passed the biggest test of his career by scoring a unanimous decision win over Burns, who pushed him to the limit. The surefire fight of the year candidate left 'Borz' tired, bloody, and in pain, but he said that he enjoyed every minute of his fight against the Brazilian, whose toughness took him by surprise.
"A f***ing tough guy, I didn't know he was so tough," Chimaev said after the fight. "The guy comes up with Brazilian heart. Thank you for this fight, Gilbert. I love you, brother, all respect. This is just what I do for work to make money."
Having absorbed only one significant strike in his first four fights in the UFC, which he won in a dominant fashion, some fans were expecting Chimaev to steamroll Burns as well, but many are now doubting him. Dana remains a firm believer in the Chechen-Swede, however.
Dana White Defends Khamzat Chimaev
During the UFC 273 post-fight press conference (as transcribed by MMA Fighting), Dana said that those doubting Chimaev after his barnburner against Burns are out of their minds.
"Well he's human," Dana said. "Any asshole that said that doesn't think he's human. He's a human being and he just beat the number two welterweight in the world with a couple of fights in the UFC. If you don't think he's the real deal, you're out of your mind. Yeah, he's human.
"Till keeps telling me, 'This guy never gets tired, he never runs out of energy,' but you can't train in a gym for what happened tonight. You can't. I'm sure this week, leading up to this week, he's had a ton of pressure on him, a lot of anxiety, who knows how well he slept last night, all the things that go into the buzz and energy. And I'm sure there was a huge adrenaline dump after that first round. This is s*** you can't train for, and you either make it through it or you don't. He made it through with flying colors."
Do you agree with Dana White?
See also: