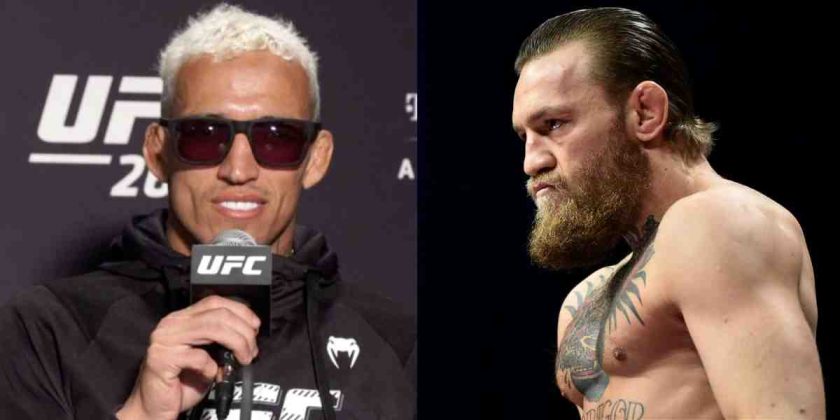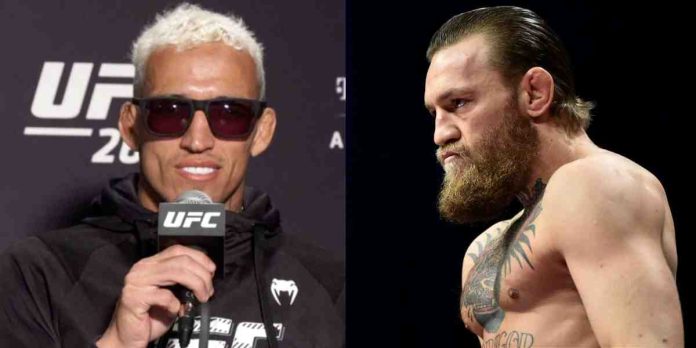 Conor McGregor has hit back at Charles Oliveira after the latter gave his prediction for the Irishman's upcoming fight against Michael Chandler.
McGregor will coach the upcoming season of the Ultimate Fighter opposite Michael Chandler, with the two locking horns at the end of the season. The blockbuster fight between the two lightweights will likely take place at welterweight, and the MMA world is already excited about it.
Conor McGregor Responds To Charles Oliveira
In a recent appearance on MMA Fighting's The MMA Hour, Oliveira was asked to give his prediction for McGregor vs Chandler, and this is what he had to say.
"I don't think McGregor's going to win," Oliveira said. "I mean, he's a guy that sells. He's great to promote, and people love his fights, but I don't think he's going to win. So [I don't have to deal with it]. Yeah, I believe Chandler is an explosive fighter. McGregor hasn't fought in a long time, so I believe Chandler is going to win."
Naturally, McGregor wasn't very pleased to hear what the former lightweight champion had to say about him, and as he always does, he used Twitter to fire back at him.
"Charles Oliveira shut your pie hole," McGregor said in a tweet that has now been deleted.
Charles Oliveira is coming off a second-round submission loss to Islam Makhachev in their vacant lightweight title fight at UFC 280, and is now expected to face Beneil Dariush at UFC 288. With a win over the Assyrian-American, 'Do Bronx' wants to book another title fight against the Dagestani in the hope of exacting his revenge.
Who do you think will the highly anticipated fight against Conor McGregor and Michael Chandler later this year?