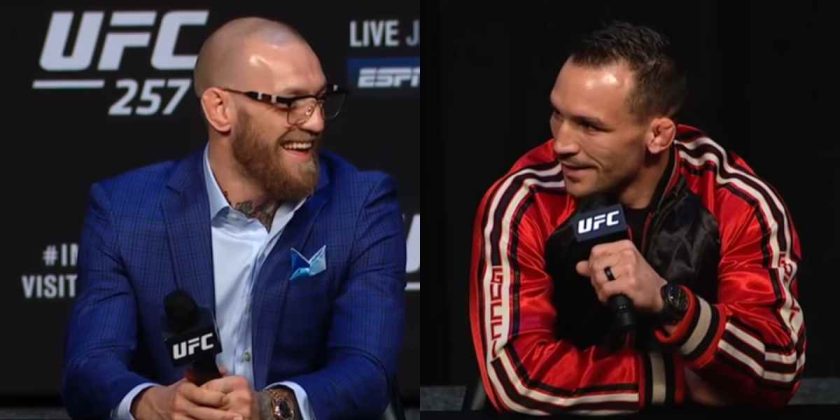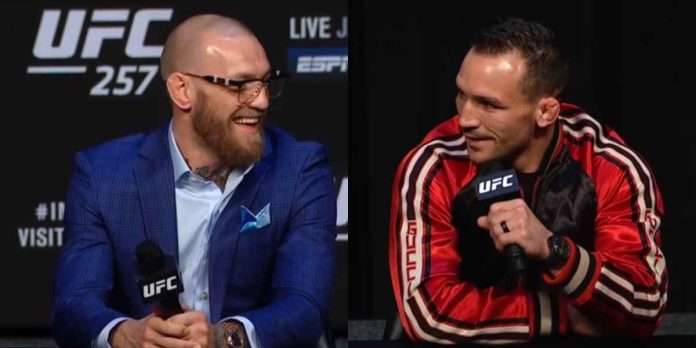 Conor McGregor has revealed that he has nothing but respect and admiration for Michael Chandler despite their hostile altercation on the set of The Ultimate Fighter season 31.
McGregor is coaching the upcoming season of The Ultimate Fighter opposite Michael Chandler, and the two MMA stars will battle in a clash of titans at the end of the season, which is currently under production. Last week, the two had a go at each other on the set of TUF, and Dana White later revealed that whatever happened between the two shouldn't have happened and that they don't like each other anymore.
Conor McGregor on Michael Chandler
That doesn't seem to be the case, however. In a recent appearance on My Mom's Basement podcast (as transcribed by MMA Fighting), McGregor revealed that he did have a go at Chandler on TUF, but it's all part of the game, and there's no bad blood between them.
"I had respect for Chandler [going into the show]," McGregor said. "We had an issue. Obviously tempers are flaring. It's a hostile thing, right? Respect and admiration. I like his style, he likes my style, we have a good buzz. That's the way it should be. There's still a competitive fire. I'm still going to mince him. I know he's going to try and throw everything into his shots also but there's still admiration."
McGregor continued by saying that the two have buried the hatchet and he's looking forward to locking horns with Chandler later this year.
"That's how it should be," McGregor said. "That's how the sport should be. You should have the ability to separate it. That's the great thing about this sport. Usually, when you get in there and do it, it's a settler so we had an issue once during [filming] and it was all good. It was just tempers were flared and we got past it and I'm excited to have completed competition against him on the show and I'm excited to compete against him now for real."
Who do you think will win the upcoming fight between Conor McGregor and Michael Chandler?