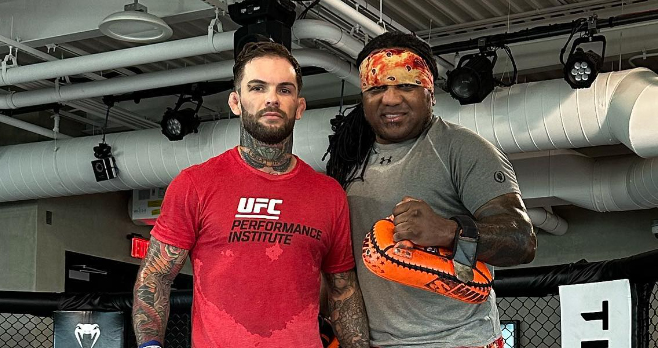 Cody Garbrandt's coach Dewey Cooper believes his student can still make a strong comeback and recapture the bantamweight title.
Garbrandt dominated Dominick Cruz to win the bantamweight title at UFC 207, but he hasn't been the same since then, losing five out of his last seven fights, although he won his most recent one against Trevin Jones at UFC 285. Last year, he changed camps and moved to XtremeCouture, where he's constantly improving and filling up the holes in his game.
Cooper believes Garbrandt's doing very well, and he wouldn't be surprised if a former champion makes a strong comeback.
"He's still in his prime," Cooper said in an interview with MMA Underground. "He's actually in the midst of his prime. So, people trying to write him off, the story isn't over, and the ship has not sailed. Cody 'No Love' is a special guy. People really underestimate how athletic he is. He's a quick-switch track runner who happens to be a fighter."
"Of course, he wrestled his whole life and all of that, but he has real athletic ability. Sometimes when people rise so fast and so suddenly and that fame hits them, if their priorities aren't in order and if their life gets a little dismal, everything can come tumbling down."
Much of Garbrandt's struggles inside the Octagon are down to a dire lack of confidence, and Cooper thinks there's only one way to fix it, by winning.
"Simply your mind, and that's the simplification that we worked on, just win," Cooper said. "W-I-N, just win. If it comes exciting, awesome. If it comes GSP style, awesome, At the end of the day get your God damn hand raised, and we'll be more spectacular next time."
Do you agree with Dewey Cooper that Cody Garbrandt can win the bantamweight title again?