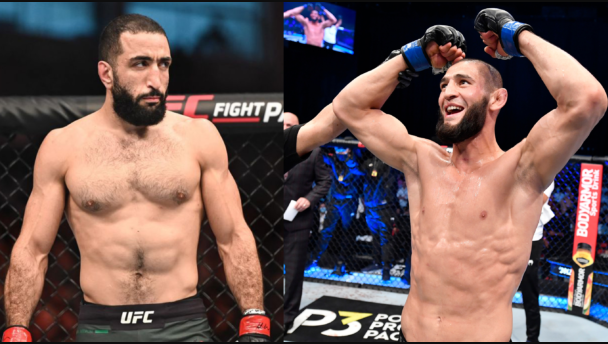 Belal Muhammad believes Khamzat Chimaev and Conor McGregor are similar in more ways than one.
Chimaev, who hasn't fought since September 2022, has upped his social media game and is often seen tweeting trash about potential opponents, something that McGregor does a lot too.
According to rumors, Chimaev's next fight will likely be against Kamaru Usman at UFC 294 in Abu Dhabi, but Muhammad thinks it's all talk.
In a recent interview with The Schmo, Muhammad said that he believes a fight between Chimaev and Usman won't happen.
"This new Twitter age is kind of annoying," Muhammad said. "Khamzat's one of the guys, kind of like Conor McGregor. He wants the attention, so he'll throw out a random tweet here and there, but nothing ever comes of it, right? So, when they say that (Chimaev vs. Usman), I'm like, 'Bro, that fight's not happening.' They'll talk about it, both say something about it, and then there won't be nothing else.
"You'll see, 'Khamzat's gonna fight this guy! Khamzat's gonna fight that guy!' So, I think it's literally just talk to stay in the news, stay relevant. If Khamzat makes 170 (welterweight), that would be a great fight. But I doubt he could make 170."
McGregor has finished filming The Ultimate Fighter season 31, where he is coaching opposite Michael Chandler, and the two will likely lock horns in a welterweight fight later this year. The Irishman hasn't fought since losing to Dustin Poirier at UFC 264, where he broke his tibia seconds before the end of round one.
Do you agree with Belal Muhammad that Khamzat Chimaev is an attention seeker?