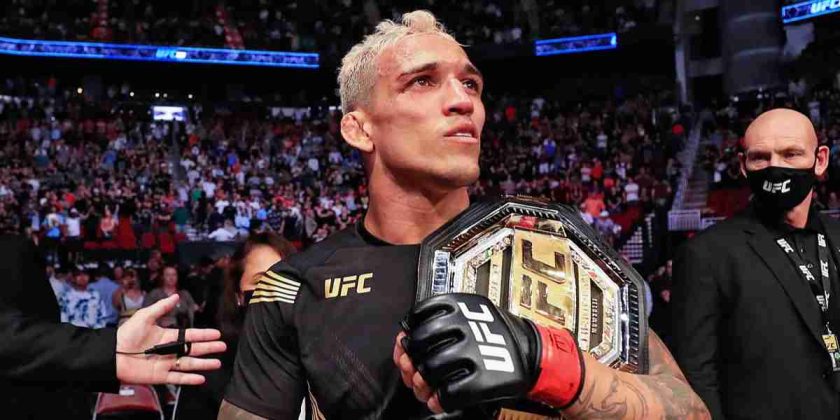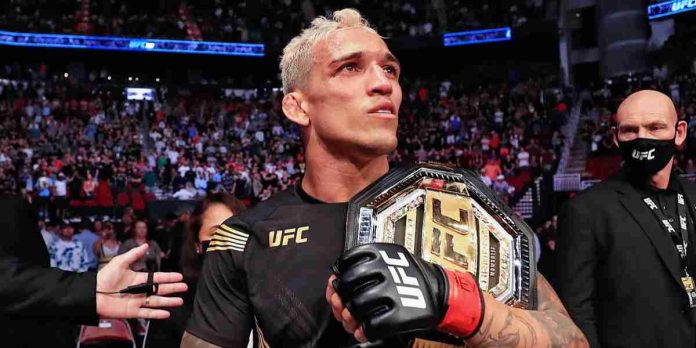 Charles Oliveira has said that while he thinks he isn't the lightweight GOAT yet, he's certainly closing in on the division's greats like Khabib Nurmagomedov and BJ Penn.
The lightweight GOAT debate has gained traction since Oliveira's spectacular first round submission victory against Justin Gaethje at UFC 274, where he failed to retain his title despite winning after missing weight. The Brazilian is currently on an eleven fight winning streak, with notable wins over Dustin Poirier, Tony Ferguson, Michael Chandler, and 'The Highlight' most recently.
Many fans believe Oliveira has surpassed Khabib, who is widely regarded as the division's GOAT, but 'Do Bronx' is keeping his feet on the ground, although he feels he isn't very far behind.
Charles Oliveira On Lightweight GOAT Debate
In an interview with MMA Fighting's Trocacao Franca, Oliveira said while he doesn't consider himself the lightweight GOAT, he believes that he's getting there.
"Most bonuses. Most submissions. Most finishes. What else?" Oliveira said. "I'm breaking records. There are no arguments against facts. I'm the chosen one. That's the reality.
"I'm getting there. I'm becoming one of the best of all-time. I don't think [I am] yet. One step at a time. I'm up there. We have to keep our feet on the ground, be humble. Let people think that. What do you think, am I the greatest of all-time? That's the question. My age, 32, with records of most submissions and bonuses and so many other things I have to start writing down so I don't forget. Lightweight champion, 11 wins in a row. Of those 11 wins, only one decision. We're happy."
Do you think Charles Oliveira has surpassed Khabib Nurmagomedov and BJ Penn as the greatest lightweight of all time?
See also: