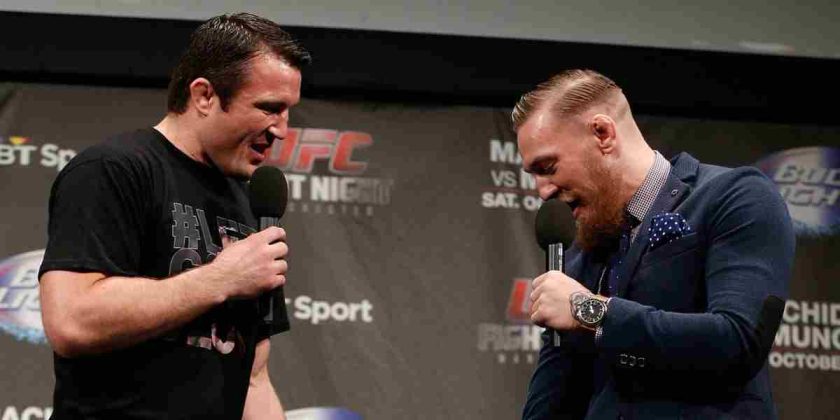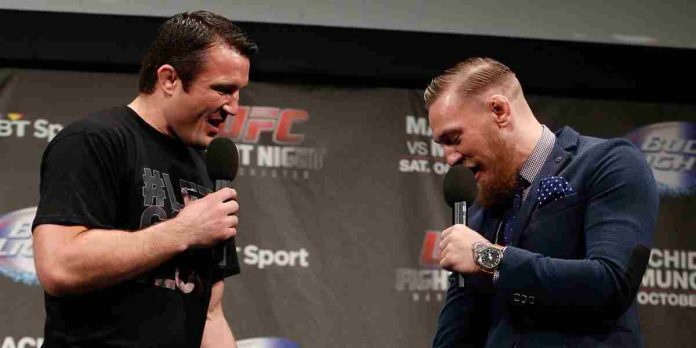 Chael Sonnen isn't a fan of former UFC two division champion Conor McGregor moving up to middleweight upon his return to the Octagon.
McGregor started his UFC career at featherweight but moved up to lightweight after beating Jose Aldo to win the title in 2015 and has since been fighting at 155 pounds. He's also fought a couple of times at welterweight, but he recently tweeted that he will also give middleweight a go at some point. Sonnen doesn't think that is a good idea.
Chael Sonnen On Conor McGregor
Speaking on his YouTube channel (as transcribed by MMA Mania), Sonnen said that McGregor shouldn't talk about moving up to middleweight when he's not sure that he can beat the fighters in his own weight class.
"The talk of going up to 185 pounds is very compelling if you have a man who is invincible," Khabib said. "If you have an invincible person who is cleaning out their division and they're so good they're going to handicap it… if you're gonna handicap it and spot the opponent and do an advantage, you gotta be invincible. If Khabib announced that he was coming back and he'd do it at 170, 185? Just the 185 before the opponent, we got headline news.
"Conor can't just go up to 185. We want to see you win a fight at your weight class. We're not sure you can beat these guys. You want to stop at 170, that's pretty interesting. Let's grab Masvidal, things aren't going just swimmingly in his career, let's get you guys together."
Conor McGregor last fought at UFC 264, where he lost to Dustin Poirier by a doctor's stoppage after breaking his tibia seconds before the end of the first round.
Do you agree with Chael Sonnen?