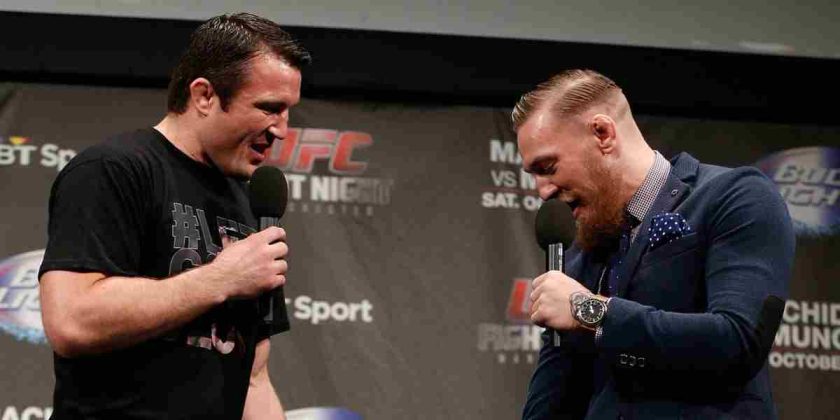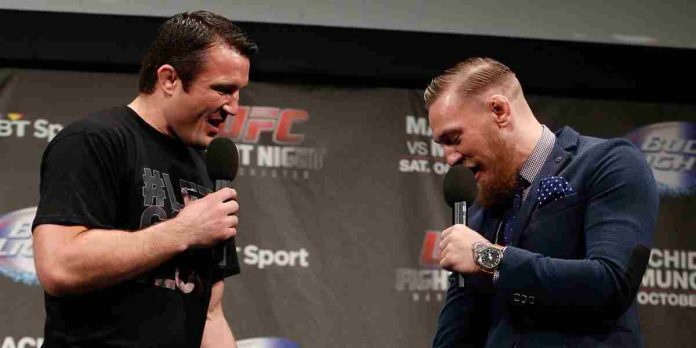 Chael Sonnen has come to Conor McGregor's defence amidst speculations that he may be using steroids to speed up his recovery from a broken tibia.
McGregor broke his tibia in July last year at UFC 264, losing to Dustin Poirier in their trilogy as a result. The Irishman has recovered fairly quickly and has put on quite a lot of muscle in a little over a year, in addition to withdrawing himself from USADA's testing pool, making fans and some professional, like Anthony Smith, speculate that there may be some foul play involved. Sonnen disagrees with the accusations however.
Chael Sonnen On Conor McGregor
In a recent appearance on MMA Fighting's The MMA Hour, Sonnen explained why McGregor's move to withdraw from USADA testing pool is a wise one.
"Conor's clean," Sonnen said. "He's been trolling, he's been having fun with people. Come on. A guy doesn't go out and do a crime and then document the crime. Conor put the pictures out. He's having fun with people. He's clean.
"I will tell you, I believe that Conor left the pool. He's never been clear on this. I believe he left because of logistical reasons. The whereabouts clause in violation of having to let someone know where you are 24/7/365, right, if you're not where you said you're going to be, it's a mark and if you get three marks in a calendar year it's an instant fail and that fail comes with a minimum punishment of two years. I just bring for you that if he was off doing Road House and medication and he knew he wasn't going to fight anyway and he just didn't want to keep up on the organisational side of it, I think that he made the right decision. I think Conor is having fun with people, making them think that he's on some form of anabolics."
Do you agree with Chael Sonnen?