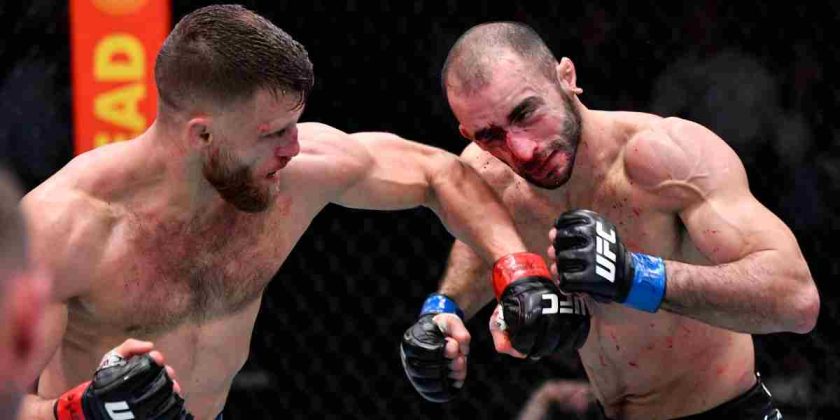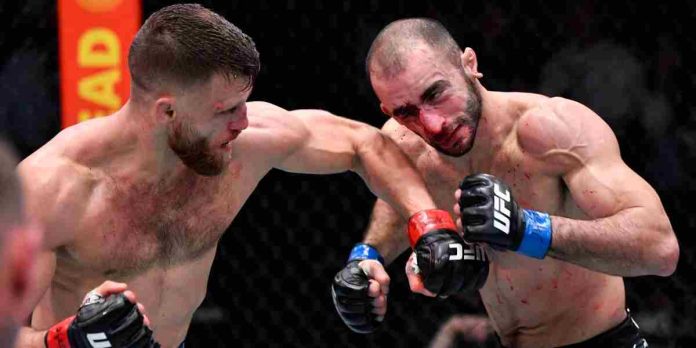 Calvin Kattar has responded after Giga Chikadze said that he'd beat him nine times out of ten.
Kattar made a successful return to the Octagon after a year-long layoff at UFC Vegas 46, where he snapped Chikadze's nine-fight winning streak by earning a lopsided unanimous decision win. In a Facebook Live a day after his loss, the Georgian claimed although things didn't go his way this past weekend, he's confident that he would beat 'The Boston Finisher' nine times out of ten.
"I f***ed up last night, but it's all good," Chikadze said. "It's the journey. I'm learning from this. Next time, I'm going to come back so much stronger. I already feel bad for my future opponents, so I'm going to learn a lot from this one. Trust me on that. Also, I feel like if I would fight with this guy ten times, nine I would win. That would be the one I would lose, and that was last night. It is what it is. I made mistakes, and I'm paying now with that. It's all good. I'm unbreakable, remember this s***. Georgians are always unbreakable. This is how we fight, until the f***ing end."
Calvin Kattar Responds To Giga Chikadze
Speaking to MMA Fighting (as transcribed by BJPenn.com), Kattar said that Chikadze isn't taking his loss well, but he hopes that 'Ninja' would focus on making a comeback, just like he did after suffering a brutal beating at the hands of Max Holloway at UFC Fight Island 7 in January last year.
"It's different when you hear people in person in interviews, but I don't take it personally man, it's whatever. I wish him a speedy recovery, bounce back," Kattar said. "I told him: 'All you can do now is make the next guy pay'. That's exactly what I did and hopefully he responds to the loss well. It doesn't sound like it's going that way early, but hopefully he just understands that. Honestly, he can understand whatever he wants. For me, it just helped me to focus on the things I can control and focus on [making] the comeback."
Who do you think Calvin Kattar and Giga Chikadze should fight next?
See also: