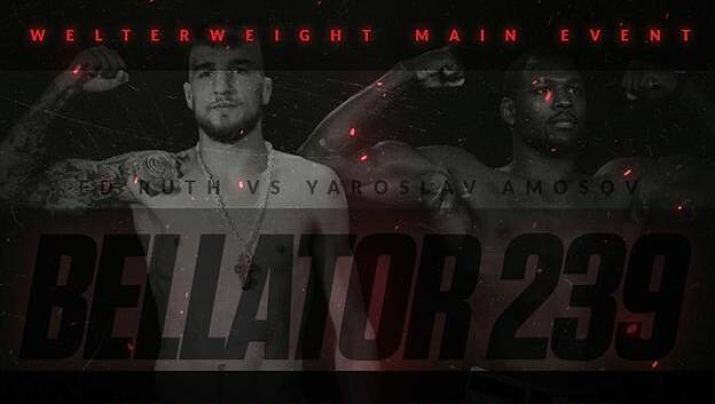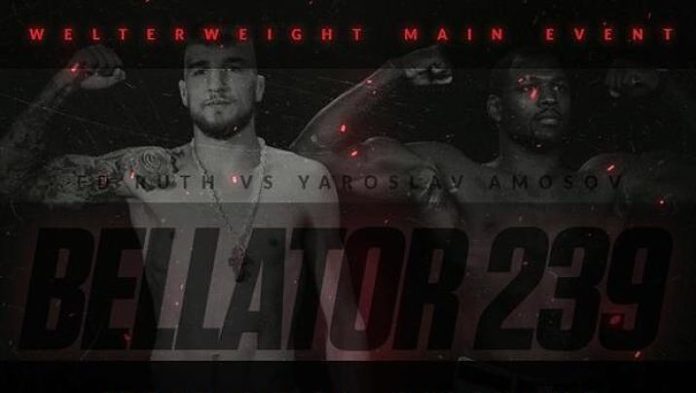 Bellator returns this Friday after a month away for their two-hundred-thirty-ninth numbered event, and they've put together a great four-fight main card for us. We have a welterweight main event between Ed Ruth and Yaroslav Amosov, which is literally one of the best match ups possible to make. Ruth has had a lot of hype around him for a while now; he's entering his physical prime, and he's a three-time NCAA Division I Champion, which is insane. Not only did he win the championship three of his four years in college, but he placed third that other year as well.
He's also a four-time Big Ten Champion. Ruth has some of the best wrestling in the entire sport, and he's only lost once, which was by submission to Neiman Gracie in the fourth round of a fight he was exhausted in by that point, he'd never gone past three rounds.
Yaroslav Amosov is an absolute tank; he can wrestle as good as just about anyone, he's got great striking, and he also knows how to blend it all together beautifully, he mixes it up very well. Not many people make it to 22-0 in the sport of MMA, it's really remarkable what he's been able to do. Though Amosov's only 3-0 in Bellator, the three opponents he had are not easy wins, Gerald Harris, Erick Silva, and David Rickels. A combined 30-1 record with 24 finishes between these two, how does this one go?
We also have the return of Myles 'Fury' Jury after his Bellator debut defeat to former WEC and UFC Lightweight Champion Benson Henderson, as he's looking to get back to his winning ways against Brandon Girtz, who's coming off a win over Saad Awad. Jury was one of those talents we all expected to go far in this sport. He went 6-0 as an amateur, and 1-1 on The Ultimate Fighter, with that loss coming via split decision to season finalist Al Iaquinta, a razor close fight that could've easily gone either way.
'Fury' then started out his UFC career with six victories, improving to 15-0. He didn't make it out of the second round until his eleventh professional fight, aside from his fight with Iaquinta and his second amateur fight, which he finished in round two, he was a real finisher with all the potential in the world. After starting out his career at 15-0, then going 2-5 in his next seven, bringing his record to 17-5, will we ever see him achieve the status we once thought he would?
Another returning talent we have is the 8-0 Tyrell Fortune, who's a two-time NJCAA National Champion, a two-time Region 18 Champion, a seventh place in the 2009 Junior World Championships for Team USA, as well as having 16 different national titles in Freestyle and Greco-Roman wrestling. Fortune has a ton of hype around him, and for a great reason. This stud is 29-years-old and is only going to continue to get better. Forget the sky, there is no limit to Fortune's potential. He'll be fighting UFC veteran, two-time NCAA Divison II All-American, Timothy Johnson.
Lastly, to open up the main card, we have 28-year-old World Combat Sambo Champion Valentin Moldavsky looking to make it 4-0 inside the Bellator cage. Moldavsky is 8-1 as a professional mixed martial artist with his only loss coming to Amir Aliakbari by split decision, who's an absolute monster, world champion wrestler. Moldavsky will be fighting Javy Ayala, who's coming off a stoppage victory over former UFC Heavyweight Champion Frank Mir, and has a KO win over Sergei Kharitonov. These four fights will be on The Paramount Network and DAZN. Main Card posted below:
Welterweight: Ed Ruth (8-1) vs. Yaroslav Amosov (22-0)
Lightweight: Brandon Girtz (16-8) vs. Myles Jury (17-5)
Heavyweight: Tyrell Fortune (8-0) vs. Timothy Johnson (12-6)
Heavyweight: Javy Ayala (11-7) vs. Valentin Moldavsky (8-1)