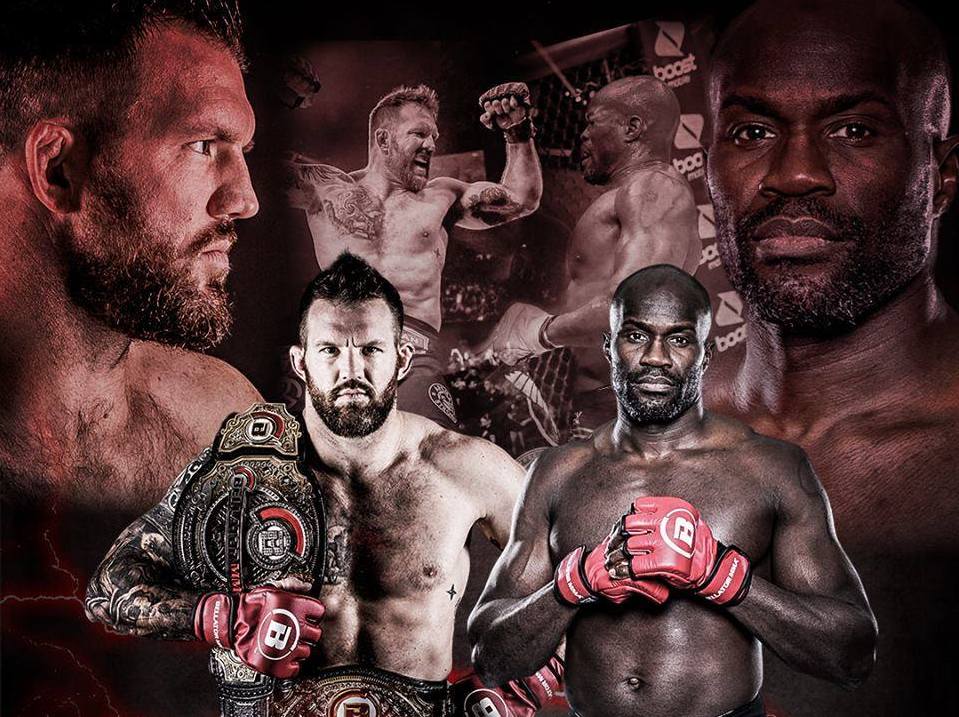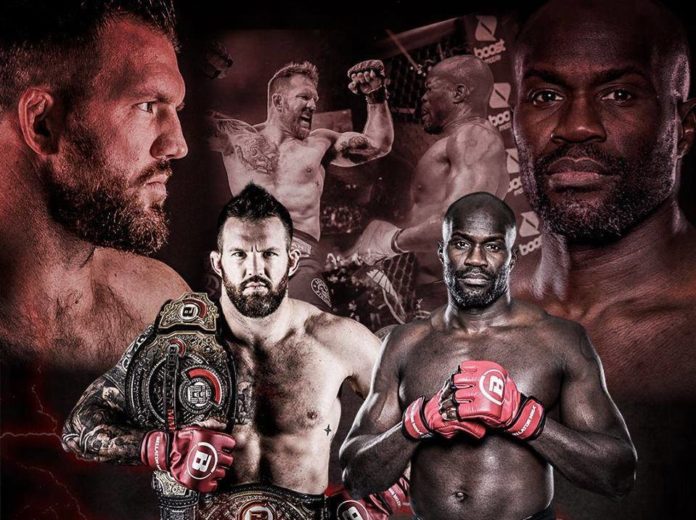 This weekend (Sat. September 7, 2019) we have Bellator 226 to look forward to after UFC 242. Headlining the card will be Ryan Bader defending his Bellator Heavyweight Championship against long-time heavyweight staple Cheick Kongo. It seemed as if Kongo was done when he was released by the UFC, but that couldn't be further from the truth. Since he's been in Bellator, he's gone 12-2, and has won his last eight fights in a row. Those only two defeats were also to a peaking 'King Mo' Muhammad Lawal and a title fight against Vitaly Minakov.
Kongo also avenged his second-to-last defeat in his most recent outing against Minakov, a fight he won via unanimous decision. That means his only non-avenged loss in Bellator was via split decision, and against a guy that beat Gegard Mousasi before he even had ten fights.
It'll be interesting to see how he does against Ryan Bader. This is a perfect striker versus grappler match up; Bader is a two-time NCAA Division I All-American, he placed two of those years (4th and 7th), and is also a three-time Pac-10 Champion. Bader grew up wrestling since he was 7-years-old. Kongo is 21-2 in professional kickboxing, and has a Kyokushin Karate black belt.
This isn't strictly a striker versus grappler match up though, considering Kongo does have three submission wins, with a heel hook victory in his first professional MMA fight, and an armbar in his fifth. Bader also has some much improved striking, he has great footwork and combinations now, as well as the power he's always carried.
Both of these two are very powerful heavyweights, as Kongo has won exactly half of his wins via knockout, and Bader has won 12 of his wins via knockout. It's very possible for either of these guys to finish the other. It seemed as if Kongo's finishing instinct days were over for a couple years there, going almost four years without scoring one, then in two of his last three fights he got vicious trademark first round KO's.
It's exciting to see Ryan Bader hold both the light heavyweight and heavyweight belts, but when will he go back to light heavyweight? If he loses this fight he probably will go right back down, but what does he decide to do with a win? How do you think this fight plays out? Fight Card posted below:
Main Card: DAZN (10pm ET/7pm PT)
Heavyweight (C): Ryan Bader (27-5) vs. Cheick Kongo (30-10-2)
Featherweight: Daniel Straus (26-8) vs. Derek Campos (19-9)
Featherweight: Pat Curran (23-8) vs. Adam Borics (13-0)
Featherweight: Emmanuel Sanchez (18-4) vs. Ty-wan Claxton (5-0)
Featherweight: Sam Sicilia (16-9) vs. Pedro Carvalho (10-3)
Featherweight: Gaston Bolanos (5-1) vs. Daniel Carey (6-3)
Preliminary Card: DAZN (6:45pm ET/3:45pm PT)
Middleweight: Ivan Batinich (3-1) vs. Daniel Compton (3-2)
Lightweight: Chris Gonzalez (2-0) vs. Luis Vargas (2-3)
Lightweight: Jake Smith (7-2) vs. Adam Piccolotti (11-3)
Featherweight: Hyder Amil (3-0) vs. Ignacio Ortiz (2-0-1)
Middleweight: Comelius Savage (0-0) vs. Evan Gubera (0-1)
Bantamweight: Cass Bell (3-0) vs. Isaiah Rocha (1-0)
Women's Featherweight: Amber Leibrock (3-3) vs. Jessica Borga (2-2)
Middleweight: Favian Gutierrez (2-2) vs. Alan Benson (0-1)
Flyweight: Daniel Gonzalez (2-2) vs. Jon Adams (0-1)
Welterweight: James Terry (20-10) vs. Batsumberel Dagvadorj (5-0)
Catchweight 140 lbs: Peter Ishiguro (1-1) vs. Elias Anderson (0-1)
Featherweight: Ashleigh Grimshaw (20-10-1) vs. John Teixeira (22-4-2)
Welterweight: Abraham Vaesau (5-2) vs. Renato Alves (4-4)
Catchweight 180 lbs: Albert Gonzales (1-1) vs. Tyson Miller (0-0)