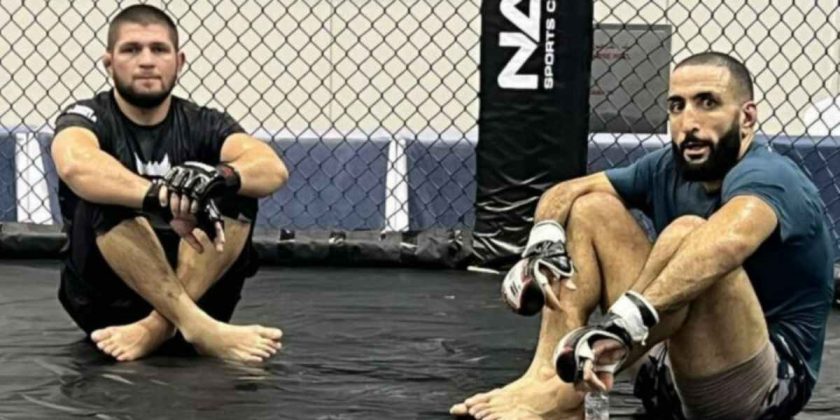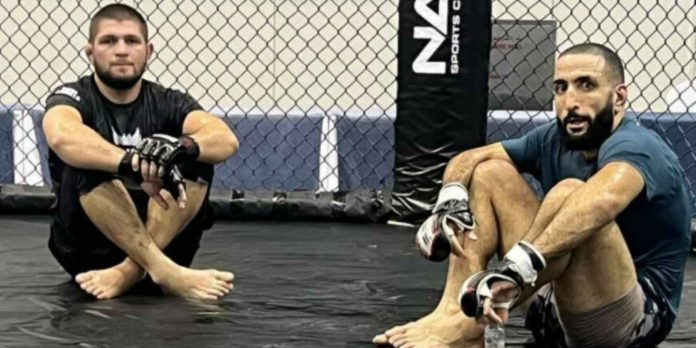 Belal Muhammad has revealed that he was pushed to the limit while training under the supervision of former UFC lightweight champion Khabib Nurmagomedov.
Muhammad continued his winning ways with an impressive stoppage win against Sean Brady at UFC 280, where Islam Makhachev captured the vacant lightweight title by submitting Charles Oliveira in the second round. Both fighters were coached by Khabib in the lead up to their respective bouts.
Belal Muhammad On Training With Khabib
Speaking to ESPN MMA (as transcribed by Bloody Elbow), Muhammad revealed how his training camp went under Khabib.
"This guy doesn't understand tired," Muhammad said. "We're going from sparring to grappling, and then he tells me 'Come in the cage' and he's putting me on the fence and taking me down at will and just, like, drowning me. I'm sitting there dead and all of a sudden at the end of it, they're like, 'Well, okay, you got three minutes of planks.' I'm sitting there, dripping, I look to my right and I see Islam there. He tells me, 'Khabib does not know tired.' There needs to be some rest in between because the practices are so hard that my body ended up breaking down halfway through.
"You want to do extra for him. You want to push yourself much harder for him because he doesn't have to be there. He's got all the money in the world, he's got all the accolades in the world, he's been a champion. He's accomplished it all, but he's giving you his time, his knowledge. Even when we'd do warm-ups and he'd tell us, 'You guys aren't pushing hard enough. What are you guys doing? You gotta do it again.' So we have to go again."
Who do you think Belal Muhammad should fight next?