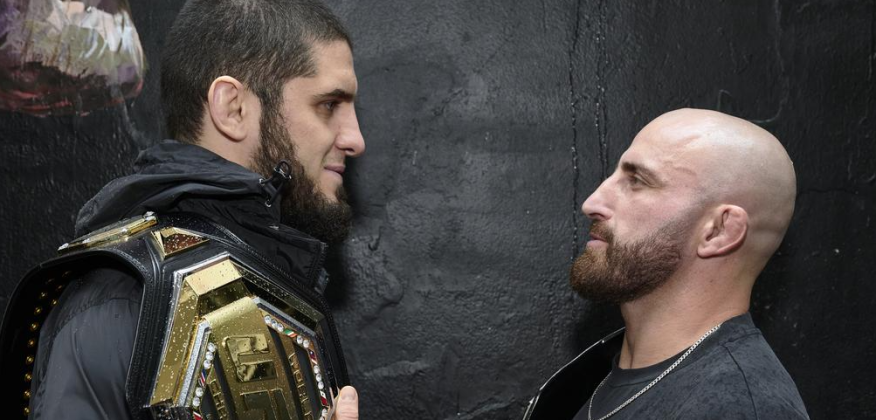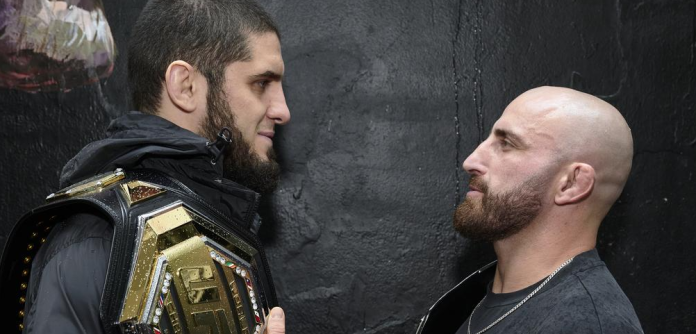 Alex Volkanovski is feeling great ahead of his lightweight title fight against Islam Makhachev next month at UFC 284.
Volkanovski is currently on a twelve-fight winning streak in the UFC, with a 25-1 overall record. He's also pound-for-pound the number one fighter in the UFC yet he's a sizeable underdog against Makhachev, who thinks he'll be able to manhandle his opponent because he's too "short". Most MMA fans and some pros are also not giving him much of a chance.
Alex Volkanovski Feeling Twice As Strong
For instance, Daniel Cormier thinks Volkanovski beating Makhachev will go down as the biggest upset in MMA history. 'The Great' is feeling stronger than ever ahead of his fight against Makhachev however, and believes that his doubters are in for a massive surprise, he said during a recent appearance on Israel Adesanya's YouTube channel (as transcribed by MMA Junkie).
"The fact that I'm moving up, doing the bulking, telling myself we need to get stronger, we need to work on that takedown defense, all of a sudden I'm twice as strong as I was," Volkanovski said. "My defense is just on point. I'm like an absolute brick wall when people are trying to run into me, and they feel it, they instantly feel it as soon as they grab a hold of me, or we grab each other. They can already significantly see the strength, so it just makes you think where I go from here."
Warning To Makhachev
Volkanovski also believes Makhachev is not giving him the respect he deserves, but that isn't something he hasn't experienced before. The featherweight champ said that his past opponents also made the mistake of underestimating him and paid a hefty price.
"You can see in his face like, 'This guy ain't too big," Volkanovski said. "I've seen that on plenty of people's faces. I've seen that on my previous fights – my last four, five fights. But that face quickly changes when I'm in the Octagon. Give me 10 seconds with him, that face changes real quick. All of a sudden, that size doesn't matter. All of a sudden my footwork, 'Where's this guy at? I'm in a puzzle, he's already giving drama.' Then I put my hands on him, there's another problem. Then they try to grab a hold of me, and I'm a little brick f***ing wall. There's another problem.
"That's when you see them start to crumble and be like, 'F***, what have I got myself into?' That's exactly what's going to happen with Islam, especially the way he's looking. I can tell he really thinks he's going to be way too strong."
Who do you think will win the lightweight title fight between Islam Makhachev and Alex Volkanovski at UFC 284?