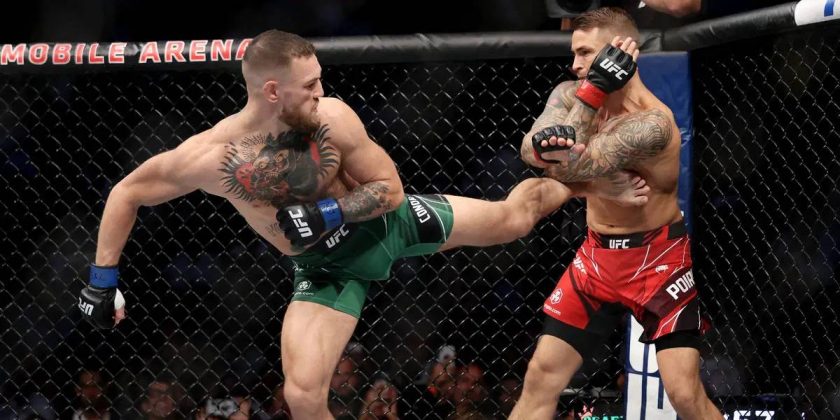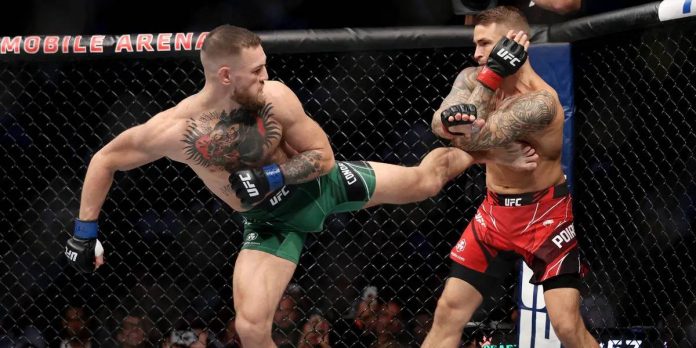 Although Dustin Poirier has said that his knee was sore from checking Conor McGregor's leg kicks in their rubber match at UFC 264, he believes 'The Notorious' still isn't the hardest kicker he's ever faced.
Tied at one-a-piece, Poirier faced McGregor in their trilogy fight, which ended in an unfortunate manner as the Irishman lost by a doctor's stoppage after he was unable to continue due to a broken tibia he suffered late in the first round.
McGregor and his team believe his injury was a result of stress fractures he suffered in his training camp, but Poirier believes his arch-rival fractured his tibia during their fight.
Sore Knee
Speaking on American Top Team's Punchin In' podcast (as transcribed by MMA Fighting), Poirier revealed that McGregor's brutal leg kicks left his knee sore following the fight week.
"I've been checked by a lot of heavy kickers, but never before have I left fight week and been sore on my actual bone, like my knee was sore," Poirier said. "Not my thigh or calf, my knee was sore."
What Caused McGregor's Injury?
In the opening minutes of the first round, McGregor threw a crunching leg kick that landed on Poirier's knee. The former interim champion speculates that the Dublin native fractured his tibia at that very moment.
"I just know from getting kicked and kicking so many times over the years that when a kick lands bad I just know it kind of hurts both of us even though it's hitting my knee, it hurts the other guy a lot more," Poirier said. "Just from sparring rounds I just know. There was one kick I turned my knee out a little bit. I didn't have my weight like a traditional check and I knew that was a bad one for him. I knew that one hurt bad.
"I think it was on top of his foot, but you never know if that could have caused torque on his shin bone and cracked it. I don't know, he was throwing hard kicks, and a lot of them were hitting my knee. I didn't get to traditionally check the kicks, but I did turn my knee out and it was bone-on-bone and it was worse for him."
Who Kicked Poirier The Hardest?
While Poirier admits that McGregor kicks hard, he said that the former two-division champion's still not the hardest kicker he's ever faced.
"[Justin] Gaethje (kicks the hardest)," Poirier said. "He partially tore my quad. In the fight, him not caring about position, throwing kicks as hard as he can just to land them, not worrying about repercussions. No setups."
Would you be interested in a potential fourth fight between Dustin Poirier and Conor McGregor?
See also: