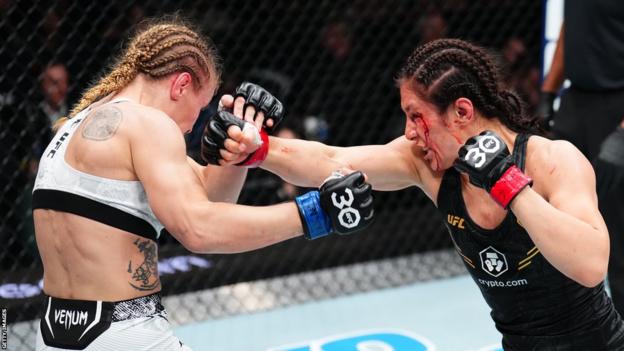 UFC flyweight champion Alexa Grasso successfully retained her belt after her first title defense against Valentina Shevchenko ended in a split draw.
Shevchenko and Grasso engaged in a firefight at Noche UFC, where both fighters had their moments. Grasso earned a knockdown with a stiff right hand in the second round, whereas Shevchenko almost finished the champion on the mat a couple of times.
The fight was anyone's to take at the end of the fifth round, but a split draw blew everyone out of the water. The surprising factor behind the split draw was Judge Mike Bell, who raised eyebrows by scoring the fifth round 10-8 in favor of the Mexican. Shevchenko couldn't help but complain about the score.
"I couldn't believe that it happened in that fifth round. It's a 10-8, it was surprising for me, very surprising," Shevchenko said during the Noche UFC post-fight press conference. "I feel that the 10-8 in the fifth round was completely unfair…I feel that to give a 10-8, you have to be very sure that it is a 10-8, but it was not our case. It's kind of like it wasn't even close to a 10-8. And yeah, I hope [judging is] gonna change. I know many fighters go through the same frustration when it's kind of like that way. But you cannot do nothing. The official decision is the official decision. As I mentioned, it's a draw. It's not a loss. But in my case, it's not a victory."
The former flyweight champion believes that the judge's score might have been swayed by the enthusiastic crowd and the fact that the event coincided with Mexican Independence Day.
 "I continue to fight with my whole heart. I think I did everything to secure the victory," Shevchenko said. "Unfortunately, I think because of this event, it's Mexican Independence Day- that's why it affected the decision of the judge to give 10-8 in the fifth round. And from my experience, a 10-8 is when one fighter completely cannot do anything. It's like running around waiting. They're looking for an escape from the Octagon; it's miserable."
Do you agree with Valentina Shevchenko?