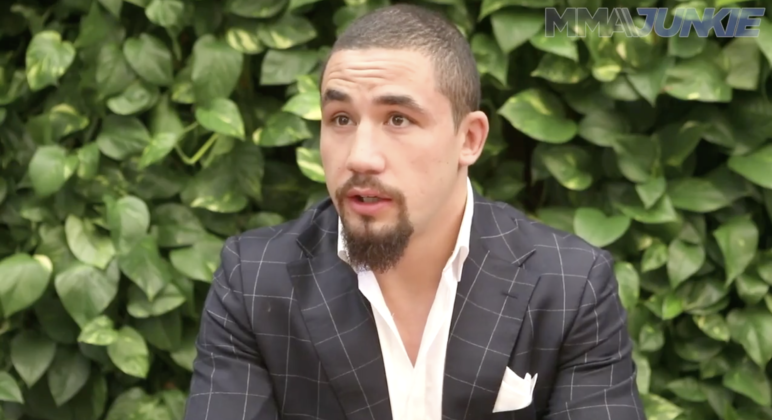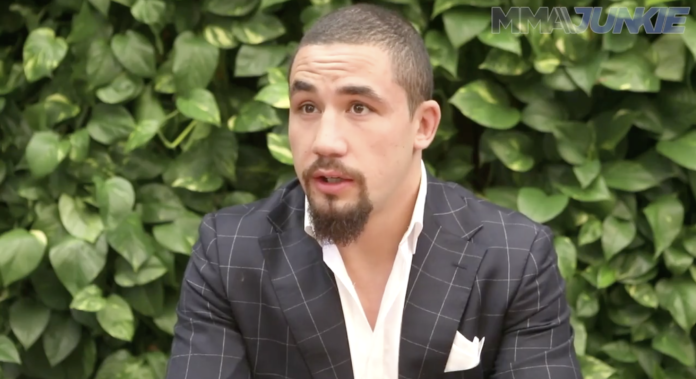 With wins against Darren Till at UFC Fight Island 3 and Jared Cannonier at UFC 254, former UFC middleweight champion Robert Whittaker has made a strong case for a rematch against the reigning champion, Israel Adesanya.
Earlier this month, UFC President Dana White revealed that 'The Last Stylebender' is expected to fight Jan Blachowicz for the UFC light heavyweight championship in 2021. This means 'The Reaper' will have to wait for his shot at the middleweight champion, but he would not shy away from moving up to the 205lbs division to lock horns with the Nigeria-born Kiwi superstar.
A Shot At Adesanya And Move Up To Light Heavyweight
In an interview with Submission Radio (as transcribed by MMA Fighting), Whittaker said that with a win against Cannonier, he has earned the right to fight for the title. The 29-year-old vowed to fight Adesanya irrespective of the weight class.
"Well, I've already earned the right to [a rematch]," Whittaker said. "I've already earned that right to fight for a title. That's what that fight with Jared was. That fight was number one contender. What's funny was, everyone was telling Jared, like, you win this fight, you get a shot at the title. No one was saying that to me (laughs). That's what this fight is, and that's the right I earned. I earned a shot at a title. So, that's where I'm at. I'll fight Izzy one way or another. Middleweight, light heavyweight, whatever… Yeah. If he wins, I'll go up there and fight him. I don't care."
Light Heavyweight Challenge
Moving up to light heavyweight would be a massive challenge for Whittaker, but he understands that and would make necessary adjustments before making a decision.
"It couldn't be the same fight," Whittaker said. "It's hard to say, cause I don't know how I'm going to move with the heavier weight set. Cause, generally, I like training lighter, I like fighting lighter. I move faster, my cardio's better. It's very hard to say, it's very hard to say. I'll have to make some adjustments to my body in order to try and get that speed going and that cardio and movement at a heavier weight."
Drawbacks Of Fighting At Heavier Weight
Whittaker also talked about the problems he might face when he moves up a weight class. The Australian said that he might not have the same speed, explosiveness, and movement at a heavier weight, but believes he would do just fine.
"Everything [changes]. So, like, when I get back into the grind and the hustle at the gym and I'm at a heavier weight, I can't bounce and move like I did in fight week. I just can't do it. Your body can't do it. I can't sustain any sort of bounce on my toes, cause my calves blow out, my legs blow out. I don't have that sort of speed. And my grappling's different too, cause I feel restricted. My body's not moving as freely as it was because there's more weight, there's more of me. That's why you need to adjust to the weight limit, you need to adjust to the division, to get your body in that balance, in that harmony. So, it's very hard to say how I would do at 205. I think I'd be alright. I could always just do what I do now and just go in a bit lighter. So, who knows?"
The Ball Is In Adesanya's Court
Despite his wish to run it back with Adesanya, Whittaker understands that the ball is in 'The Last Stylebender's' court and the UFC would certainly respect his decision. But 'Bobby Knuckles' is adamant to make it all square. The former champion heaped praise on the reigning champion, saying that Israel has been looking really good, and he'll be a 'ridiculously hard fight'.
"I guess the ball is in his court," Whittaker said. "He's the champ, he beat me last time. So, I'm hustling for a rematch like a salty kid. But yeah, I don't mind. It is what it is. Shouldn't have lost the first time. But I'm excited for… I'm not excited, cause fighting's never really fun, it's kind of stressful, but I look forward to that rematch, cause as a fighter, as an athlete, I want to try and get that one back. You know, I have that thing, that chip here that wants to run that back. But he's looking really good, man, he's looking really, really good. I think that will be a ridiculously hard fight. Yeah, let's see."
How do you rate Robert Whittaker's chances against Israel Adesanya in a rematch?
See also: