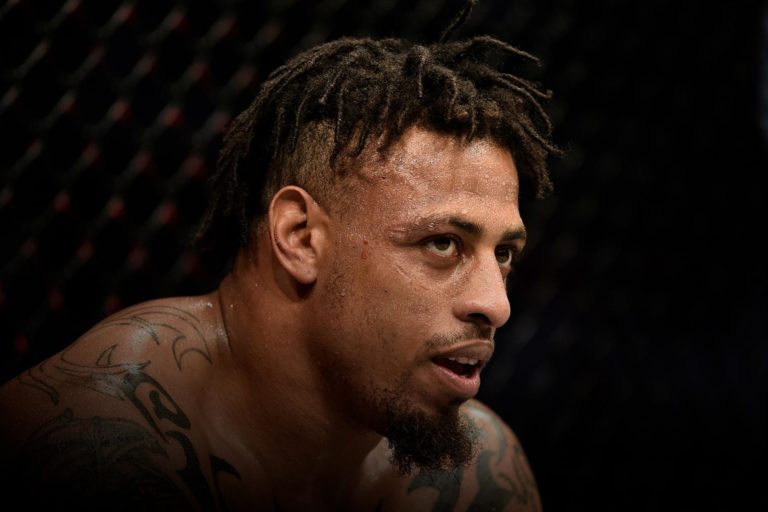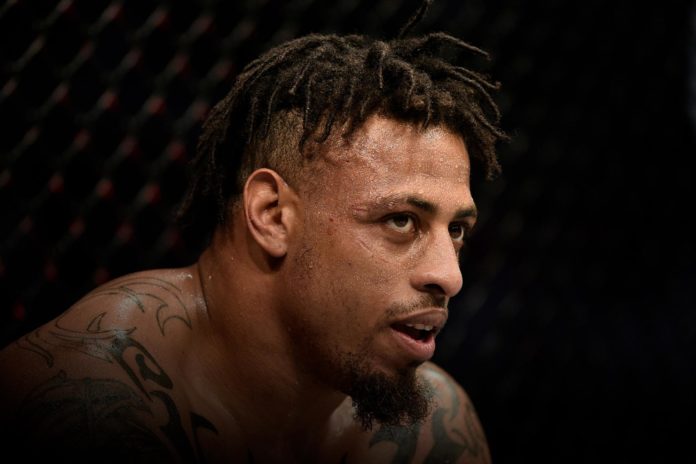 Since making his professional mixed martial arts debut in June of last year, and his UFC debut in February of this year, Greg Hardy has been one of the most rapidly evolving stars we have in the sport today. He may have blown it in his UFC debut, and he may have lost his last fight, but his skill set always has something new in it each fight.
Early on, we didn't get to see much from Hardy; not because he wasn't active, but because his fights were so short. Aside from his UFC debut, he hadn't had a fight go past 2:15. Even all three of his amateur fights are knockout wins in 1:36 or less. His last fight with Alexander Volkov is where we got to see a good idea of where he's at. He may not be at the top yet, that much is evident, but we learned he has more than just a right hand.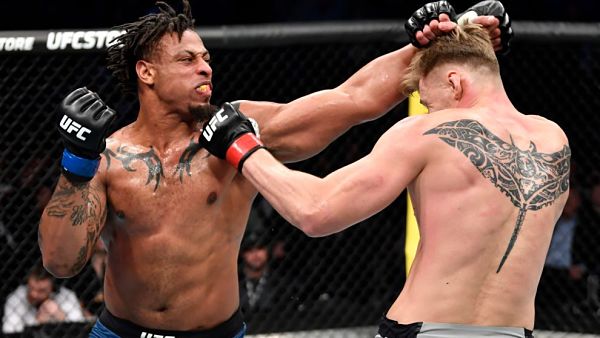 Hardy showed he can keep his composure throughout three rounds against an elite opponent, while being out-classed most of the time. He also showed more of his game this time around, he was forced to. The kicks he threw looked decent, he used good straight punches and a lead left hook, and he was able to stay mobile and use good footwork.
Hardy can take a shot too, though he blocked most of the hard strikes thrown at his face. He did however start to get picked apart by Volkov's body kicks. Now Hardy knows what to go back and work on, he's been in there with one of the best.
Not to mention, only two years into this sport and he can go the distance with a former Bellator and M-1 Global Heavyweight Champion. He also attempted a couple takedowns, but was unsuccessful with both attempts. He may not be getting every single thing he's going for, but what we're seeing him do is becoming part of his foundation to what he'll become.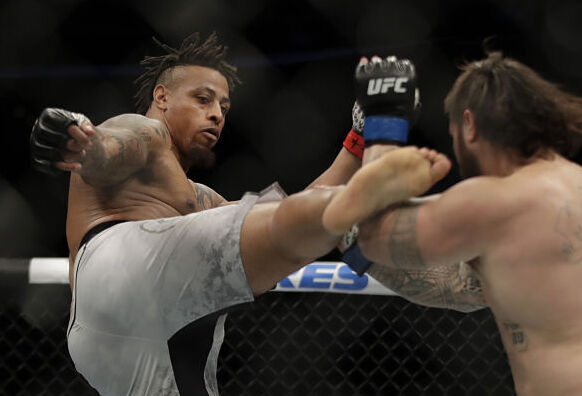 Most people aren't comfortable enough to fight a guy like Volkov on two weeks notice when they've only been in the sport that long. Most people aren't in the UFC when they've only been around as long as Hardy, and of course, the only reason he's in the UFC right now is because of his name. He is however performing and showing his athleticism every time he fights.
That short 22-day gap between fights may have helped him, it's a wonder how often he'll be able to continue fighting this much. Hardy's had five fights this year, he had four last year, and he had two in 2017, with those fights happening in November and December.
Hopefully he stays injury-free and we get to see him evolve into a complete mixed martial artist. It's different when MMA is taught to massive football players, their athleticism and power is insane. Greg Hardy really has the potential to be great. He's surrounded by controversy, but he may have what it takes to make it to the top.
So what should be next for 'The Prince of War'? Someone outside of the top ten of course. Perhaps Maurice Greene, Tai Tuivasa, Junior Albini, or maybe Todd Duffee would be good matchups for him next. Thoughts?