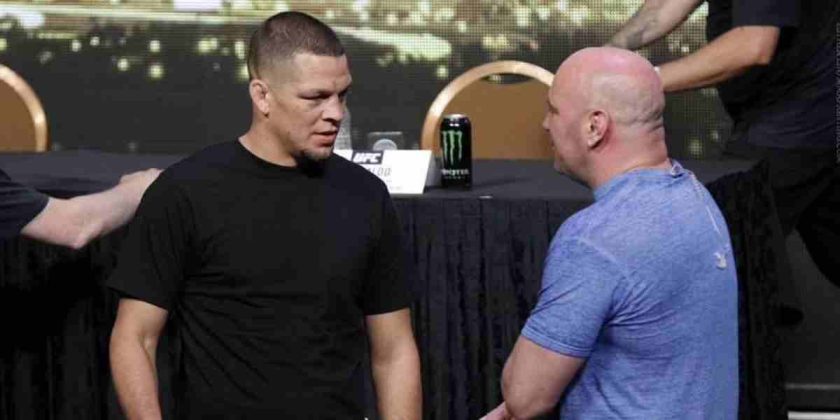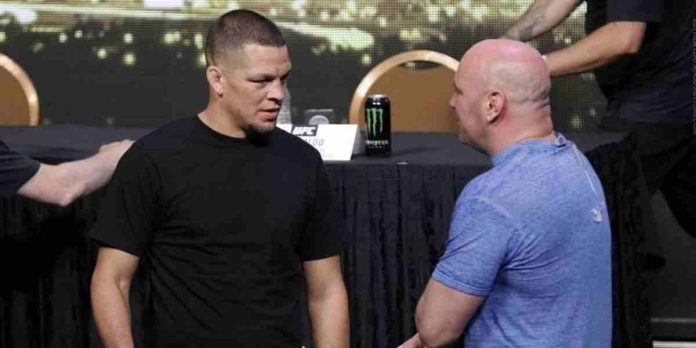 Nate Diaz has said that he feels the UFC is holding him hostage amid his ongoing contractual dispute with the promotion.
Diaz has one fight left on his current UFC deal and previously stated that he's willing to fight anyone but Conor McGregor to complete his contract in order to take on other challenges in combat sports. For instance, a potential boxing showdown with YouTuber-turned-boxer Jake Paul. The Stockton native has revealed that he has only been offered Khamzat Chimaev, despite requesting bouts against the likes of Vicente Luque and Tony Ferguson.
Nate Diaz On The UFC, McGregor And Khabib
In a recent appearance on MMA Fighting's The MMA Hour, Diaz said that he wants to part ways with the UFC but the promotion is holding him hostage.
"They don't want me out of contract, and they're keeping me in, and they're holding me hostage," Diaz said. "And I want out. That's my main objective here. And it's been a big objective of mine since before I fought [Benson] Henderson (in 2012).
"So for the last five, six, seven months, however long, when I'm asking for a fight, they offer me more money, they offer me more money, and they offer me more money. And I'm at a point in my career and my life where I don't want any more money. I just want to depart. I'm over the whole UFC roster as of right now."
The UFC, according to Diaz, wants to book a third fight with McGregor, but he doesn't seem interested in the bout for now.
"They don't want to let me out of my contract," Diaz said. "They want me to fight Conor. I'm not fighting Conor McGregor right now. Our timelines aren't matching up. … You bring yourself back to life, and I'll be back later."
Diaz also gave his thoughts on Khabib Nurmagomedov's induction into the UFC Hall of Fame.
"Khabib's a f***ing little bitch too," Diaz said. "Who did he beat for the title? He got Dustin Poirier and Justin Gaethje. They've both been finished off over and over the same way that he beat them. You ain't no good.
"You were a scared fighter, scared of fighting the whole time, and now you're in the Hall of Fame. I was here before the Hall of Fame even showed up actually. Now you're a Hall of Famer. Whatever. I don't even want nothing to do with the Hall of Fame. The Hall of Fame is a joke too."
Who do you think Nate Diaz should fight next?