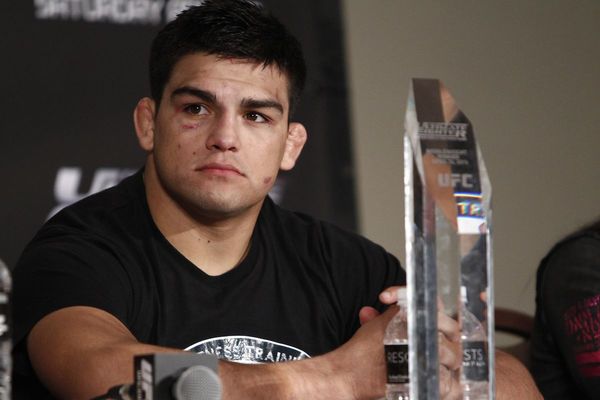 Kelvin Gastelum has endured a tough journey since joining the UFC, however, he has finally earned himself the title shot he feels he truely deserves.
Gastelum began his professional MMA career back in 2010 competing at local organisations in Mexico. Gastelum defeated his opponent via second round submission due to punches displaying his potential of what lies ahead.
Gastelum continued to show his dominance outside the UFC racking up a five fight win streak, finishing all his opponents before the final bell. With two TKO wins and three submissions, Gastelum definitely got the attention of the UFC.
Last pick at The Ultimate Fighter
In 2013, Gastelum received an invite to join the latest series of The Ultimate Fighter – Jones vs Sonnen.
Believe it or not, Gastelum was actually picked last by Chael Sonnen when the team selection was taking place. Gastelum proved this had no effect on his mental ability which he showed during the competition. Gastelum fought at middleweight against four opponents during the series and successfully defeated them all with only one bout going to decision earning him a place at The Ultimate Fighter Finale.
In front of him would be the super exciting Uriah Hall who delivered one of the most brutal knockouts in TUF history as well as the heavy favourite to win the bout. After an incredible back and forth exchange over three rounds, Gastelum pulled off the upset defeating Hall via split decision making him the youngest fighter ever to win TUF series at only 21 years old.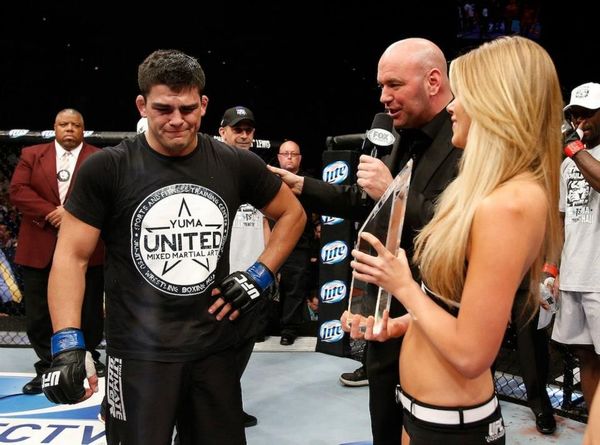 Move to welterweight – weight problems
After this win, Gastelum chose to drop down to the welterweight division.
Even though Gastelum won his next four matchups within the division, the weight cut was becoming an issue. Gastelum missed weight for the first time when facing Nico Musoke at UFC Fight Night: Swanson vs Stephens but managed to shed the pounds in his next bout versus Jake Ellenberger at UFC 180.
January 31st, 2015, would be the toughest test to date for Gastelum. Former UFC welterweight champion Tyron Woodley became the sixth person to oppose Gastelum in the cage looking to spoil the perfect record he achieved. If fighting Woodley wasn't tough enough, Gastelum struggled again to cut the weight eventually weighing in a huge 10lbs over! However, Woodley still accepted to take the fight and Gastelum would lose 30% of his purse.
Unfortunately for Gastelum, he suffered his first defeat at the handz of Woodley losing via split decision. In a post fight interview with Joe Rogan, Woodley stated he would not accept the 30% penalty purse from Gastelum as, "missing weight and losing is enough punishment."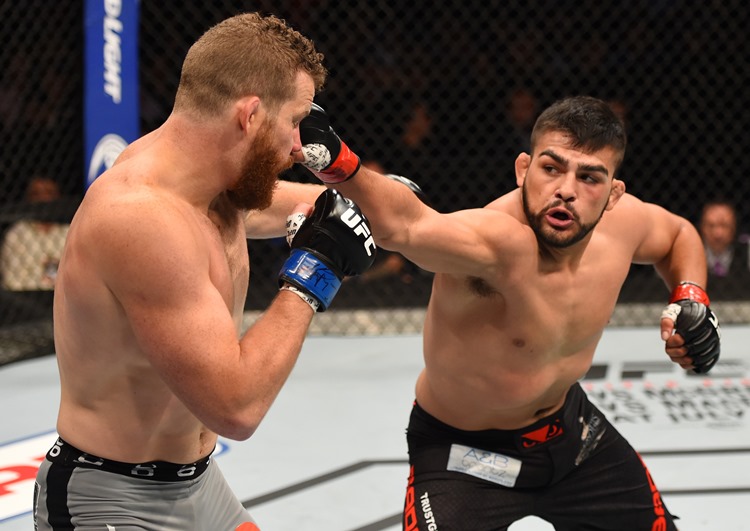 With the weight cut becoming an obvious issue, Gastelum was forced by Dana White to move back up to middleweight. This was mainly due to a scheduled matchup between Donald 'Cowboy' Cerrone at 170lbs. Come the day of the weigh ins, Gastelum didnt even attempt to step on the scales leading to the bout being scrapped. "I will never let him fight at 170 again," quoted Dana.
Back to 185 – title fight
At 185lbs, Gastelum beat four of his next five opponents albeit his bout versus Vitor Belfort was overturned due to Gastelum testing positive for marijuana.
Impressive wins over top contenders including Michael Bisping and Jacare Souza created the opportunity for Gastelum to take on UFC Middleweight Champion Robert Whittaker.
The Ultimate Fighter 28: Whittaker vs Gastelum was announced pathing the way for an inevitable title match between the two November 2nd, 2018.
With only three hours before Gastelum has his shot at the title, Whittaker was forced to withdraw from the bout suffering from an abdominal hernia requiring immediate medical attention.
Almost a year has passed since we witnessed Gastelum in the Ocatagon but this weekend he returns to take on the undefeated Israel Adesanya at UFC 236 for the Interim Middleweight Title whilst Whittaker continues his recovery.