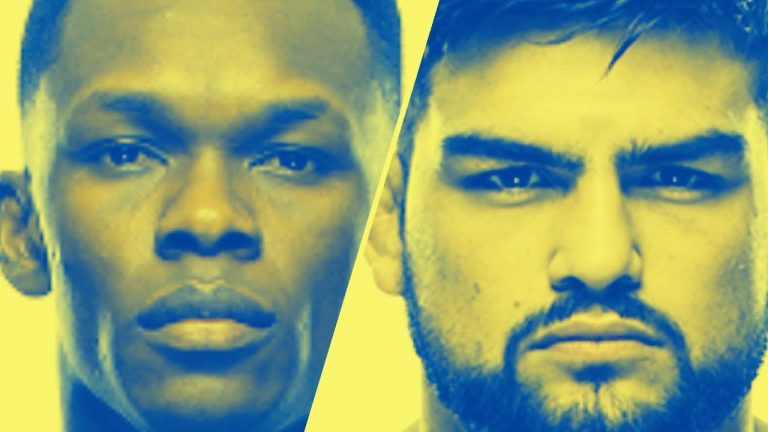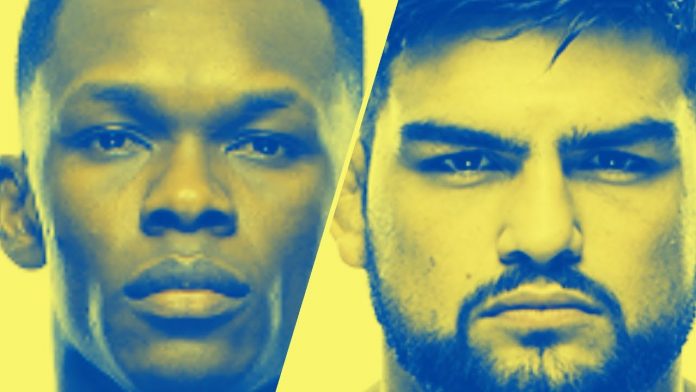 This Saturday at UFC 236 in Atlanta, Georgia, we have a great card with two interim title fights. The first title fight will be stud kickboxer and undefeated mixed martial artist Israel Adesanya taking on The Ultimate Fighter 17 winner, Kelvin Gastelum. Both of these men have been nothing short of spectacular in their MMA, and UFC careers. In this text, I will be talking about each of their careers, and will break down this incredible middleweight match up. Both of these two are technically number one contenders, so why not have them fight each other for the interim belt if the champion is injured? Makes sense to me. Continue reading below about this intriguing match up:
We'll start off with Kelvin Gastelum, considering he's been in the UFC five years longer. Kelvin was the last pick on Team Sonnen during the 17th American installment of The Ultimate Fighter, and shocked everyone by blowing through all of his opponents in the house; he won a decision to get into the house, then rattled off three finishes, two over the number four and number six overall picks, before making it to the finale to fight TUF 17 phenom Uriah Hall. No one expected anyone to beat Hall, people were talking like he could come off the show and immediately fight Anderson Silva, it was crazy the hype he had. Gastelum out wrestled Uriah to a decision, and became The Ultimate Fighter 17 Champion.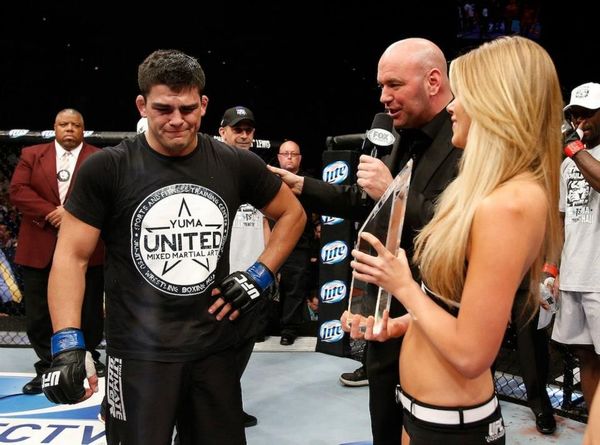 After that, Kelvin dropped down to welterweight, and won his next four. He then fought future UFC Welterweight Champion, now former UFC Welterweight Champion, Tyron Woodley. He lost the fight by a close split decision, but there's one thing he wasn't close to at all, and that was making weight. He missed weight by nine pounds, weighing in at 180 when the limit for welterweight is 171; not only that, but he'd previously missed weight for another fight as well, against Nico Musoke. He was forced to move to middleweight for his next fight, and faced former Strikeforce Middleweight Champion, and former three-time Pancrase Middleweight Champion, Nate Marquardt, and won the fight via TKO from a corner stoppage.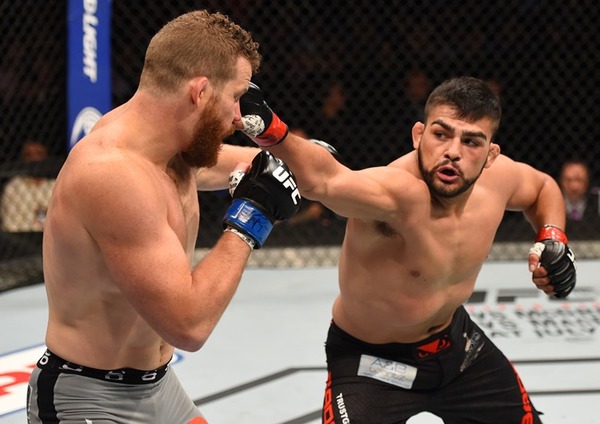 He returned back to welterweight for two more fights, and lost his return via five round split decision to Neil Magny, and then fought former UFC Welterweight Champion, Johny Hendricks, and won the fight via dominant unanimous decision. He was then scheduled to face Donald Cerrone at UFC 205, but he weighed in way too heavy for the UFC or Athletic Commission to even consider letting the fight go on, and it was cancelled. In the UFC's next PPV event, he fought former two-time Strikeforce Middleweight title challenger, Tim Kennedy, and won the fight via TKO in round three.
It appeared from here on out, middleweight would become his home. He won his next fight against another former UFC Champion, Vitor Belfort, via KO in round one, but the result was overturned due to a failed drug test, in which he tested positive for marijuana. Initially after his win over Belfort, he was 14-2, and his only two losses were split decisions.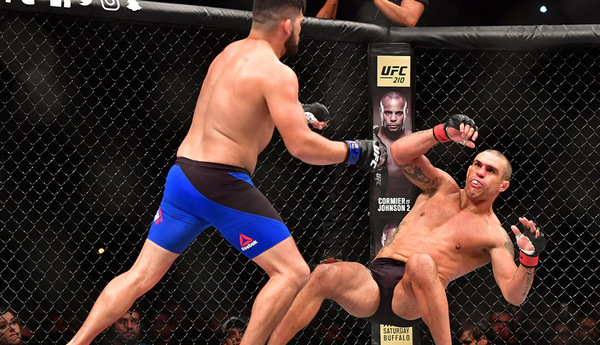 He next met the former UFC Middleweight Champion, the man that defeated Anderson Silva twice, Chris Weidman. He lost the fight, and overall took a mauling, it's the only one-sided fight he's ever lost to this day. He ended up getting submitted via arm-triangle choke with just over a minute left in round three by one of the best MMA Grapplers in the entire sport. Then he fought former UFC Middleweight Champion, Michael Bisping, and KO'd him half way through round one, and then fought former Strikeforce Middleweight Champion, Jacare Souza.
This was a very entertaining, back-and-fourth fight with Kelvin coming away with the split decision victory. That's five former world champions he's beat, that's not too bad for someone that's never fought for a belt. Hell, that ain't bad for anyone whether they had or not.
Now let's talk about The Last Stylebender, Israel Adesanya. Israel has only been a martial artist less than half of his life, crazy right? It's true, he did Taekwondo for a little bit as a kid, but his mother took him out after he broke his arm at practice, and didn't start kickboxing until he was 18. He assumed a 32-0 amateur record in kickboxing, and a 75-5-1 record as a professional, and also a 5-1 record in professional boxing. He's an incredibly experienced combat sports athlete.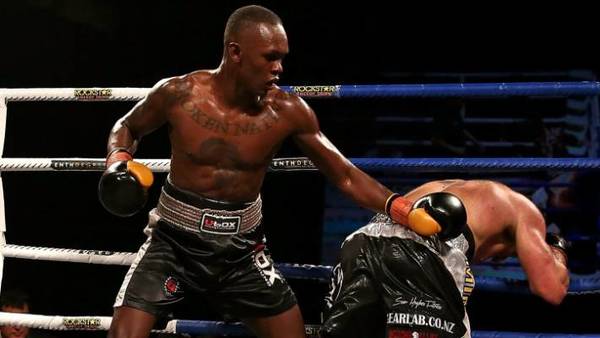 Though Kelvin has been wrestling since his youth, becoming a state champion in high school, look how far Israel has came in his striking, and MMA game. We'll see who the experience advantage goes to; will it go to Israel because of his striking background, or Kelvin because of his wrestling background?
Israel's had a pretty successful start to his MMA career, winning all sixteen of his fights so far, with 13 knockouts. He won his professional MMA debut via TKO on March 24, 2012, and by time he won his second fight, Kelvin was already in the UFC. Israel went 7-0 after that, improving to 9-0 before challenging for his first belt in MMA. He defeated Melvin Guillard to become the AFC Middleweight Champion, and in his next fight won the Hex Fighting Series Middleweight Championship before making his UFC debut. He's gone 5-0 in the UFC thus far inside his first year, with wins over Rob Wilkinson, Marvin Vettori, Brad Tavares, Derek Brunson, and Anderson Silva.
Israel has always impressed us as a striker, but what about as a mixed martial artist?
We haven't seen much of a ground game from him other than dropping for an occasional heel hook, which hasn't worked out, getting up off the bottom, or his takedown defense. We've seen drastic improvements in his takedown defense however; in his UFC debut against Rob Wilkinson he got taken down three times, in the next fight against Marvin Vettori he was taken down twice, in the next fight against Brad Tavares he was taken down once, and that was five rounds, and against Derek Brunson, the best wrestler he's fought, Derek couldn't take him down. Israel has shown drastic improvements in a very short amount of time, I'm very excited to see him evolve more.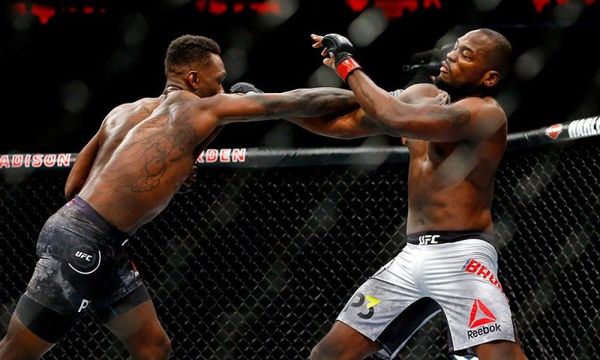 The one fight I look to in order to guess how this fight will go is Israel's fight with Marvin Vettori; because Marvin was able to get inside, get the takedown, and pressure Israel when he couldn't get the takedown. Israel of course did enough to win the fight, but Kelvin is better than Marvin. Kelvin's also three inches shorter than Marvin, and that could either help him duck under and get inside of Israel, or hurt him because he's too short to do anything to a world kickboxing champion that knows how to defend takedowns. It'll be very interesting to see. Israel is 6'4" with an 80" reach, and Kelvin is 5'9" with a 71.5" reach, it's impossible to say what exactly that means; it could very easily go either way considering.
Their body types really couldn't be more different, and neither could the way they each fight. Israel is so choiceful and resourceful with his strikes, as is Kelvin, but in different ways; Israel picks his shots from the outside with kicks and punches, and never at full power, while Kelvin bobs and slips his opponents punches in the pocket and comes back with thunderous counters, and boy can he crack at 185 lbs. He actually has at least one knockdown in every middleweight fight he's partaken in. It's actually pretty nuts how hard Kelvin hits, especially considering his proportions. When he was forced to middleweight, I did not see him getting this far, the kid is an absolute stud, no wonder for the longest time everyone called him Mini Cain.
Kelvin Gastelum (16-3) 1 NC vs. Israel Adesanya (16-0)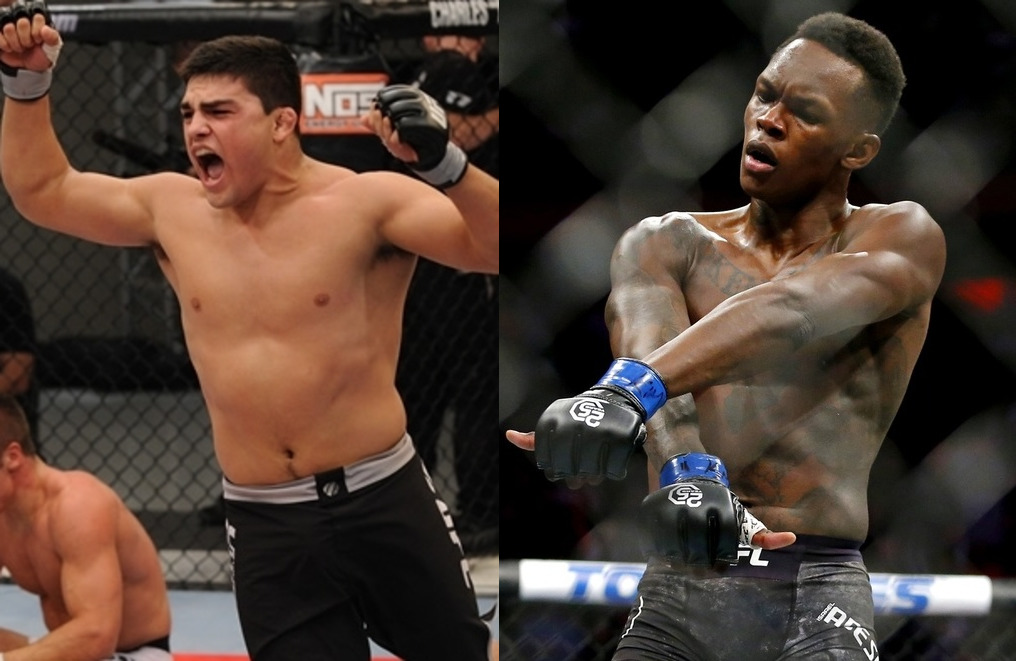 While Kelvin's power is one thing, so is his grappling, considering he can wrestle very well and is a BJJ black belt. Also, we can't forget about Israel's accuracy and overall fist fighting experience; Kelvin has been wrestling since he was a kid, Israel has been kickboxing since he was a very, very young adult. This is one of the most opposite-matched fights I think I've ever seen, and I sure am looking forward to it! Who do you think takes it?