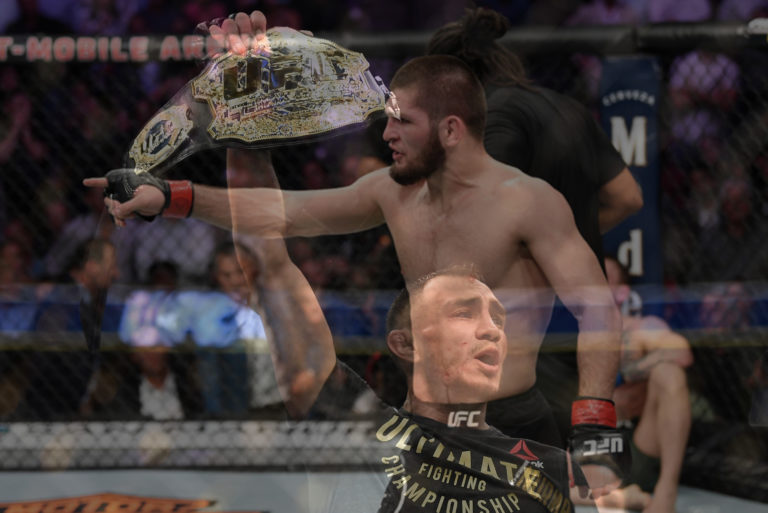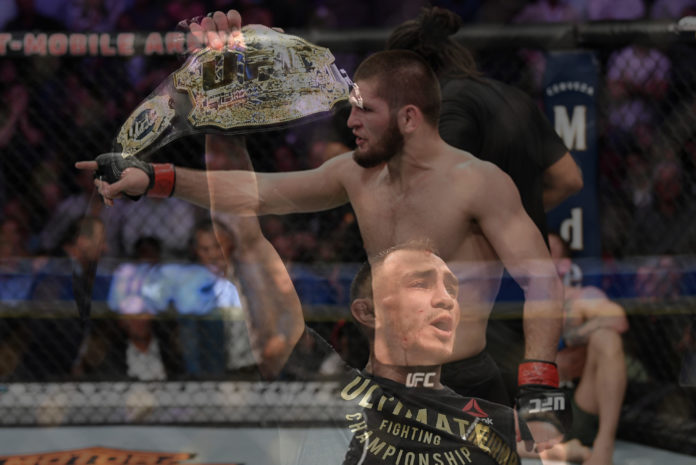 The history of these two being matched up with one another goes nearly five years back; four scheduled fights, and four replacement fights given the fact that one of these two wasn't healthy enough to make it to fight night each time it was made. This is largely because Khabib Nurmagomedov went through a long injury spree early on in his UFC career. He spent two years away from the octagon at one point, then was out another 13 months not long after.
The champion and Tony Ferguson have been matched up together four times, with each of them pulling out twice. The first of their cancelled bouts happened in December of 2015, a fight Nurmagomedov was forced out of. Ferguson then fought replacement Edson Barboza, and what an incredible fight that was! Ferguson ran through everything Barboza threw at him, and ended up winning the fight via submission (D'Arce choke) in round two.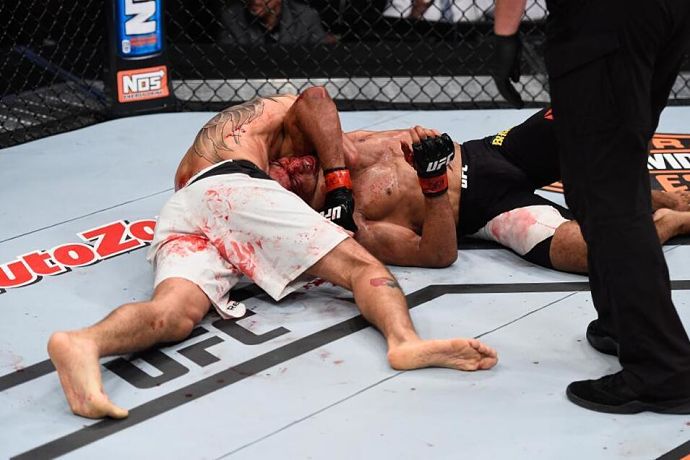 Nurmagomedov also had two fights scheduled with Donald Cerrone directly before this, both of which were cancelled due to Nurmagomedov getting injured. 'The Eagle' was also expected to face Gilbert Melendez earlier on that year, but that fight was cancelled for undisclosed reasons.
The second time these two were supposed to meet was in April of 2016, but Ferguson pulled out of the fight due to a lung issue, and was replaced by promotional newcomer Darrell Horcher. Nurmagomedov of course mauled the debuting fighter, and won via TKO in round two.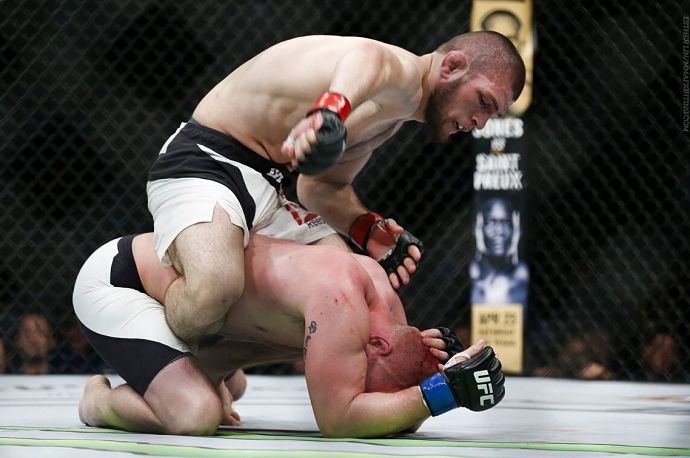 Ferguson was then scheduled to face Michael Chiesa three months later, however, Chiesa pulled out and was replaced by promotional newcomer Lando Vannata. After dealing with some real adversity, Ferguson wrapped Vannata up and defeated him via submission (D'Arce choke) in round two.
They were scheduled together a third time, and were expected to compete in March of 2017. The fight was again cancelled, this time because the athletic commission wouldn't allow Nurmagomedov to continue cutting weight, deeming it unsafe. Neither of them ended up fighting again until the end of 2017. Ferguson defeated Kevin Lee in October that year to become the interim UFC Lightweight Champion, and Nurmagomedov defeated Edson Barboza in December of that year.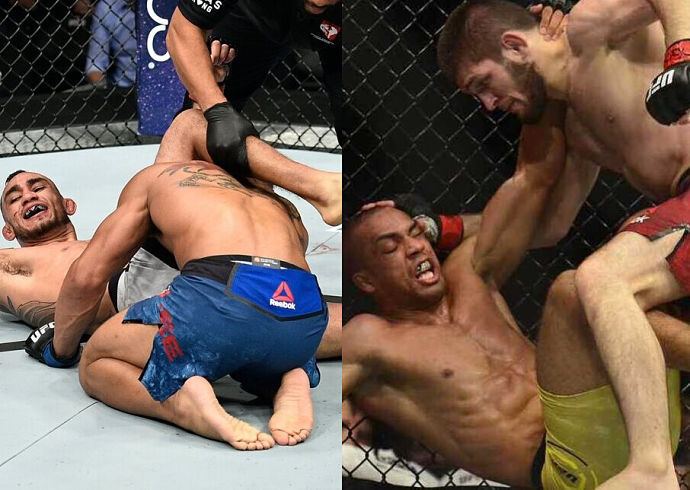 The interim title was created because then UFC Lightweight Champion Conor McGregor was on his boxing venture. Due to being inactive after his fight with Floyd Mayweather, the UFC put together an undisputed, vacant title fight between the 'The Eagle' and 'El Cucuy' in April of 2018. It appeared we were finally about to get this great fight we all wanted, and needed to see. However, the Sunday before the fight, on April Fools Day nonetheless, Ferguson injured himself by tripping over a cord during media obligations, and the fight was cancelled, yet again.
The UFC scrambled to make sure the event had a main event, and originally chose then UFC Featherweight Champion Max Holloway to fill in. The athletic commission let Holloway cut weight up until weigh in day, and deemed him unfit to continue cutting the weight needed, therefore this fight was also scrapped.
Luckily, there was a ranked lightweight on the card, Al Iaquinta, who was scheduled to fight Paul Felder, but considering these incredibly unfortunate circumstances, he was given the shot against Nurmagomedov. 'The Eagle' dominated Iaquinta for all five rounds of the fight, and was awarded the unanimous decision victory, along with the UFC Lightweight Championship.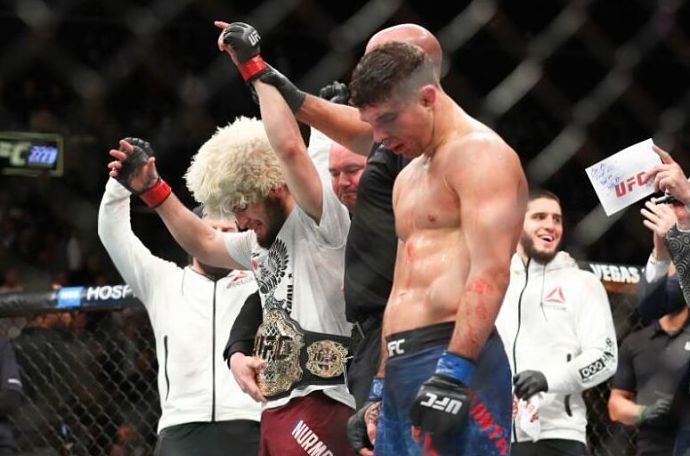 Of course, once this fight was announced again, we were all skeptical on whether it'd actually happen or not. It was one of the first fights announced before the new year, and most were complaining that it was so far out. People were wondering why the UFC would schedule such a delicate match up so far out from fight day, and given how much could, and did happen in that amount of time, they probably should've scheduled it for an earlier date.
Now it's in risk of being cancelled again, for a fifth time, and it wouldn't even be from an injury. This is especially disastrous because if it needs to be rescheduled, it won't be soon, because Nurmagomedov practices Ramadan every year.
Dana White said this fight is going to happen, but he also said the UFC wasn't going to cancel any events and would continue putting on fights. Then, less than a week later, the next three events were postponed indefinitely. This is the first event back, that's not a good look. However, White also said he found a location for UFC 249 to go down, but won't tell anyone where that is. Honestly, it doesn't matter where it is, it just needs to happen and be recorded so we can all witness it and see who's better once and for all.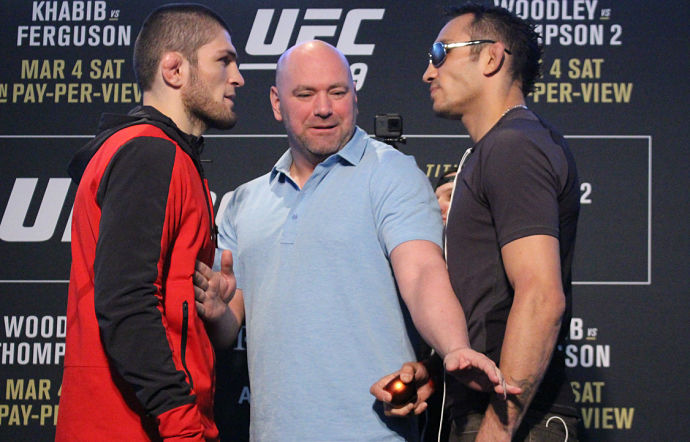 Each time these two get scheduled against one another, the fight gets so much more meaningful and important. The first time they were supposed to fight, they were both on their way to the top, but they were merely top prospects. 'The Eagle' was coming off a win over Rafael dos Anjos, and 'El Cucuy' was coming off a win over Josh Thomson. Those two fights are actually what showed everyone their true potential, their coming out parties if you will.
The second time was pretty similar, but we knew they were contenders at this point. The third time of which they were both top contenders, with Nurmagomedov coming off a win over Michael Johnson, and Ferguson coming off a win over Rafael dos Anjos. After Ferguson won the interim title and Nurmagomedov defeated Barboza in his return, they were both at the very top of the lightweight division, thus came their fourth time being matched up.
From being matched up when they were prospects, to being matched up when they were contenders, to top contenders, to being matched up when one of which was the interim champion and fighting for the vacant title, to the interim champion never losing his belt and having the other had won the undisputed title in the meantime, this fight needs to happen. It's so insane how this story has gone, there's never been a fight in the history of this sport that was more cursed.
To have two 155 lb fighters in their prime years fight one another is a thing of beauty to begin with, let alone everything that goes along with it. Lightweight is MMA's deepest division, and these are the two top talents in it, literally. It's not often we get to see the champion fight the No. 1 contender, that's why it's such a special thing when it happens. There are so many things to mention about this fight; their careers, their records, the history of the curse, how they match up together, everything.
Khabib 'The Eagle' Nurmagomedov (28-0) vs. Tony 'El Cucuy' Ferguson (25-3)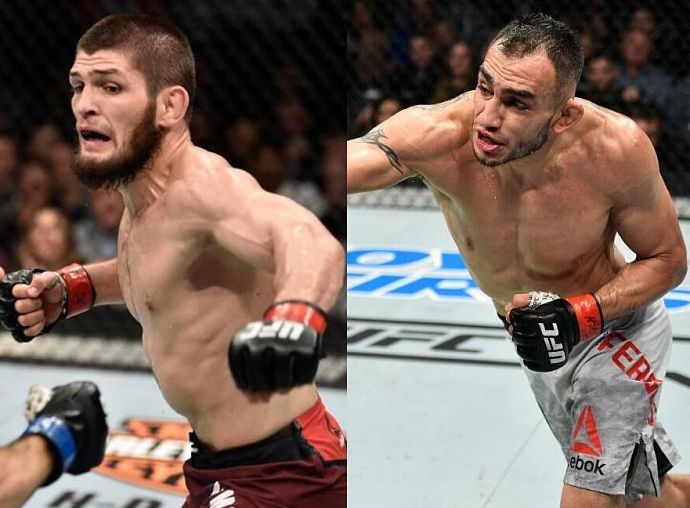 Firstly, they both have 28 fights, and they're both on twelve-fight win streaks. That's insane, to be on a twelve-fight win streak in any MMA promotion is pretty huge, let alone in the UFC, and let alone in the lightweight division. Nurmagomedov is of course 12-0 in the UFC, and Ferguson is 15-1 in the UFC. After going 3-0 on The Ultimate Fighter 13, Ferguson won his UFC debut, capturing The Ultimate Fighter trophy.
What's pretty crazy about that, that was at welterweight, and 'El Cucuy' won all three of his TUF fights via knockout, as well as his finale win. That's 4-0 with four knockouts at 170 lbs in UFC contracted fights, and he also won the PureCombat Welterweight Championship right before joining The Ultimate Fighter 13 cast.
He returned to lightweight directly afterward, and won his next two fights, before losing an upset to The Ultimate Fighter 12 finalist Michael Johnson. 'The Menace' won all three rounds against Ferguson, though Ferguson broke his arm in that fight, and didn't fight again for another 17 months. This is of course the last time 'El Cucuy' lost, and there's something incredibly interesting and special about that…
The last time Tony Ferguson lost, four current UFC champions didn't even have a single fight. That's right, Weili Zhang, Henry Cejudo, Kamaru Usman, nor Alexander Volkanovski had a single fight at that time. Absolutely remarkable right? Israel Adesanya was 1-0 at that time, and had just made his professional MMA debut less than two months prior as well.
Volkanovski made his MMA debut later that month, Zhang made her MMA debut 18 months later, Cejudo made his MMA debut ten months later, and Usman made his MMA debut almost seven months later. That's how long it's been since this man lost, and the champion is of course undefeated at the highest level, that's all the intrigue in the world.
It's so unfortunate this fight has been cancelled so many times, but they're both clearly at their best now, so maybe it was for the best, if it still happens at UFC 249 that is. 'El Cucuy' never lost his interim title, and he's had to fight twice since he won it. One time of which was at UFC 229, the night Conor McGregor came back and challenged 'The Eagle' for the title.
This was unfortunate itself, this fight was cancelled four times at this point. Neither of them could stay healthy throughout their entire camps when preparing for one another, but when they were scheduled against different opponents, they were both able to make the walk on that same night.
Luckily, both won their fights, so that's definitely the next fight they made, right? Wrong. Early that next year (last year), Ferguson was dealing with some serious personal issues, thus leaving the lightweight title picture unclear. He declined an interim title bout with Max Holloway, so Holloway was then matched up with Dustin Poirier for the interim UFC Lightweight Championship.
Poirier won that fight via unanimous decision, and was then granted his shot at the undisputed champion. Ferguson got well soon however, and defeated Donald Cerrone in the meantime back in June of last year, then Nurmagomedov defeated Poirier in September, lining these two up with each other once again. The UFC could've just waited and scheduled them in September considering 'The Eagle' didn't fight again until then anyway, but they didn't.
The fact that the challenger just turned 36-years-old, along with the fact that the champion wants to retire in the near future, this fight needs to happen, badly. Ferguson only has so long before he's not at his best anymore, and Nurmagomedov doesn't want to leave the sport without having fought the clear longtime No. 1 contender. The way these two match up together, it's such a great, important fight.
There's never been a talent like Nurmagomedov in this sport, and the same could be said about Ferguson. They're both so dominant, but in completely opposite ways. The main thing about how they match up is that the champion has never been cut, and no one cuts their opponents up like Ferguson. Also, Ferguson accepts bottom position often times, he doesn't mind fighting off his back. Not to mention their dimensions, with the champion standing 5'10" with a 70" reach, as opposed to the challenger, who's 5'11" with a 76.5" reach.
With all the elbows Ferguson throws off his back, and his slick submissions, that could spell disaster for Nurmagomedov. Poirier had the champion in a very tight guillotine choke before getting choked out himself, if 'El Cucuy' was the one choking him, it may have gone differently. His arms are so long and he's so opportunistic. Then again, the success Kevin Lee had on top against Ferguson in their fight before being submitted, you've gotta think Nurmagomedov should be able to have similar success to that as well.
With all the luck in the world, Dana White and the UFC pull this off. Or does this go down as the best, most important fight in UFC history that never happened?
The history of Khabib Nurmagomedov vs. Tony Ferguson:
12-11-2015 – Nurmagomedov (22-0) vs. Ferguson (19-3) Cancelled
04-16-2016 – Nurmagomedov (23-0) vs. Ferguson (20-3) Cancelled
03-4-2017 – Nurmagomedov (24-0) vs Ferguson (22-3) Cancelled
04-7-2018 – Nurmagomedov (25-0) vs. Ferguson (23-3) Cancelled
04-18-2020 – Nurmagomedov (28-0) vs. Ferguson (25-3) Unknown