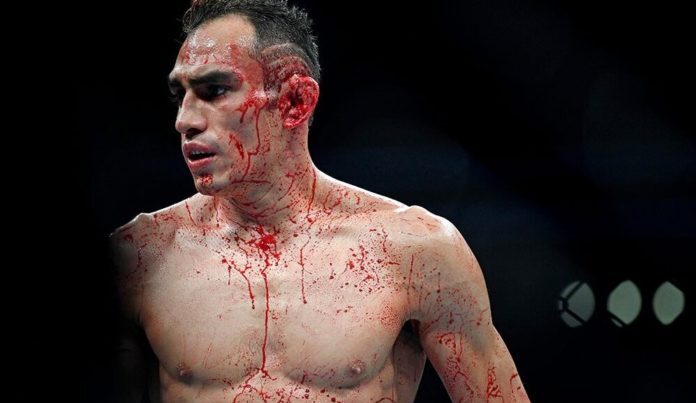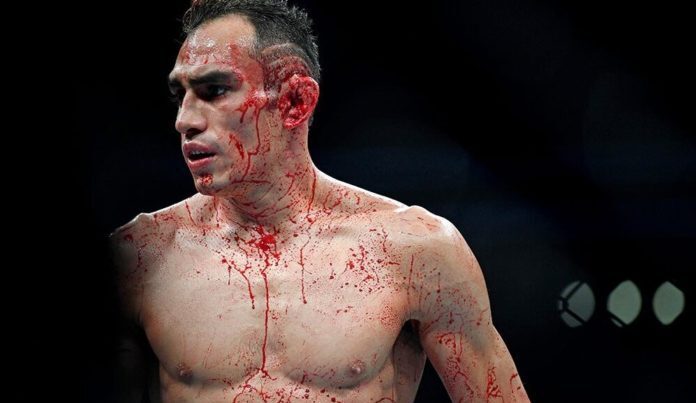 Many people believe Tony 'El Cucuy' Ferguson is the nightmare match up for UFC Lightweight Champion Khabib 'The Eagle' Nurmagomedov. Given his skill set, it's evident why so many believe this. Especially when someone's undefeated, with a record of 28-0 nonetheless, people often think their next opponent is their kryptonite. The thing is, both of these guys are bad match ups for each other. Both of these two have the skill sets to defeat one another, but how will it go down when it matters most, on April 18?
'The Eagle' is as dominant of a fighter as any of us have ever seen. His striking is grossly underrated, and his grappling is widely considered the best in the entire sport. From his takedowns, to his set ups for his takedowns, to his chain-wrestling if he can't get his opponent down on the first try, it's something no one's had an answer for thus far.
Not to mention how dominant he is once he's on top, we've never seen anything like it. The way he controls his opponents wrists in order to prevent them from getting up, while viciously assaulting them with nasty ground-and-pound and passing to a more dominant position, he's as good as they come.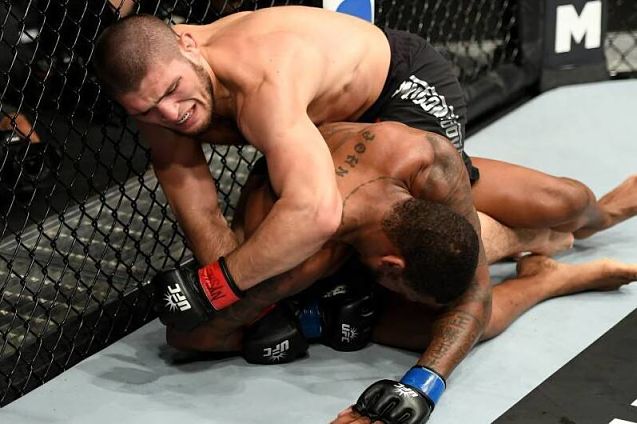 One thing to look at when predicting this fight is the fact that 'El Cucuy' accepts bottom position a lot, this could be good, or bad for him. When looking at his fights with Danny Castillo and Kevin Lee, he spent much of those fights on his back. His split decision win over Castillo was incredibly close, and many were surprised to see him awarded with the victory. His fight with Lee however, he started to take control in the second round, but was taken down a few times throughout the fight. He also stuffed a few takedowns by Lee, as he's a great wrestler himself, but he doesn't mind fighting off his back.
This is because his grappling is at an elite level. Not only is he a BJJ black belt under Eddie Bravo, but he also attacks with strikes off his back unlike anyone else. How many elbows he throws off his back is insane; he uses them to cut his opponents on top, and to set up submissions, just like he did against Lee. He constantly attacked from the bottom, and in round three, he almost secured an armbar from his guard, before finishing the fight with a triangle choke not long after.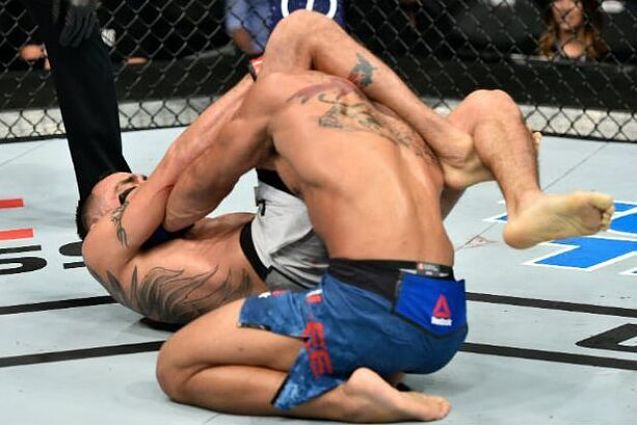 This could be problematic because all of Ferguson's last eight opponents had vicious cuts and bruises all over their faces after fighting him, and the champion has never been cut in a fight. Nurmagomedov has been around long enough to where we've seen him deal with adversity at this point, but he still hasn't really had to dig deep and overcome a whole lot. The most trouble he was ever in was early in round one of his fight with Michael Johnson, and that guillotine choke Dustin Poirier locked him up in.
However, it could also be problematic for Ferguson, because Nurmagomedov is the wrong guy to accept bottom position on, for anyone. Lee was able to secure a mount and reign down some heavy strikes onto Ferguson before the end of round one, and if he can do that to 'El Cucuy', then 'The Eagle' should be able to as well.
Ferguson doesn't stop though, he's not someone you can take breaks on. Nurmagomedov has good cardio, his pace is very intense, but he takes breaks every so often. Ferguson is the type of guy that'll pick the pace up as soon as he sees any of his opponents start to slow.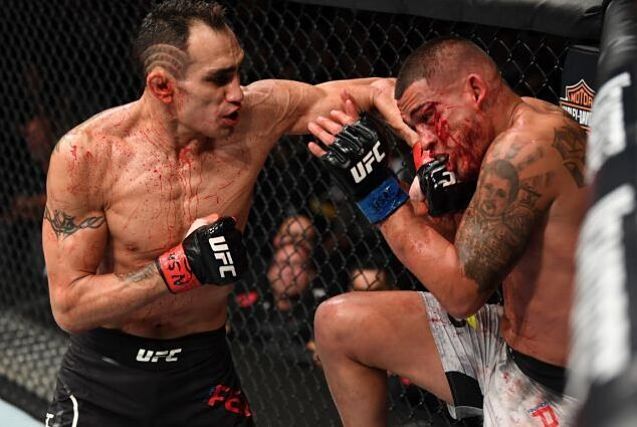 Ferguson also has some very good wrestling of his own, being a state champion in both high school and NCWA college, as well as being a two-time North Central Conference Champion, and a two-time NCWA All-American. This doesn't mean he can out-wrestle the champion, but what if he wants the fight to play out on the feet? He most likely has the advantage there, and if he's taken down, not only is he incredibly offensive off his back, but he's also very good at scrambling, whether it be to sweep his opponents or to stand back up.
These scrambles present perfect opportunities for submissions, particularly front chokes, which 'El Cucuy' has mastered. His submission of choice is the D'Arce choke, and he has more of them that anyone in UFC history with three. Not only is he great at securing and finishing these chokes, but he gets them from a standing position often times, then drags his opponents down with him in order to finish it. This could spell disaster for Nurmagomedov's takedowns.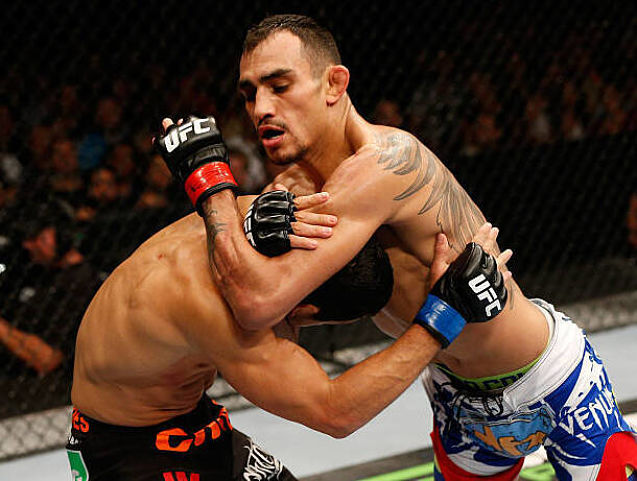 He also submitted long-time BJJ black belt and long-time UFC veteran Gleison Tibau via rear naked choke, who Nurmagomedov just so happened to pick up his most controversial win over. An excuse for the champion, that was only his second fight in the UFC, and only his second fight ever in a cage, against a steroid abusing veteran.
Another reason this may be Nurmagomedov's toughest match up is the fact that Ferguson never stops looking for the finish. He doesn't look to win on points, at all; he could be losing the entire fight, and he won't change what he's doing, he'll keep pursuing the finish, regardless of what he may finish the fight with. He attacks with so many things, one of them is bound to work.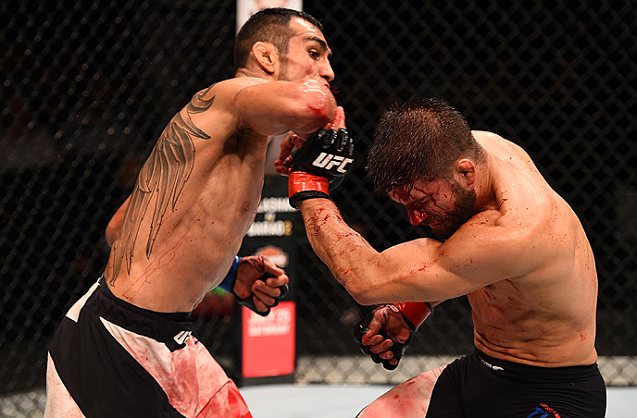 All 'El Cucuy' has to do is be perfect for a few split seconds, and he's got the finish. He's incredibly unpredictable, and while Nurmagomedov is the most dominant fighter we've ever seen, we all know what he's going to do, that's never the case with Ferguson.
As stated above, if Lee was able to take Ferguson down and unleash some ground-and-pound on him, Nurmagomedov should be able to as well, perhaps with more success than Lee had. On the contrary, if Poirier was able to wrap Nurmagomedov up in a guillotine choke that tight, Ferguson should be able to do something similar and get the finish from it. There are so many questions that need to be answered at UFC 249. Is Tony Ferguson 'THE' nightmare match up for Khabib Nurmagomedov?