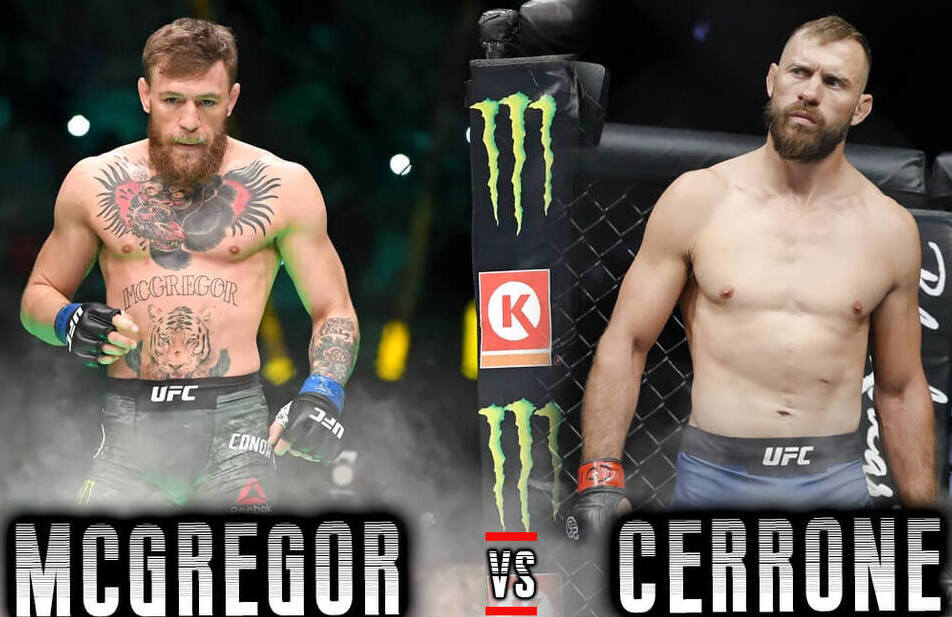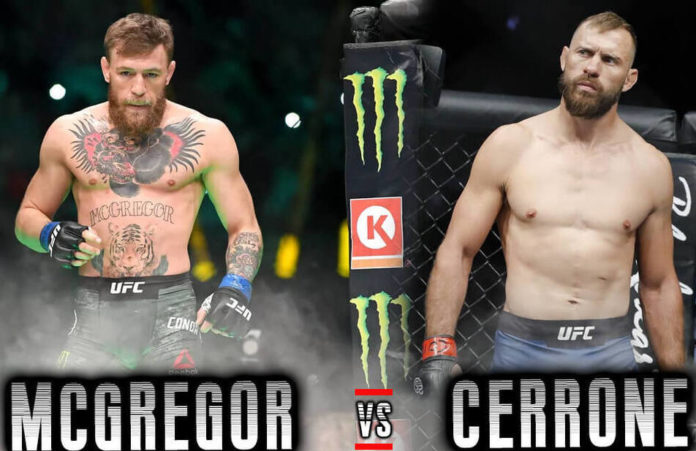 We have a massive fight this weekend at UFC 246, as 'The Notorious' Conor McGregor returns to action for the first time in over a year to fight Donald 'Cowboy' Cerrone. This is a dream fight we've all been waiting to see since 2015, and we almost got to see it in 2016, but the UFC decided to have the Irishman fight Nate Diaz instead. What a great, respectful rivalry that turned into, and now we finally get to see 'The Notorious' vs. 'Cowboy'.
Donald Cerrone has been at it for quite some time now. After going 13-0 in amateur kickboxing, he turned professional, going 28-0-1 before turning to mixed martial arts. It's crazy, 'Cowboy' didn't even get a knockout win in MMA until his sixteenth win; 12 of his first 15 wins were via submission, his ground game has always been at such a high level. To be a natural on the mat like that, especially after having an extensive career in a stand up art, it's pretty shocking, and he's only gotten better at it.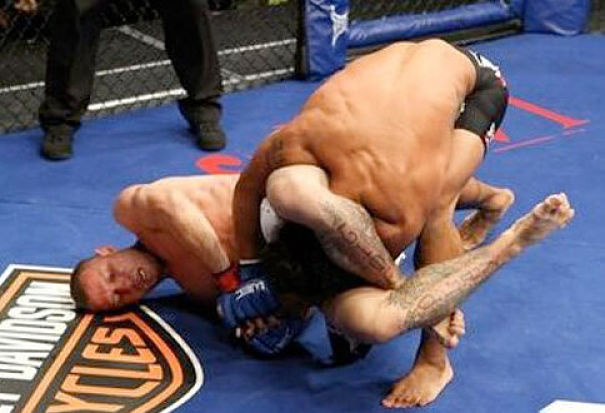 Cerrone won his first seven fights via submission (two armbars, five triangle chokes) before making his WEC debut. His first WEC win was overturned, but if you haven't seen it, go back and watch it. That triangle was very different than any other we'd seen in MMA, at that point and since. He then went 6-3 before making his UFC debut.
All three of those losses came in title fights, two to Benson Henderson, and one to Jamie Varner. The loss to Varner was a split decision in which he avenged, and the first Henderson fight could've easily went either way, what a classic back-and-fourth fight that was. Cerrone rematched Henderson about six months later and was choked out just two minutes into round one, and he's since avenged that loss as well.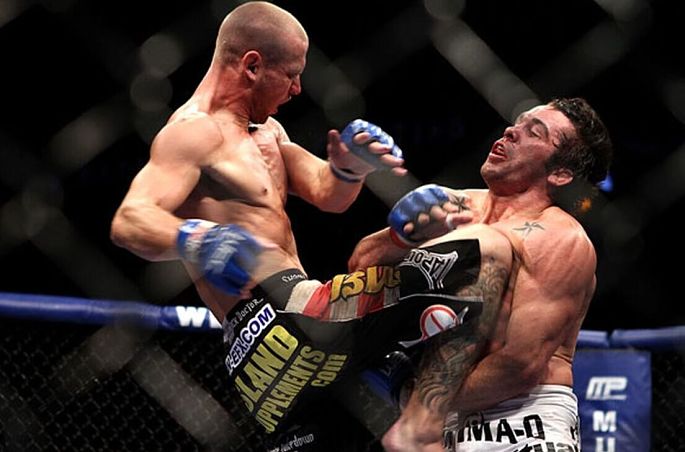 'Cowboy' quickly made some noise in the UFC once arriving, going 4-0 in 2011 before losing to Nate Diaz at the end of the year. He went 3-2 in his next five, losing to Anthony Pettis and Rafael dos Anjos, before going on his second tear in the UFC, an eight-fight win streak.
This included wins over Edson Barboza, Benson Henderson, Myles Jury, Jim Miller, and Eddie Alvarez. After this, Cerrone was awarded his first UFC title shot, a rematch with then champion, Rafael dos Anjos. His rematch with dos Anjos only lasted 66 seconds, he was never able to get started because dos Anjos came out swinging.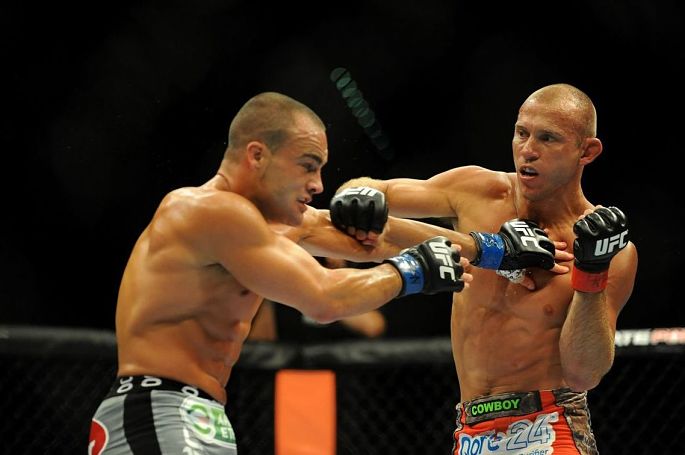 Cerrone then went up to welterweight, and again, went on a tear initially. His first four fights at 170 lbs saw him go 4-0 with four finishes. First he submitted Alex Oliveira, then knocked out Patrick Cote, Rick Story, and Matt Brown.
What's crazy about that, the three guys he knocked out had never lost via knockout before. Cote had even fought for the UFC Light Heavyweight Championship and the UFC Middleweight Championship, he was certainly the biggest guy Cerrone had ever fought.
Cote's also a very skilled striker himself, and a guy not even Stephen 'Wonderboy' Thompson could finish. Rick Story spent his whole career at 170 lbs, and was ranked No. 9 before this defeat. Cerrone really came into his own in that fight. His wrestling was as on-point as it ever had been, and he just pieced Story up that whole fight until the finish.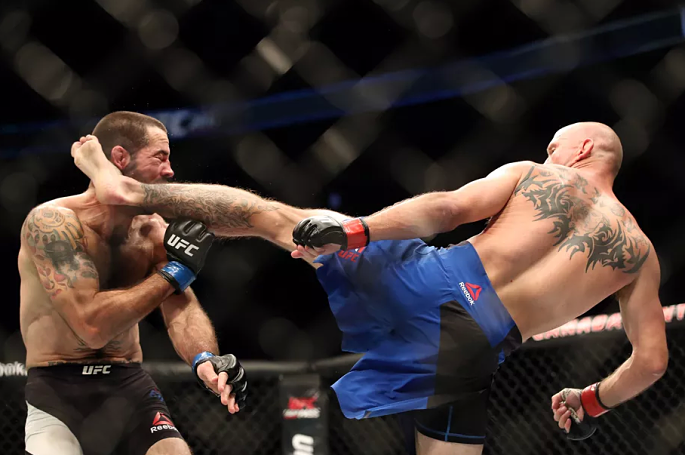 Matt Brown was also in the top 15, and he'd lost once previous to strikes via body kick, but had never been finished with a strike to his head. After two-and-a-half rounds, Cerrone caught him with a beautiful head kick and that was all she wrote. 'Cowboy' was ranked No. 5 at welterweight at this point, but that's when he ran into Jorge Masvidal, Robbie Lawler, and Darren Till.
The Masvidal fight was a horrible match up for him, he could've gotten the nod in the Lawler fight, it was close, and Till was also a horrible match up for him, as we now know. Cerrone then went 2-1 in his next three with a win over Yancy Medeiros, a loss to Leon Edwards, which he won two rounds of, and a win over Mike Perry.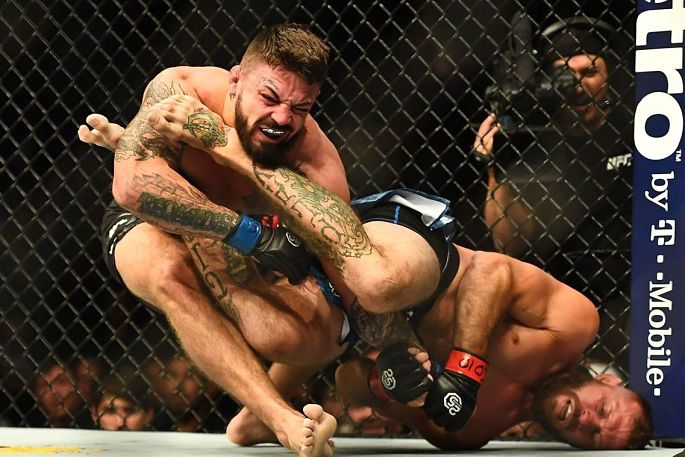 He's gone 2-2 since returning to lightweight; it started off with two great wins over Alexander Hernandez and Al Iaquinta, then he fought the No. 2 and No. 3 lightweights in the world and neither of those went his way. McGregor's a top three lightweight, will this play out similar to Cerrone's last couple?
After winning the Cage Warriors Featherweight Championship and the Cage Warriors Lightweight Championship, Conor McGregor made his UFC debut, one of the best and most impressive UFC debuts of all time. He won his first seven fights with the promotion, scoring six knockouts.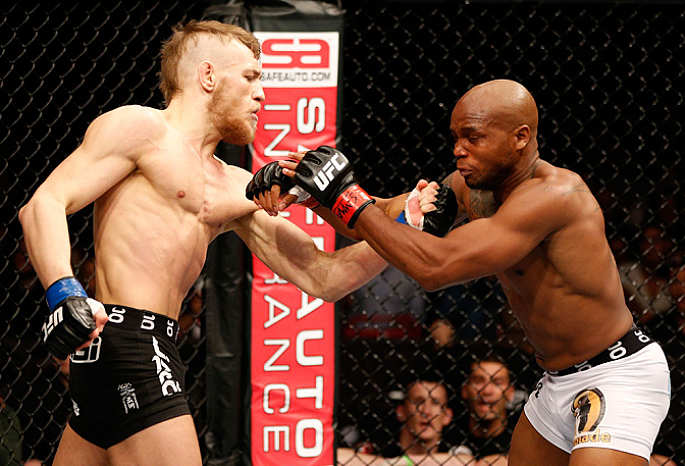 The only opponent he couldn't finish in that time was Max Holloway, and let's talk about that fight for a minute. Yes, Holloway was only 21-years-old when this fight happened, but he was still a youth beyond his years, and McGregor was only 25-years-old himself. McGregor tore his ACL in that fight and was still able to not only out-strike, but out-wrestle Holloway, something a healthy NCAA Division I All-American in Dennis Bermudez couldn't do in Holloway's fight previous.
After going 3-0 in the UFC, we got to see McGregor fight his first true test, his first elite, high ranked opponent, Dustin Poirier. After knocking him out in less than two minutes, he fought and finished Dennis Siver, a fight he took just to stay active before challenging for the title. Of course he was supposed to fight Jose Aldo at UFC 189, but Aldo pulled out, and we got to see him fight Chad Mendes.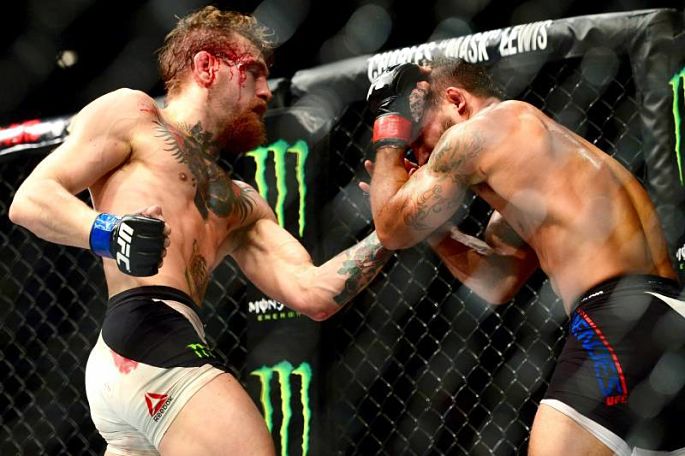 This was a very exciting match up because most of us believed he'd crumble under the pressure of a stellar wrestler. We all wanted to see him fight either Mendes or Frankie Edgar before challenging for the belt, and considering how things panned out, we did get to see it.
'The Notorious' went into this fight with an 80% tear on his ACL; he didn't train much wrestling for the camp because, well, Aldo isn't a wrestler. Even if he was supposed to fight Mendes the whole time, he wouldn't have been able to drill like he would've needed. He got out-wrestled for the majority of the fight, but he didn't wilt under the pressure, and got the finish just before the end of round two. He was now the Interim UFC Featherweight Champion. This was followed up by his knockout win over Jose Aldo, the fastest finish ever in a UFC title fight.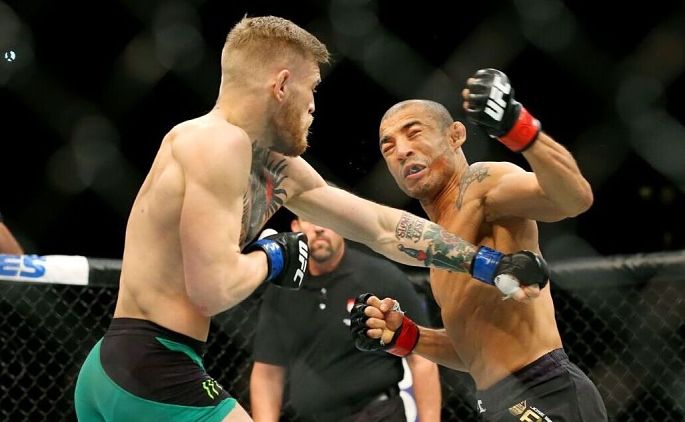 McGregor was on top of the world at this point, and he wanted that lightweight belt next. After Rafael dos Anjos pulled out of his scheduled fight with McGregor at UFC 196, 'The Notorious' had those two fights with Nate Diaz, then he headlined the first ever MSG card the UFC had put on opposite Eddie Alvarez. This is perhaps the best performance ever. Not only for a title fight, not only the best performance in a lightweight fight, or in his career, it was the best performance ever. A true masterpiece he put on at UFC 205.
Since this however, he's only fought twice, once in MMA, and once in boxing. That fight with Alvarez was over three years ago. He boxed Floyd Mayweather in the summer of 2017, he fought Khabib Nurmagomedov in the fall of 2018, and we didn't see him at all in 2019. It's time we get a focused Conor McGregor back.
Conor McGregor (21-4) vs. Donald Cerrone (36-13) 1 NC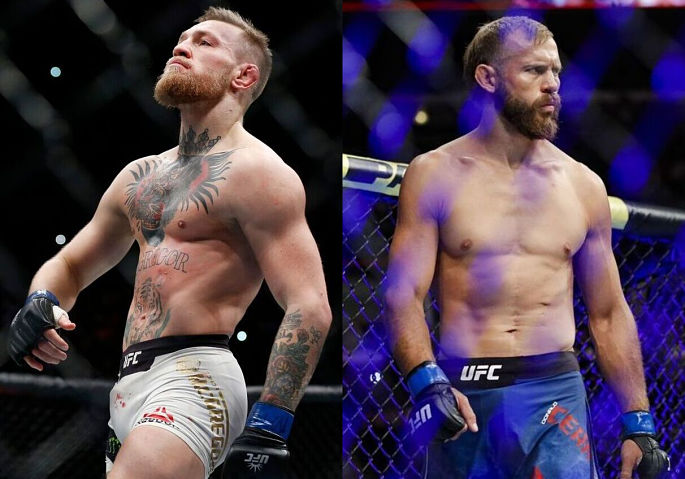 This fight could go a number of ways. We could see McGregor score an early knockout, we could see Cerrone knock McGregor out, we could see Cerrone submit him, we could see McGregor piece Cerrone up until he finishes him, this fight has countless potential outcomes. Most do, but not quite like this one. Of course, we all know 'Cowboy' has more ways to win, but that doesn't mean he will.
Firstly, McGregor's ground game is so much better than really anyone gives him credit for; his takedown defense has gotten better and better throughout his career, his takedown offense looked decent when we've seen it, and his stand up arsenal is one of the best this sport has ever seen.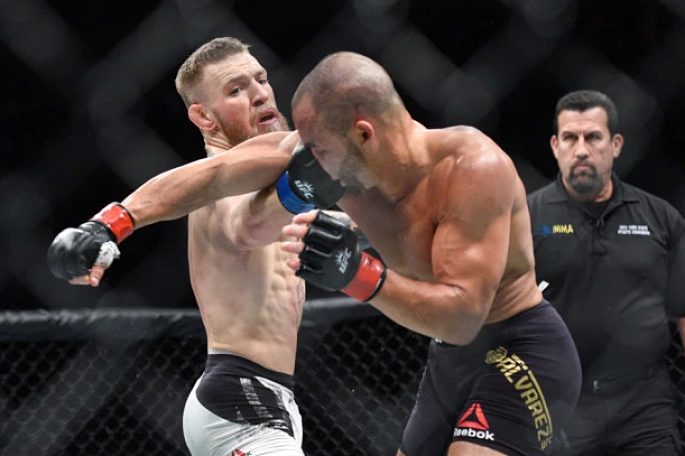 How fluent, accurate, precise, and powerful he is has always been something to behold, along with his movement, footwork, timing, and distance management, he's incredible. We've never seen anything quite like it, he's almost like an Anderson Silva on the feet that primarily prefers to box rather than use muay thai. He knows how to make his strikes sting, he twists his wrist at the perfect time just before the punch lands, it really is a thing of beauty to watch.
This may be Cerrone's downfall; not only has 'Cowboy' had issues with some of his southpaw opponents in the past, but he stands straight up, and he doesn't move his head much. His head may be a perfect target for McGregor considering, but it's not that simple. Cerrone could take him down, his wrestling is at a very high level now, both offensively and defensively, but McGregor could also hurt and drop Cerrone, then follow him into his guard. That's a tricky situation that we'll just have to wait and see if it happens.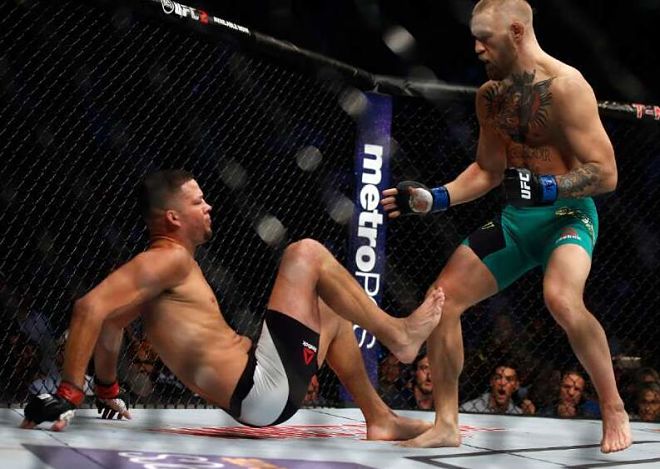 Both of these two are also 0-1 in professional boxing, just an interesting fact. With this fight being at welterweight, Cerrone may have a much better chance of winning as well. He hasn't been quite as durable at lightweight, especially when absorbing body shots. The only two opponents to finish him at welterweight are Jorge Masvidal and Darren Till. Masvidal's an assassin, and Till's a massive mountain of a man that went 44-0 in kickboxing.
The last thing this fight depends on is how they each start. We all know Cerrone's a slow starter, and we all know McGregor's a very, very fast starter. Considering Cerrone's had eleven fights in the time that McGregor's had one, that may help 'Cowboy' a tad, but 'The Notorious' will most likely come out guns blazing like he always does.
Many fans are upset that this is the fight McGregor returns to, but why? No one wants him to fight for the belt next, and he shouldn't fight a top three guy upon return. Give him a chance to truly come back and become something special again. Cerrone is ranked at No. 5 right now, and though McGregor's expected to win, this isn't a gimme fight. This isn't a sure victory for McGregor, Cerrone is one of the most well rounded and most dangerous fighters ever.
This is an absolutely epic fight that we're all incredibly excited to see! Who will you be picking?