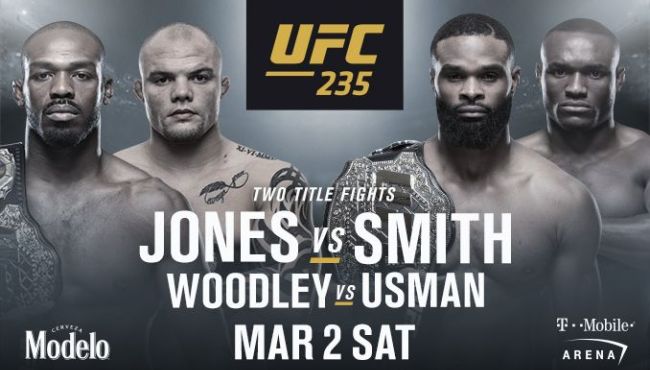 This Saturday, the UFC will touch down in Paradise, Nevada, for UFC 235. Headlining the card will be a Light Heavyweight Championship fight between Jon Jones and Anthony Smith, and co-headlining the card will be a UFC Welterweight Championship fight between Tyron Woodley and Kamaru Usman. Also we have the returns of Cody Garbrandt and Robbie Lawler after their most recent setbacks, and the debut of one of the best wrestlers in the entire USA, Ben Askren. Tune in at 10PM ET on PPV to catch this stacked main card of fights! Breakdown posted below:
Jon Jones (23-1) 1 NC vs. Anthony Smith (31-13)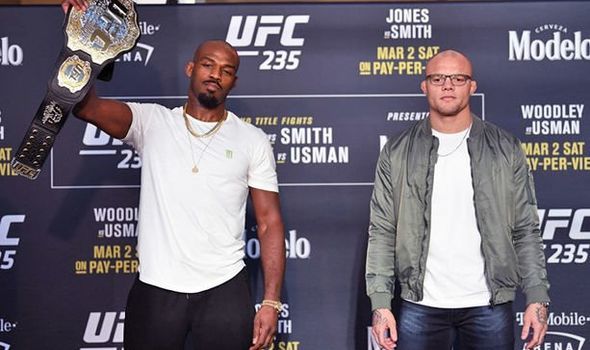 Jon Jones has been nothing short of dominant throughout his MMA career, regardless of his issues outside the cage. He makes the best decisions in the most flustering moments, against the best fighters, and always comes out on top, every time. He's one of the best wrestlers in the sport, and submitted two BJJ black belts in two of his first four title defenses before even having his own BJJ coach, them being Lyoto Machida and Vitor Belfort. He's a very tough guy to strike with too, as he has the longest reach in the UFC and his oblique kicks manage distance very well, along with injuring his opponents lead leg.
He won the belt in 2011, and hasn't lost it in a fight since. He has the most consecutive and most successful title defenses in UFC Light Heavyweight history with eight, and the longest win streak ever at light heavyweight at 13. He has the most consecutive light heavyweight title bouts as well, with 12; the most submission wins in light heavyweight history with five, and the most wins in light heavyweight history with 16.
Anthony Smith has been through it all in his career it seems, but has gone 14-2 in his last 16, and is getting his first major title shot. He has however won the VFC Middleweight Championship, and the CFFC Middleweight Championship. His Muay Thai is really a thing of beauty to watch, and he's so powerful. He also holds a black belt in BJJ, and is 3-0 since his move to light heavyweight. Jon Jones has by far the advantage in experience in the UFC, but overall, Smith has almost twice as many fights as Jones. It'll be very interesting to see what Anthony can do.
Tyron Woodley (19-3-1) vs. Kamaru Usman (14-1)
Tyron Woodley has been one of the best welterweights in the world since his Strikeforce days. He made his Strikeforce debut when he was just 2-0, and went 8-1 in the promotion before coming to the UFC. That loss was in a title fight with MMA legend Nate Marquardt, and he won four of his first five fights via submission, and also went 7-0 as an amateur. That's one reason I was very pleased with his last performance, he used everything in his arsenal, well not everything but more than he usually does. He got his first submission win in nine years when he D'Arce choked Darren Till, and he was awarded his BJJ black belt right there in the octagon.
Tyron packs more power than I think any welterweight ever has, with the exception of perhaps Paul Daley, who he defeated in his ninth professional fight. Tyron's a two-time NCAA Division I All-American, and a Big 12 Conference Champion in 2003. He will be attempting to defend his belt for the fifth straight time, the first of which was a draw, so he only has three defenses thus far.
Kamaru Usman really is what he's called himself, a problem. I remember watching how dominant he was on The Ultimate Fighter 21, and he won his season. He came to the UFC with a 5-1 record, and has gone 9-0 since. His first five wins were via TKO, and has since only had two finishes, one submission, and one KO. However, I must say he's as dominant as you can be without consistently finishing opponents. Kamaru has quite the wrestling resume as well, he's a three-time NCAA Division II All-American, and was the NCAA Division II National Champion at 174 lbs in 2010. He was also a member of the University World Team in wrestling in 2010.
I've been waiting quite awhile to see Kamaru fight someone of this caliber; yes dos Anjos and Maia are incredible, but they're not Tyron Woodley. This will be a very interesting match up between two stud wrestlers that know how to do it all. Whoever wins this fight, I'm hoping fights Colby Covington next. I mean let's face it, Colby did what Kamaru did twice, first. Look at both of their records, their last two fights are the same, and he did it just as dominantly.
Robbie Lawler (28-12) 1 NC vs. Ben Askren (18-0) 1 NC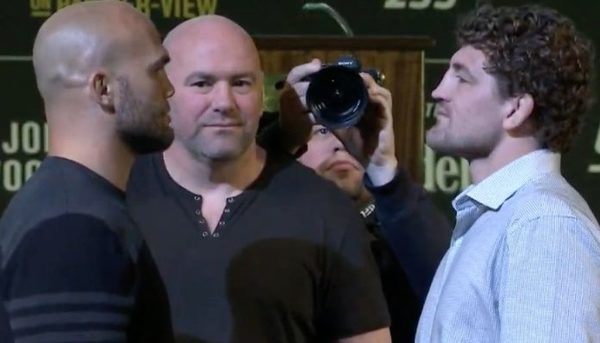 I've been waiting for a long time for Ben Askren to come to the UFC, now he's finally here! Only one thing, they matched him up with Robbie Lawler. Honestly, I think this is the number one toughest match up for him, because there really aren't many fighters that can sprawl and brawl like Robbie. Think of it this way, Rory MacDonald was able to take Tyron Woodley down in their fight, he couldn't take Robbie down to save his life at UFC 189, and it was a longer fight. I'm not sure that applies the way I used it, but it's an interesting fact to consider nonetheless.
Robbie Lawler has been around forever, debuting in the UFC when he was 4-0 at UFC 37, that's only six events later than BJ Penn's debut. He ended up going 4-1 in his first five fights with the promotion, then dropped his next two and went elsewhere. After leaving the UFC, he won the SuperBrawl Middleweight Championship, ICON Sport Middleweight Championship, and the EliteXC Middleweight Championship. He also fought Jacare Souza for the Strikeforce Middleweight Championship, but fell short. He had a bit of a dark period in his career where he went from 16-4 (1 NC) to 19-9 (1 NC) in a three year span.
When he came back to the UFC, he rattled off three very impressive wins, granting him a title shot against Johny Hendricks at UFC 171. He fell short in a 48-47 decision, and returned with two more big wins before challenging for the belt again. He won the rematch against Hendricks for the title, and defended it twice; both title defenses won Fight of the Year, in 2015, and 2016.
Ben Askren will step into a UFC cage for the first time ever this Saturday. He is a four-time NCAA Division I All-American, and placed second in his weight class the first two years in college, and was the best in his weight class the next two years, winning first place in both; that means he's a four-time NCAA Division I National Finalist, that's huge. He has numerous credentials in both wrestling and MMA, if you haven't, you can take a look at everything he's done in my article about him. He won the Bellator Welterweight Championship in just his seventh fight ever, and defended it four straight times, that's more than anyone ever in Bellator to date.
He left Bellator in 2013, and in 2014 made his ONE Championship debut. He won that fight, then challenged for the belt against vicious knockout artist Nobutatsu Suzuki, and TKO'd him just 84 seconds into round one. He defended that belt three times before retiring. He retired because he was tired of not being able to prove he's the best, because Dana White refused to sign him. At least he finally got over it and signed Ben, he should've been here a long time ago. So what if people think he's boring? The UFC kept Jon Fitch for a long time, they brought Jake Shields over and hyped him up like he was gonna give GSP a run for his money, so I don't believe that's why. I think Dana and Ben simply didn't care for each other, but that's settled and he's here! I'm very nervous about how this fight will go, it'll be a good one.
Tecia Torres (10-3) vs. Weili Zhang (18-1)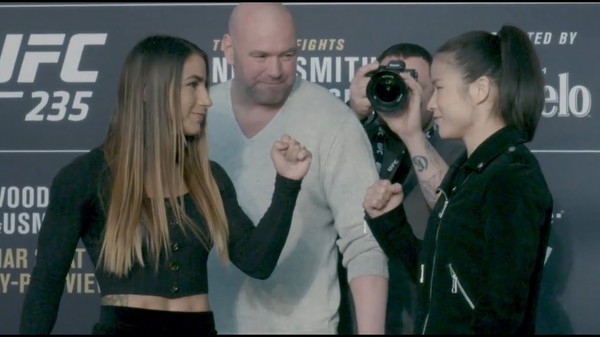 After a stint on The Ultimate Fighter 20, Tecia Torres made her UFC debut, and won her first three fights with the promotion, before losing a unanimous decision to UFC Strawweight Champion Rose Namajunas. After that she won her next three, bringing her record to 10-1 (6-1 UFC). She has since lost her last two, but to two of the very best in the world. She dropped decisions to both Joanna Jedrzejczyk and Jessica Andrade, and is looking to end that streak. Another streak she could try and end is Weili's win streak, which sits at 18; she hasn't lost since her first fight, and has finished 16 of those fights.
Weili's so far 2-0 in the UFC, we haven't gotten to see much of her, but what we have seen is very impressive. Tecia Torres was also 7-0 as an amateur in MMA, and 16-4 in amateur Muay Thai, with black belts in some type of Karate, I'm not sure which, and Taekwondo. Which will continue, Tecia Torres' losing streak, ar Weili Zhang's win streak?
Cody Garbrandt (11-2) vs. Pedro Munhoz (17-3) 1 NC
This is a great fight between two of the very best at 135 lbs. We have the man that solved the puzzle in Dominick Cruz, and over the course of five rounds at that, he didn't just catch him, he out fought him and out pointed him. I couldn't believe it, he did amazing, especially for being only 25 at the time. He holds a 32-1 amateur boxing record, and a 6-2 amateur MMA record. Nine of his eleven wins are knockouts, and he can wrestle very well too. He's one of those fighters that uses straight up boxing in MMA, he doesn't use MMA boxing like say Gilbert Melendez, or the Diaz', or Alexander Gustafsson; he bobs, weaves, throws punches like he's in a boxing match, and manages to never get taken down, talk about an incredible athlete.
Pedro Munhoz has done very well thus far inside the UFC. He lost his debut to Raphael Assuncao via unanimous decision, and has since gone 7-2 (1 NC); I'll say 8-2 because the one fight was overturned because of marijuana, and let's face it, it doesn't matter if you have that in your system, it doesn't help or hinder you. His only other two losses are both split decisions, and he's had a good mix of wins, with two TKO's, three submissions, and two decisions. His guillotine choke is probably his best technique, he's got a Urijah Faber-like clamp on his guillotines, but Cody works out with Urijah every day so I'm sure he's well prepared for that.
Cody went from unranked to champion in 2016, he won the belt at UFC 207 on the UFC's New Years card, but hasn't won since. His fight with Dominick Cruz was simply masterful, I didn't know if he'd ever lose, but then TJ Dillashaw happened. I hope the same thing didn't happen to Cody that happened to Barao, because TJ fought and finished him twice as well, and he's never been the same. That immediate rematch with TJ was a horrible idea, but it happened, and there's nothing anyone can do about it now. Munhoz isn't a stranger to titles either, as he was the RFA Bantamweight Champion; he defeated Jeff Curran for it in a five round fight, and defended it once before making his UFC debut.
I love this match up, and I'm not sure how it will play out, they're both so talented. I think if Cody can keep himself from getting hit, he beats everyone. But that's the thing, it's hard not to get hit when you're fighting the best in the world. That sums up the main card for UFC 235, I will next have a breakdown of the prelims, then will be covering the live results this Saturday for anyone that can't watch them. Stay tuned!