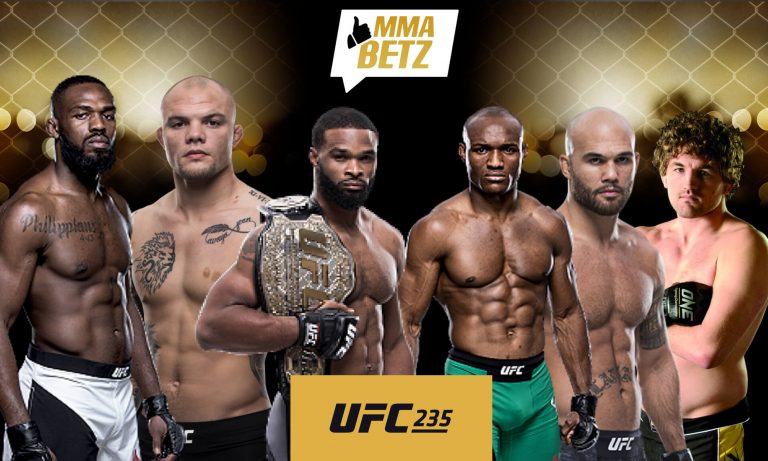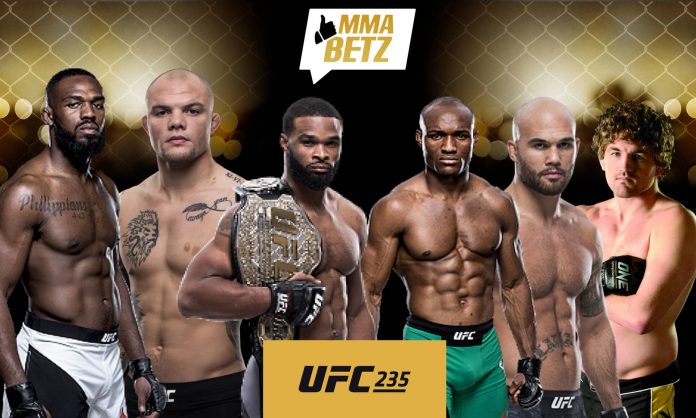 If you're looking to wager some money this Saturday night, it looks like it will be a good night for the betting favorites.
UFC 235: Jones vs. Smith, on Saturday, March 2, is a fight card for the ages. A card like this exemplifies just how and why the UFC has such a stranglehold on the mixed martial arts industry worldwide. To have this many big names and prodigious matchups drawn together on the same card is a spectacular show, and a further illustration of how in mixed martial arts, at least in 2019, it's the UFC and then there's everybody else.
On this night alone, any of the five fights scheduled on the main card could easily headline its own event, and two or three of the fights scheduled on the preliminary card undoubtedly could, too. Fight fans around the world have a lot to look forward to this weekend with UFC 235 from the T-Mobile Arena in Las Vegas, Nevada. Let's take a closer look at the preliminary and main cards, and I'll give predictions as to how I see the fights ending up.
Preliminary Card
Diego Sanchez (28-11) vs. Mickey Gall (5-1)
Odds as of 2/27/19:  Mickey Gall -260, Diego Sanchez +210
Mickey Gall enters this fight the favorite, but the young fighter has only six professional fights under his belt, and one of those was a spectacle against professional wrestler CM Punk. Even though Gall is an accomplished grappler, and has claimed multiple NAGA (North American Grappling Association) titles, I still believe that Diego Sanchez has the advantage on the ground, and the experience to back it up. I'm going with the underdog here.
Prediction: Diego Sanchez, decision
Cody Stamann (17-2) vs. Alejandro Pérez (21-6-1)
Odds as of 2/27/19:  Cody Stamann -190, Alejandro Perez +160
This is an interesting fight, with two experienced and well-rounded fighters getting the opportunity to display their talents on what will surely be one of the most watched UFC events of the year. I think that Cody Stamann bounces back from his loss to Aljamain Sterling at UFC 228 and gets the win here.
Prediction: Cody Stamann, decision
Misha Cirkunov (14-4) vs. Johnny Walker (16-3)
Odds as of 2/27/19:  Johnny Walker -145, Misha Cirkunov +125
I can't think of a more exciting and promising young fighter right now in the UFC than Brazil's Johnny Walker. However prepared Misha Cirkunov thought that he may have been for Ovince Saint Preux (OVP was forced to pull out of the fight due to injury), he's facing a much more dangerous opponent with a significantly higher trajectory in Johnny Walker. Walker has won 13 of his 16 professional victories by first round knockout or TKO, and I see him adding another notch to his belt here.
Prediction: Johnny Walker, 1st round TKO
Jeremy Stephens (28-15) vs. Zabit Magomedsharipov (16-1)
Odds as of 2/27/19: Zabit Magomedsharipov -250, Jeremy Stephens +200
The last fight of the prelims features UFC legend Jeremy Stephens vs. Dagastani standout Zabit Magomedsharipov. We can expect an absolute slugfest in this one, and Jeremy Stephens is as ready as he'll ever be for an attempt at a title run. However, I don't see him getting past the momentum of Magomedsharipov, who's on a 12 fight win streak.
Prediction:Zabit Magomedsharipov, 3rd round submission
Main Card
Cody Garbrandt (11-2) vs. Pedro Munhoz (17-3,1)
Odds as of 2/27/19: Cody Garbrandt -170, Pedro Munhoz +145
Cody Garbrandt is one of the best natural boxers currently fighting in the UFC. His lightning-quick hands and fluid head movement led to one of the most impressive performances that I've ever seen in the Octagon as he handily defeated Dominic Cruz back at UFC 207. While Pedro Munhoz is a more than capable opponent, Garbrandt will be fight with an enormous chip on his shoulder, coming off of back-to-back losses to TJ Dillashaw, and I just can't see him falling three in a row here.
Prediction:Cody Garbrandt, 1st round KO
Tecia Torres (10-3) vs. Weili Zhang (18-1)
Odds as of 2/27/19:  Weili Zhang -125, Tecia Torres +105
You may not know who China's Weili Zhang is yet, but before long, she will be one of the biggest names in women's mixed martial arts. Zhang is on an eighteen fight win streak, and although Tecia Torres is one of the more notable names in the UFC Strawweight division, I don't see her answering the call of the well-rounded Zhang. I think that the oddsmakers are playing this one a bit too close. Even though she may not get the finish, I see Zhang getting the win quite handily in this one.
Prediction: Weili Zhang, decision

Robbie Lawler (28-12,1) vs. Ben Askren (18-0,1)
Odds as of 2/27/19: Ben Askren -275, Robbie Lawler +225
In what many see as the most anticipated fight of the night, Ben Askren makes his UFC debut against Robbie Lawler. Dana White wasted no time in giving Askren the test of his career against one of the most violent men in the Welterweight division. In spite of the fact that Lawler has lost two out of his last three fights, he still should prove the toughest challenge to Ben Askren yet. That being said, I don't see how Robbie Lawler can keep this fight from going to the canvas and having Askren pound him into it.
Prediction: Ben Askren, 2nd round TKO

Tyron Woodley (19-3-1) vs. Kamaru Usman (14-1)
Odds as of 2/27/19:   Tyron Woodley (c) -180, Kamaru Usman +150
In the first of two title defenses of the night, the co-main event features Tyron Woodley against Kamaru Usman. Love or hate Woodley, there's no denying that he is one of the most prolific Welterweights in the history of MMA. Usman, an NCAA Division II wrestling standout, is riding a 13 fight win streak. Woodley, however, was an NCAA Division I wrestling prodigy, and like college wrestling, I think Woodley also has the advantage in striking and every other aspect of this fight.
Prediction: 3rd round, submission

Jon Jones (23-1,1) vs. Anthony Smith (31-13)
Odds as of 2/27/19: Jon Jones (c) -1100, Anthony Smith +700
Jon Jones is clearly the favorite to win this one and retain his Light Heavyweight title. However, I think that the fight will look much more competitive than what the oddsmakers are predicting here. Jon Jones is arguably the greatest MMA practitioner ever to compete. Anthony Smith is a name that a lot of casual fans may never have heard of. But, he is a capable fighter with a jiu jitsu pedigree, and he is a savage striker. He has also won fourteen of his last sixteen fights. While I don't think that Smith has quite enough to pull off the upset, I think he gives Jones a lot more trouble than what the oddsmakers have predicted.
Prediction: Jon Jones, decision
Safest pick of the night: Johnny Walker over Misha Cirkunov
Best chance for an upset: Diego Sanchez over Mickey Gall
What do you think? Like, comment and share. Tell me where you think I may have gotten it wrong.