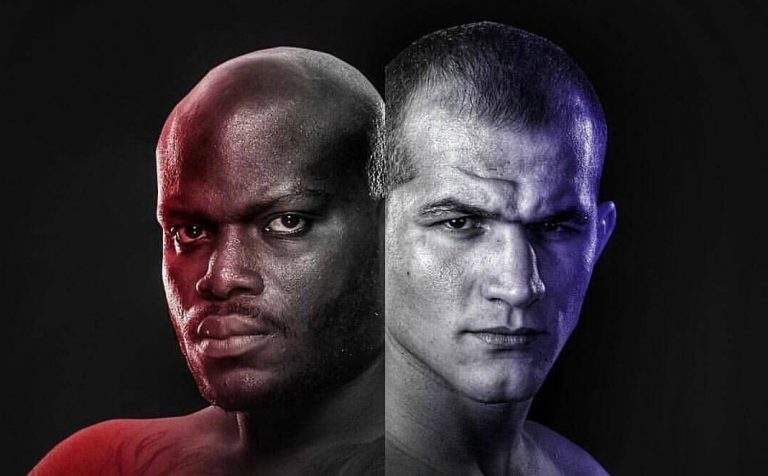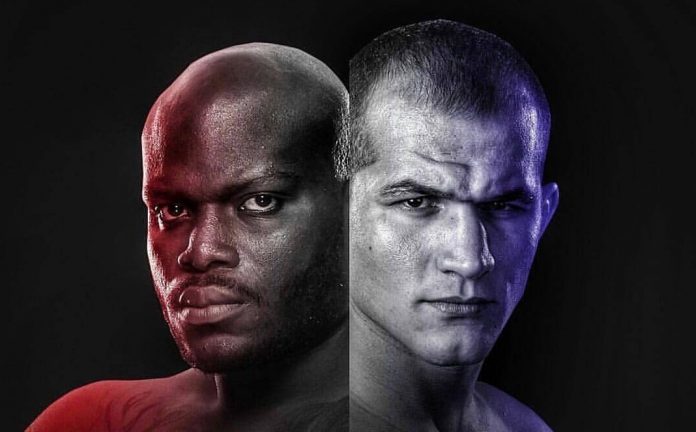 This Saturday in Wichita, Kansas, the UFC has it's 146th fight night card, with two of the sports hardest hitters ever headlining in the main event. This card has great fights from top to bottom, starting at 5pm ET for the prelims, and 8pm ET for the main card, both of which will be on ESPN+. Continue reading for the breakdowns of the last six fights:
Derrick Lewis (21-6) 1 NC vs. Junior dos Santos (20-5)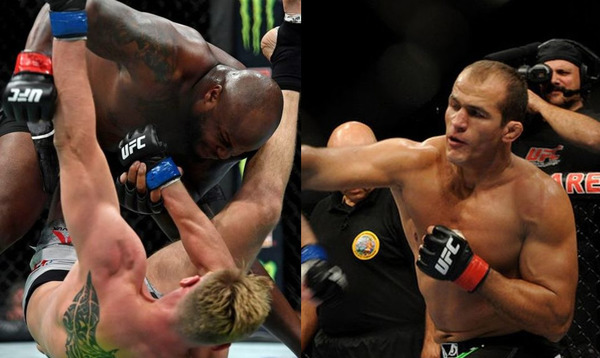 This is a great match up in the UFC's heavyweight division with the #3 contender Derrick Lewis taking on the #8 contender Junior dos Santos. Derrick's last three fights haven't been ideal, but he's gone 2-1 in them however; the first of which he won the most uneventful fight in modern UFC history against the #2 heavyweight contender, Francis Ngannou via unanimous decision. He was losing every second of the Volkov fight until he got the KO finish with just 11 seconds left in round three. That earned him a title shot against Daniel Cormier, a fight in which he lost via submission in round two. He is by far one of the hardest hitters ever in the sport of MMA, and he proved in the Volkov fight, not only does he carry his power late, but he only needs to win one second of the fight. Considering he's 2-1 out of his last three, he's 9-2 in his last 11, seven of those wins via knockout. Derrick is also the former Legacy FC Heavyweight Champion, and defended his belt once before making his UFC debut.
Junior dos Santos is the former UFC Heavyweight Champion, and also defended his belt once. He was the first man to defeat Cain Velasquez, and did so in a minute to capture the heavyweight gold back in 2011. He knocked out Fabricio Werdum in his UFC debut, and proceeded to win his next eight in a row; he started out his UFC career 9-0 with the promotion, before rematching Velasquez and losing his belt. Since winning and defending the belt, which brought him to 15-1, he's gone 5-4, and his last two fights are the only win streak he's had since winning the title. I'd definitely say Junior's boxing is more polished than Derrick's, he's a very technical striker; this is going to be a very interesting fight and outcome.
Elizeu Zaleski dos Sanots (20-5) vs. Curtis Millender (17-3)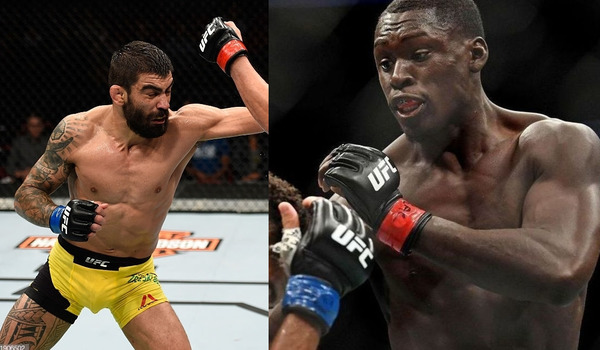 Elizeu is an absolute killer! His striking is both very fun to watch, and very dangerous; I'd say he's kind of like a welterweight version of Thiago Santos. 14 of his 20 wins are via knockout, nine of which are KO's, and he's gone 6-1 in the UFC so far, only loss via split decision in his promotional debut. He is the former Jungle Fight Welterweight Champion, and had one defense before vacating it to join the UFC. He's fighting another very skilled striker in Millender, I'm very excited to see how these two match up together.
Curtis Millender is a Bellator veteran, and has won his last nine fights, which includes his so far 3-0 stint in the UFC. He won the Fight Club OC Welterweight Championship twice, and had a single defense, and also won the Lights Out Welterweight Championship. His kickboxing is a thing of beauty to watch, though he doesn't have too many finishes. 11 of his 17 wins are via decision, but he can still put his opponents lights out, don't think he can't just because he usually doesn't. His two fights before joining the UFC, and his UFC debut, all three were KO's; two head kicks and one knee, that knee was landed on vicious Muay Thai striker and long time UFC vet Thiago Alves' chin. He has since won two unanimous decisions, and over skilled strikers in their own rights. This is gonna be a good one!
Tim Means (28-10-1) 1 NC vs. Niko Price (12-2) 1 NC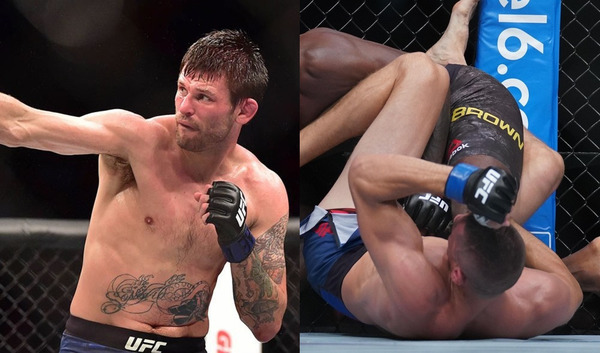 Tim Means has a UFC record of 10-7 (1 NC), 8-5 (1 NC) in this most recent stint; I think he could easily be 12-5 (1 NC) in the UFC however, considering his last two losses with very close split decisions. Niko Price has gone 4-2 (1 NC) since joining, that no contest of which was overturned after he KO'd Alex Morono because he tested positive for marijuana. Both of these men are quite opportunistic, and both are very dangerous. Tim Means if definitely a finisher, as is Price, as you see him KOing Randy Brown off his back with hammerfists in the right picture above.
Means has won two KOTC belts, one at lightweight, and one at junior welterweight; the junior welterweight one of which he defended three times, and the lightweight one he won right before his UFC debut. These two have a combined 40 wins, with a combined 27 knockouts, and seven submissions; that leaves only six decision wins between the two. Does that make for a barn burner or what?
Blagoy Ivanov (16-2) 1 NC vs. Ben Rothwell (36-10)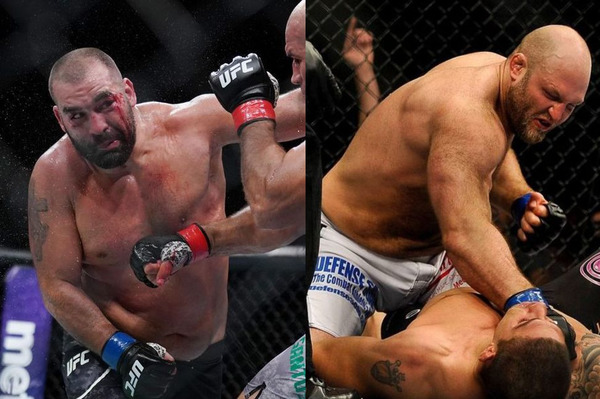 Firstly, I'd like to say that neither of these men have competed since their five round main event losses to Junior dos Santos. Ivanov lost to him in July of last year, and Rothwell lost to him in April of 2016. That's quite some time away, he had four finishes in a row before that loss however, and to really good competition; he TKO'd both Brandon Vera and Alistair Overeem, and submitted both Matt Mitrione and Josh Barnett. No one expected Barnett to get submitted by anyone, let alone Rothwell, and Big Ben got the Submission of the Year award for that in 2016. He has fought all over the world, and is the former USMMA Heavyweight Champion. Out of his 36 wins, 26 are knockouts, and seven are submissions, leaving him with just three decision wins; that's a 91.6% finish rate.
Blagoy Ivanov is a two-time Combat Sambo World Champion, one of which he defeated Fedor Emelianenko in, and won the gold medal. He also won the WSOF Heavyweight Championship and defended it four times before joining the UFC. His only loss prior was to Alexander Volkov, who is the former Bellator, and M-1 Global Heavyweight Champion. Out of Blagoy's 16 wins, six are knockouts, six are submissions, and four are decisions. Both of these men have gone five rounds before, but neither have fought in awhile, especially Ben Rothwell. It'll be interesting to see how this one pans out.
Beneil Dariush (15-4-1) vs. Drew Dober (20-8) 1 NC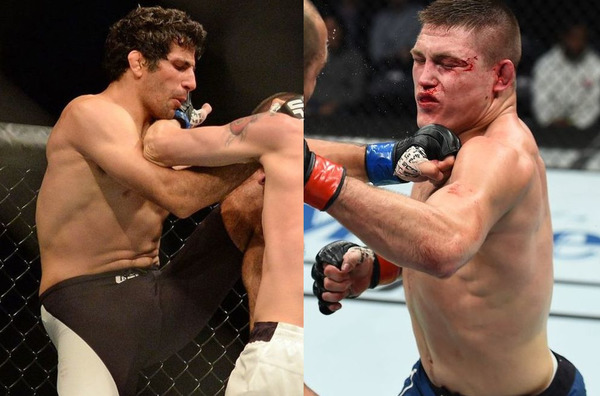 Beneil Dariush vs Drew Dober should be a very telling fight to see where each of these guys are in their careers and skill sets. Dariush came to the UFC when he was 6-0, and within a year and a half improved to 12-1, and against good competition as well. He holds black belts in both BJJ and Muay Thai, many thought he was the next big thing at lightweight, until he fell from 14-2 to 14-4-1; in that three fight span, he of course went 0-2-1, with both losses via vicious KO's. He has since rebounded with a unanimous decision victory over UFC newcomer Thiago Moises, who won his UFC slot on Dana White's Contender Series.
Drew Dober had a bit of a rough start to his UFC career; unlike Dariush who went 6-1 in his first seven, Dober went 1-3 (1 NC) in his first five. That only win was over former WEC Lightweight Champion Jamie Varner, however Varner hadn't won since a split decision victory two years prior, and was on a three fight losing streak at the time, and retired after the fight. Both of these guys are dangerous threats to one another; Dober's last two losses were via submission, and Dariush's last two losses are via knockout. Dariush has incredible BJJ, and Dober can crack, it'll be very interesting to see how this one plays out.
Tim Boetsch (21-12) vs. Omari Akhmedov (17-4-1)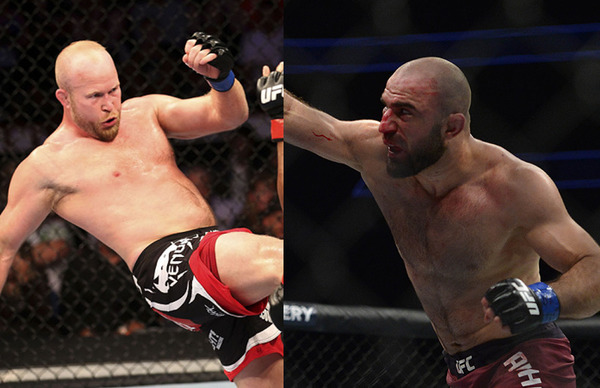 Tim Boetsch was at one point considered to be a dark horse of sorts in the middleweight division. After going 4-0 since dropping to middleweight from light heavyweight after his loss to Phil Davis, improving his overall record to 16-4, and picking up wins over Yushin Okami and Hector Lombard, he was widely thought of to be one of the next in line with another good win. That talk stopped after he dropped back-to-back losses to Costa Philippou and Mark Munoz, bringing his record to 16-6. Since then, he's gone 5-6, finishing all but one of his wins, and being finished in all six losses. He wrestled Division I in the NCAA, and is the former 5150 Light Heavyweight Champion, a title he won back in 2010.
Omari Akhmedov made his UFC debut when he was 12-1, and has since gone 5-3-1. He's the only man to defeat African brute, Abdul Razak Alhassan, a guy who's 10-1 with all ten wins via knockout, Omari was able to squeeze out a split decision against him. Omari has competed in Freestyle Wrestling, Combat Sambo, Pankration, and HTHC since he was young; holding an International Master of Sport in both Combat Sambo and HTHC. This is also an interesting match up that will be quite telling to see where each guy is in their careers. Neither are the most technical, but both are good at striking and wrestling, and both have beaten very good fighters in the past.