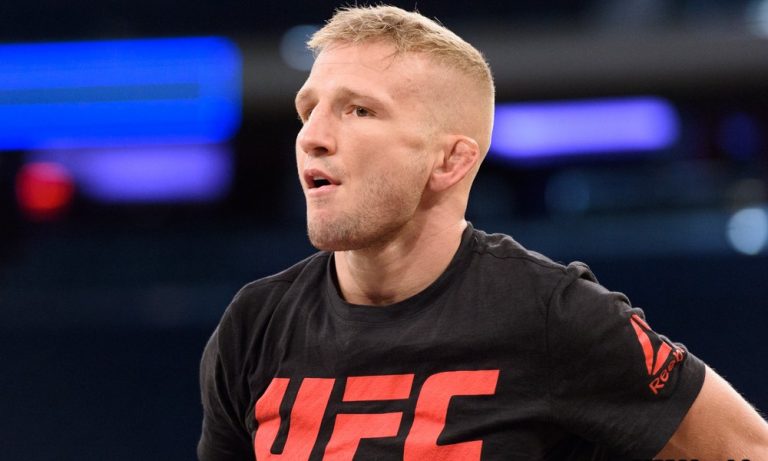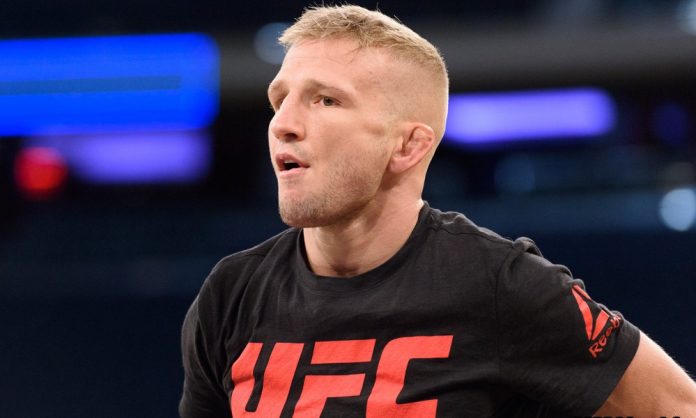 As everyone's heard by now, TJ Dillashaw has tested positive for an undisclosed banned substance following his UFC on ESPN+1 Flyweight Championship fight with Henry Cejudo. Though we don't know what it was, yet anyway, it appears that the NYSAC has suspended him for a year; it is unknown whether or not USADA will also give him a suspension at this time. There has been some speculation around him being on something from some of his peers, but is he really a dirty fighter? I'd like to think not, I love TJ Dillashaw. I think he's gotten a little more arrogant lately, and I'm not much of a fan of that, however he's one of the most entertaining fighters out there. He's kind of like the Vasyl Lomachenko of MMA, or like a Max Holloway that regularly throws head kicks.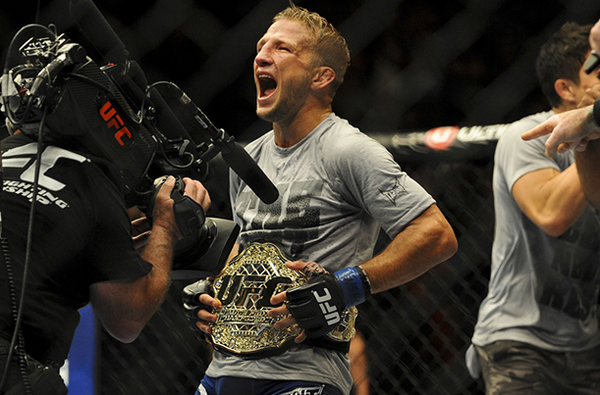 Hopefully USADA can prove it was a tainted supplement and get his suspension reduced, he'll be 34 in a year; that doesn't leave him too much time to be great. Considering this inconvenience, he has vacated his belt, stating:
"To all my fans, I wanted to be the first one to let you know that USADA and the NYSAC have informed me of an adverse finding in a test taken for my last fight. While words can't even begin to express how disappointed I am at this time, please know that I'm working with my team to understand what has occurred and how to resolve this situation as quickly as possible. Out of fairness and respect to the rest of my division, I've informed the UFC that I'll be voluntarily relinquishing my title while I deal with this matter. I want to thank all of you in advance for the support." He lost the belt to Cruz after winning it the first time, and later recaptured it. Will he be able to do that again?
Former two-time opponent to TJ, and #2 ranked bantamweight in the world had this to say about the matter: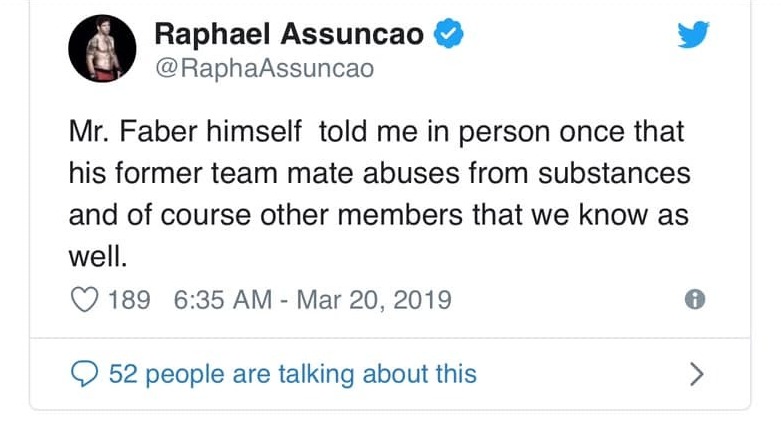 Cody Garbrandt also came out quite awhile ago saying TJ used PED's when he was at Team Alpha Male, claiming he was on 'everything', and claimed that TJ showed everyone at their gym how to do it. He stated that back before their first fight at UFC 217. Henry Cejudo also had something to say on the matter, stating that he feels bad for him, and people have been wrongly accused in the past; however, if he's being dishonest and is using, there's no place for that in this sport.
Considering all of this, will he ever be able to be considered the best bantamweight ever anymore? It was between himself and Dominick Cruz, both had lost the belt, even perhaps when they shouldn't have, and reclaimed it, they've both done that. Dominick Cruz however has never tested positive for anything, ever. This is of course TJ's first time, and we don't even know if it was intentional. You want to know what I think? Take a look below: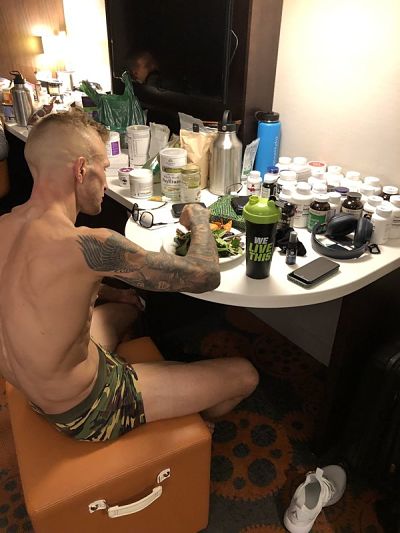 Look at everything on this table. That is a straight up ridiculous amount of supplements, he wasn't kidding when it took him a good ten minutes to explain to Joe Rogan what he was taking. That is absolutely nuts, I can't believe he never tested positive before this considering. Most fighters literally don't even take a quarter as many supplements as that; as many tainted supplements as there are out there, honestly it's no wonder why he popped. It doesn't surprise me in the slightest. There are over 20 pill bottles there, plus whatever is in that shake, which is most likely a protein or amino acid shake. First off, Cody Garbrandt and Urijah Faber do not like TJ, why wouldn't they try and convince everyone that he's using? Especially considering TJ finished Urijah's prodigy twice, I'm sure they're still bitter about that. Everyone obviously knows what Cody said, and Raphael Assuncao is saying what Urijah Faber said to him. Maybe I am wrong though, maybe he is using, I don't know, I don't assume anything; I absolutely cannot wait to find out though, the suspense is killing me. I really don't want to have to wait another year to see TJ again, as I said, he'll be 34 in a year, that's quite depressing.
Now that the 135 lb belt is vacant, who fights for it, and when?: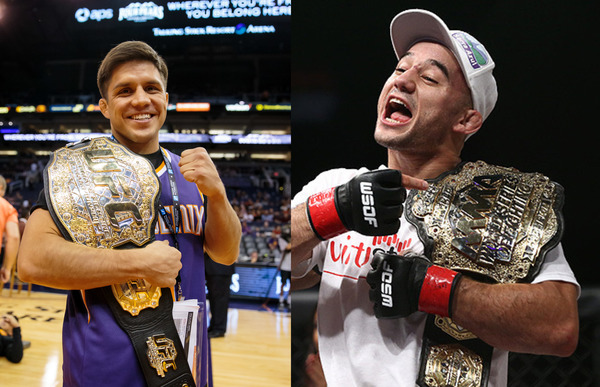 I'm not so sure when, but I think we most likely all know who it will be fighting for it. The UFC Flyweight Champion, Henry Cejudo versus the former WSOF Bantamweight Champion, Marlon Moraes. The Olympic Gold Medalist in Freestyle Wrestling, the three-time Pan American Championships Gold Medalist, plus two other wrestling medals in 2007, versus the two-time Muay Thai National Champion, Muay Thai black belt, and Ricardo Almeida BJJ black belt. I love this fight, I really wanted to see TJ defend his belt against Marlon, and Henry defend his belt against the last man to defeat him in a rematch with Joseph Benavidez, but now we know that isn't happening, at least the first of which. I'm pretty sure this will be next though, the UFC needs a bantamweight champion, Marlon is the #1 ranked contender at 135 lbs, and has first round wins over the #2 and #3 contenders.
Both of these guys have great kickboxing, and both have great ground games. Of course Henry's got the takedowns and control, but Marlon's got the submissions; he actually became just the second person to ever finish Raphael Assuncao via submission, the only other was Urijah Faber, which was in January of 2010. Marlon Moraes went 6-0 in title fights in WSOF, and Henry's so far gone 2-1 in title fights in the UFC; that loss however is to widely considered the best to ever do it, and he avenged it. Winning the title against Demetrious Johnson, and defending it against TJ Dillashaw ain't too bad of a resume if you ask me, and Marlon's is about as impressive as it gets too, going 17-1 in his last 18. Henry also won the WFF Bantamweight Championship by TKO in round one in just his third professional fight.
Both of these two have also gone five rounds before, which is important to know. How do you think this match up goes? Is this the next bantamweight title fight, or will it be something else? I think Marlon is definitely getting the next shot, but the question is if Henry will move up to attempt becoming the third concurrent UFC Champion in history. Why wouldn't he? He was considering moving up to fight TJ again, now it's just more of a reality it seems. Now we need two guys to fight for the belt, and as I said, the next two in line lost to Marlon, badly; the #4 contender is Pedro Munhoz, but I'd like to see him fight maybe Aljamain Sterling for the #1 contender spot; both are on three fight win streaks, and both are in the top five. Time will tell, for now we just keep our eyes peeled and see what's next for Henry and Marlon, and certainly what's next for TJ.