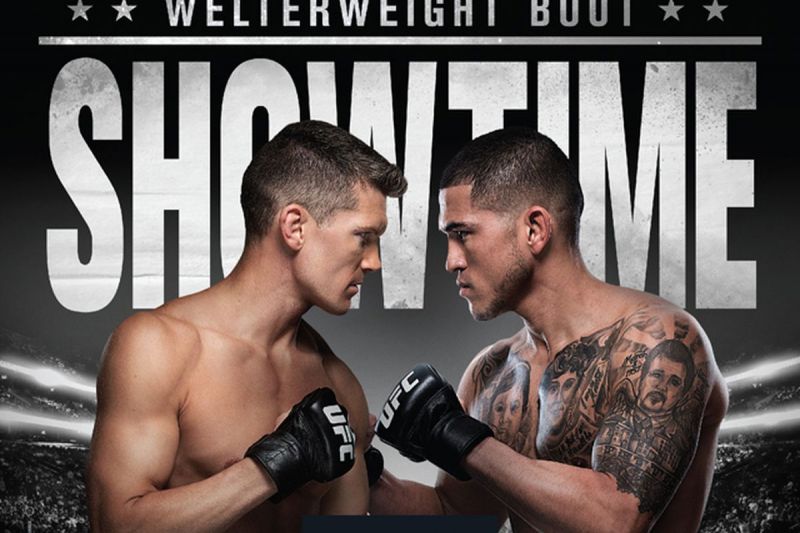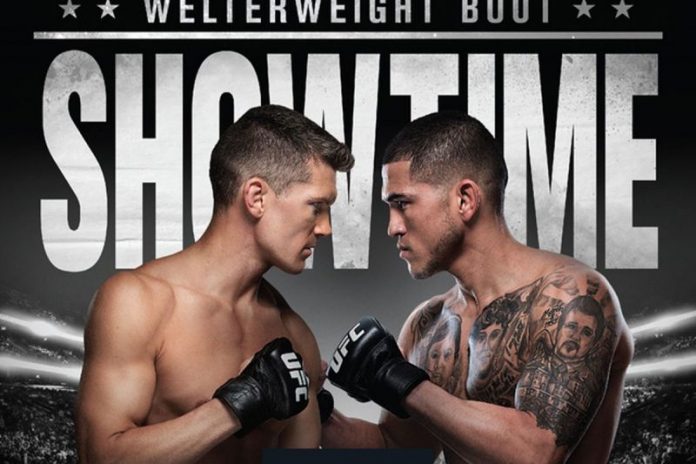 UFC Fight Night 148: Thompson vs. Pettis, Saturday, March 23, 2019 at Bridgestone Arena in Nashville, Tennessee, will be another card featured in its entirety on ESPN+. The main card spotlights six dynamic matchups that will be headlined by Stephen "Wonderboy" Thompson versus Anthony "Showtime" Pettis. Other notable bouts on the night include a Heavyweight showdown between Curtis Blaydes and Justin Willis, and a women's Flyweight match between young up-and-comer Maycee Barber and JJ Aldrich.
Last week, I went 4-2 on my picks with UFC Fight Night 147, and if you would have placed even money on all six main even fights, you would have only had a return of a paltry 103%. On that card, John Phillips made a crucial mistake in not pursing Jack Marshman to the canvas after a big knockdown in the first round, allowing Marshman to hang in the next two rounds and sneak away with a questionable decision. Also, Jorge Masvidal stunned us all with his huge upset knockout of Darren Till.
My record predicting fights for MMABetz: 16-5
This week, I expect a better return and to be back on the big money track. Also, I see a nice opportunity to win big with two upset picks. Follow along as I take a closer look at the main card and betting odds, and I'll give my predictions as to how I see the fights going down.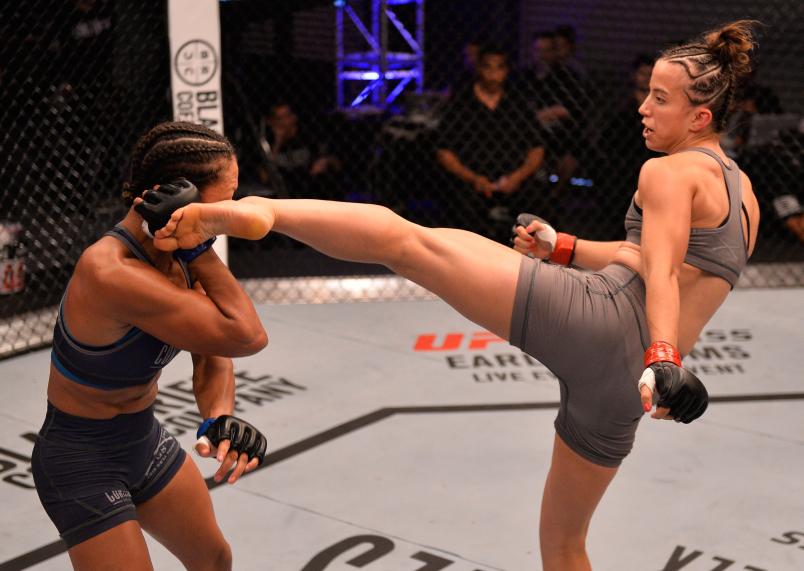 Women's Flyweight: Maycee Barber (6-0) vs. JJ Aldrich (7-2)
Odds as of 3/18/19:Barber (-235); Aldrich (+185)
Along with China's Weili Zhang, Maycee Barber is one of the most exciting young prospects in women's MMA. She's currently undefeated, and has five finishes in her six wins. The former Dana White's Tuesday Night Contender Series contestant will face UFC veteran JJ Aldrich. Aldrich is on a three fight win streak, and she has won six of her last seven. However, Aldrich's last five fights (4-1 in that span) have all gone to decision, and she's facing one of the most dangerous finishers in the women's Flyweight division. I think Barber will get the finish here and handily continue her unbeaten streak.
Prediction: Maycee Barber, first-round knockout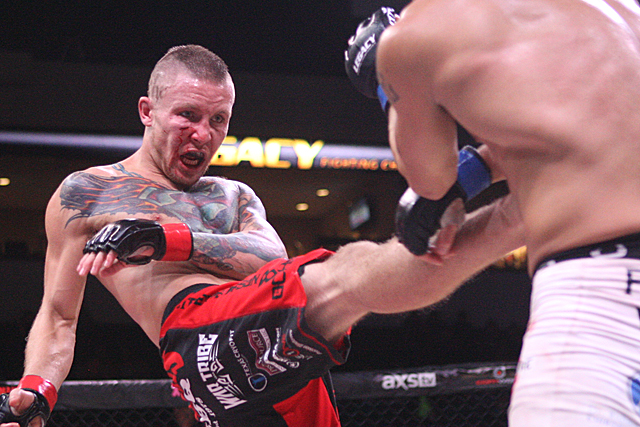 Featherweight: Luis Pena (5-1) vs. Steven Peterson (17-7)
Odds as of 3/18/19: Pena (-305); Peterson (+235)
The second fight on the main card of UFC Fight Night 148 is Luis Pena versus Steven Peterson. Luis Pena is an extraordinarily exciting UFC prospect. He's coming off of his only loss, a split decision to Michael Trizano back in November of 2018. Pena is an accomplished grappler, with four out of his five professional wins coming by way of submission.
Steven Peterson's career has been on a bit of a different trajectory, going 3-3 in his last six. Although Peterson hasn't strung together back to back wins since 2016, he has never been submitted in a professional career that spans almost nine years and 24 fights. I see this matchup being similar to last week's Gunnar Nelson versus Leon Edwards; a prominent submissioner against someone who's never been finished on the wrong side of a submission, and I dare say that Peterson gets the big upset.
Prediction: Steven Peterson, decision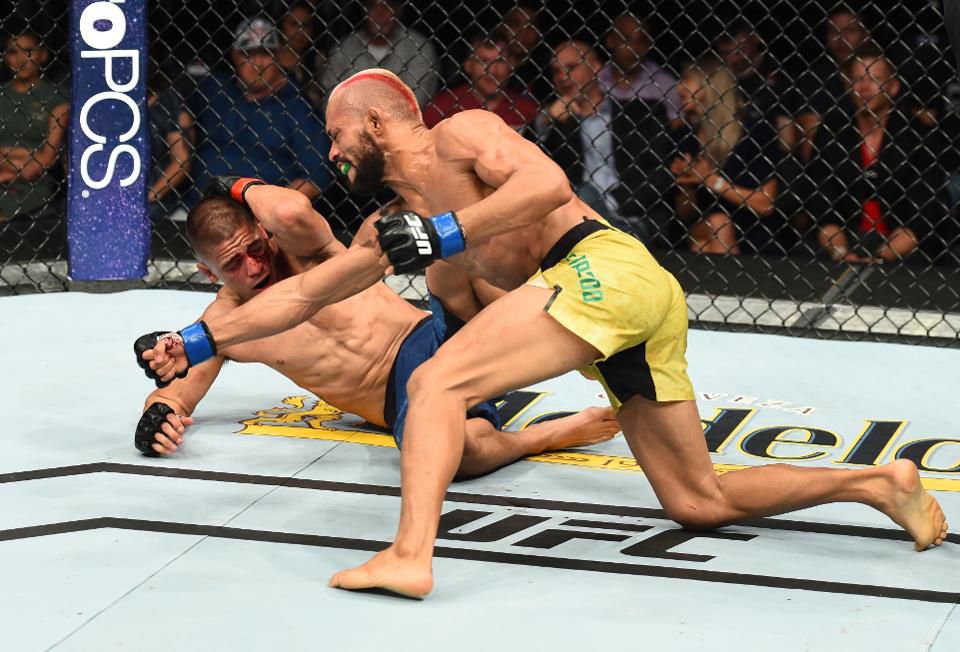 Flyweight: Jussier Formiga (22-5) vs. Deiveson Figueiredo (15-0)
Odds as of 3/18/19: Formiga (+135); Figueiredo (-165)
Next, we have Jussier Formiga taking on Deiveson Figueiredo, in what many think is the soon-to-be defunct UFC Flyweight division. Formiga enters this one on a three fight win streak, and he's come away with seven of his last nine. His last fight was a decision win over Sergio Pettis at UFC 229. In 22 victories, Formiga has never won via KO or TKO, and he's never lost by way of submission.
Deiveson Figueiredo is undefeated and has finished thirteen of his fifteen opponents. Even though this will be only his second time fighting outside of Brazil, I think that Figueiredo gets the win and finish here.
Prediction: Deiveson Figueiredo, second-round knockout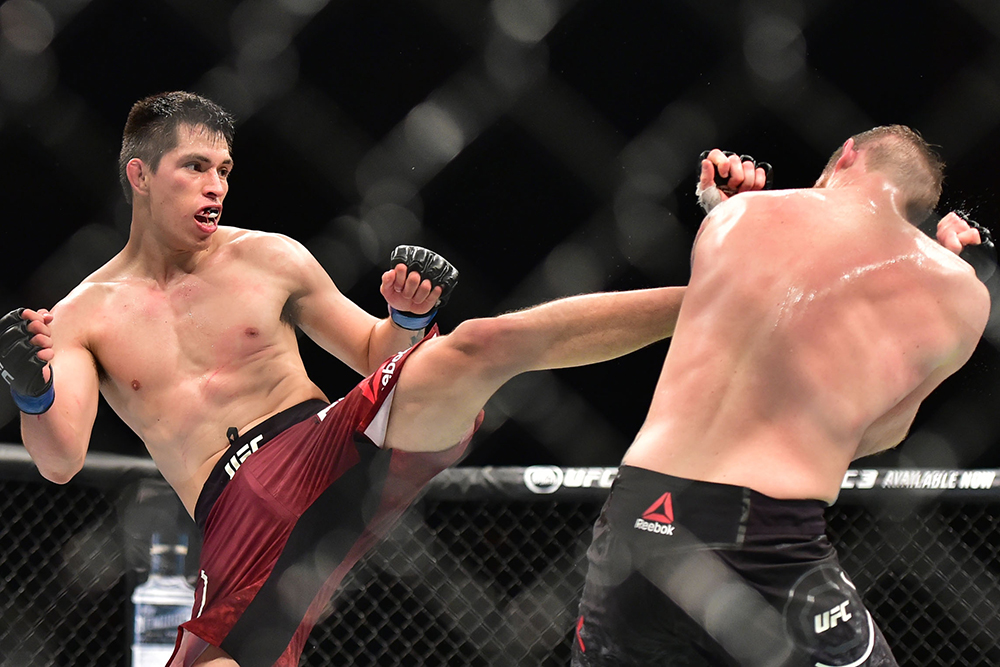 Lightweight: John Makdessi (16-6) vs. Jesus Pinedo (16-4-1)
Odds as of 3/18/19: Makdessi (-310); Pinedo (+240)
The fourth fight on the main card features one of the most tenured UFC fighters that many fans would have a hard time recognizing in John Makdessi versus Peru's Jesus Pinedo. John Makdessi has been with the UFC since UFC 124, way back in 2010. This will be his fifteenth UFC appearance. He's coming off of a two fight win streak, lastly a Fight of the Night performance over Ross Pearson in July of 2018. He's 4-4 in his last eight, and he hasn't won with a finish since 2015.
Jesus Pinedo comes into this one on a seven fight win streak dating back to mid-2016. He's won twelve of his last thirteen dating back to 2014. He's been incredibly active and consistent over his career, with 21 professional fights in less than six years. On his current seven fight win streak, the finish has evaded Pinedo only once. As well as being a finisher, he's also a well-rounded fighter with three submissions and three knockouts in the other six.
I'm going with my second upset pick of the night here, and I'm picking Pinedo. I think that Pinedo has all of the momentum entering this fight, and at only 22 years of age, I think that the sky is the limit for this young up-and-comer.
Prediction: Jesus Pinedo, first-round knockout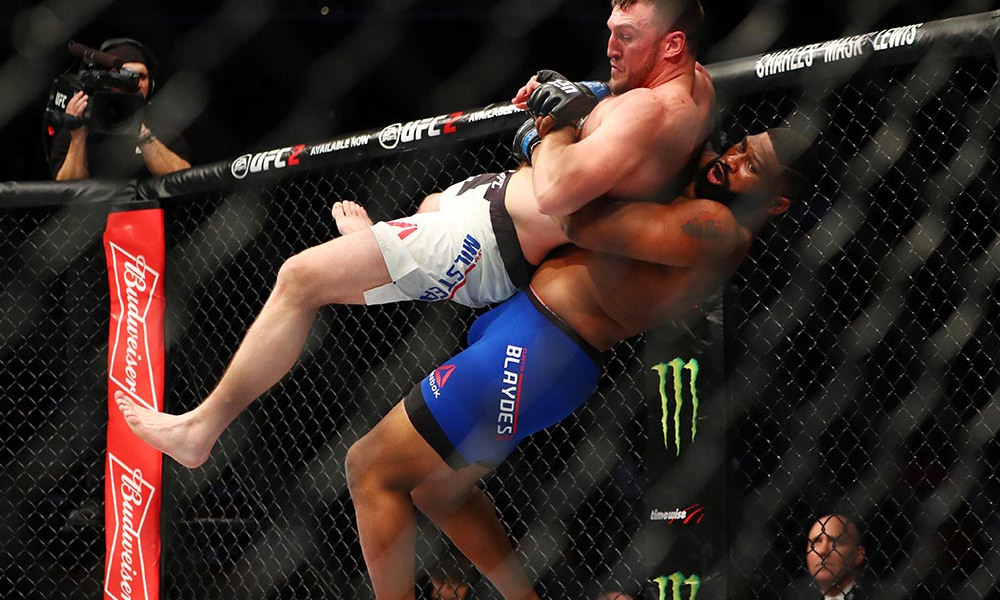 Heavyweight·Co-main: Curtis Blaydes (10-2-0, 1NC) vs. Justin Willis (8-1)
Odds as of 3/18/19: Blaydes (-285); Willis (+225)
In the co-main event of the evening, Heavyweights will collide in Curtis Blaydes versus Justin Willis. Blaydes has won four out of his last five, but he is coming off of a first-round knockout loss to Francis Ngannou back in November of last year. In fact, the only person to ever beat Blaydes has been Ngannou, and he's done it twice. The only other blemish on Blaydes' career is a victory against Adam Milstead that was overturned to a no contest after Blaydes tested positive for marijuana.
Justin Willis is on an eight fight win streak, losing only in his very first bout. However, four out of his eight victories have come by way of decision, and this will be only his second real challenge that he's had in the UFC (the first was a decision victory over Mark Hunt in December of 2018). I think this fight will be an immense growth opportunity for Willis, but Blaydes should get the win.
Prediction: Curtis Blaydes, second-round knockout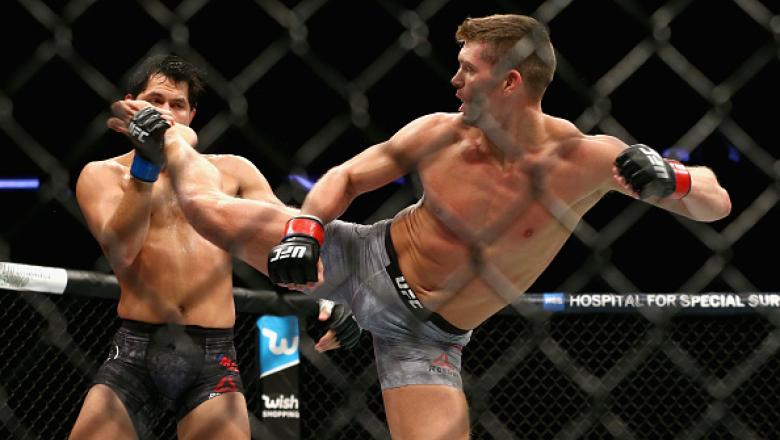 Welterweight·Main event: Stephen Thompson (14-3-1) vs. Anthony Pettis (21-8)
Odds as of 3/18/19: Thompson (-450); Pettis (+325)
In the main event of the evening, Anthony "Showtime" Pettis moves up to Welterweight to take on Stephen "Wonderboy" Thompson. Although Pettis' career has been up and down lately, he had a momentous emergence in the UFC with a record of 18-2 back in 2014. Since then, he has gone 3-6 and has yet to string together back-to-back wins.
Stephen Thompson has won only one in his last four, but he was 13-1 before then. Incredibly, Thompson has fought thirteen of his eighteen professional fights with the UFC. Ten of his eighteen fights have ended in decision, and Thompson has never been finished in his career. Even though he hasn't gotten a finish in over three years, I think Thompson has a great opportunity to set his career back on the right track with a decisive win over Anthony Pettis here.
Prediction: Stephen Thompson, fourth-round knockout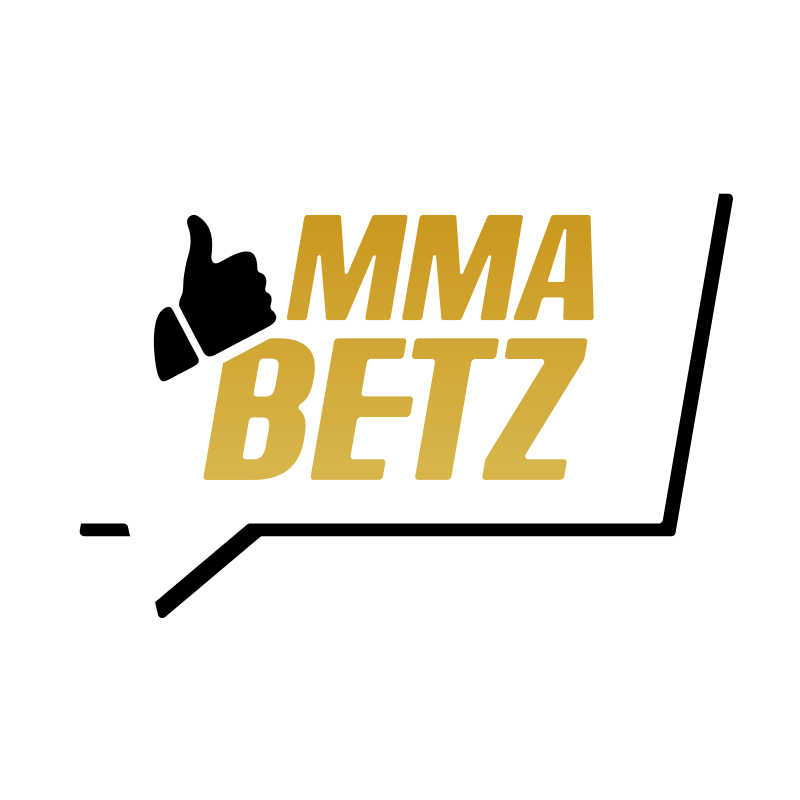 Safest pick of the night: Stephen Thompson over Anthony Pettis
Best chance for an upset: Steven Peterson over Luis Pena
Tell me what you think! Where do I have it right, and where did I get it wrong? Who are you going with? Don't forget to like, comment and share!