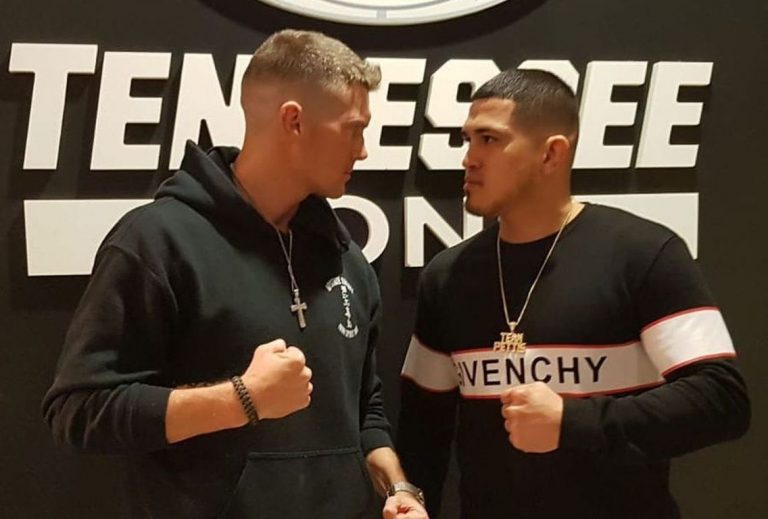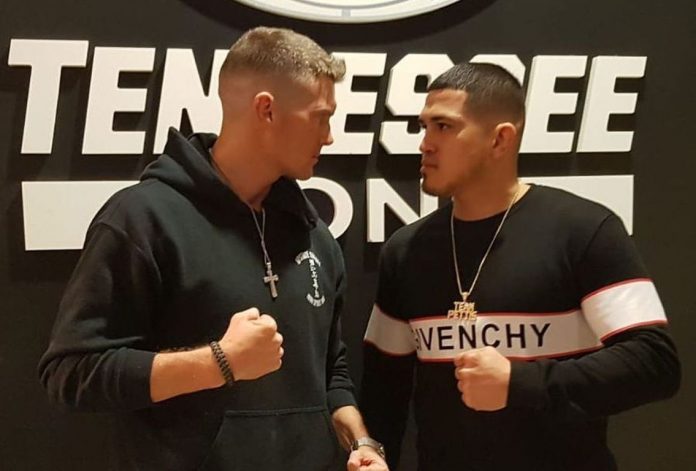 This Saturday the UFC goes to Nashville, Tennessee, for UFC on ESPN+6. All 12 fights will be on ESPN+, and the preliminary card will start at 5pm ET. I will only be breaking down the main event in this text, simply because it deserves it's own article. We have two of the best karate practitioners in the sport competing in the five round main event as the former champion at 155 lbs moves up to challenge the former two-time title challenger at 170 lbs.
Stephen Thompson (14-3-1) vs. Anthony Pettis (21-8)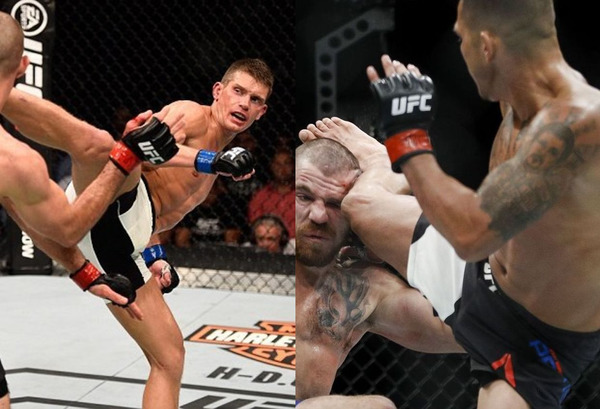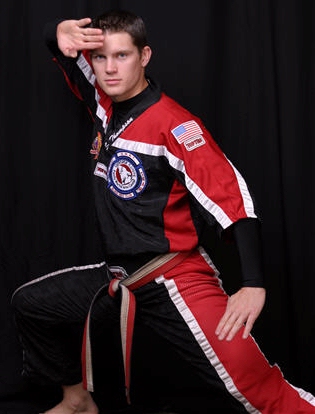 I'll start off by saying this is only Anthony Pettis' second fight ever at welterweight, aside from the fight just before his WEC debut, as he's always been a lightweight, along a two stint fight at featherweight, one of which he missed weight for. Wonderboy has always been a welterweight, but at least for Anthony's sake, he's not that big of one. Despite that, Thompson does hold a first round knockout win over the current UFC Middleweight Champion, Robert Whittaker; he's the only fighter to ever finish him with strikes. He gets that from his karate base, his sprints are some of the most dangerous in MMA. Everyone used to call Lyoto Machida the karate kid, Wonderboy has every right of calling himself that as well.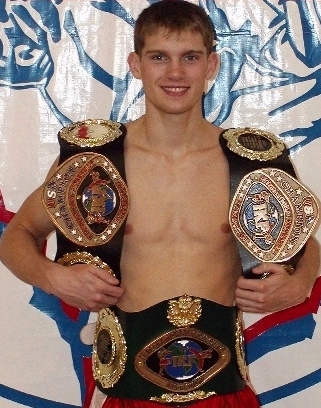 He has made his striking so effective in not only MMA, but kickboxing as well, going 57-0, which included a 37-0 stint as an amateur and a 20-0 stint as a professional. He won ten amateur championships, two national amateur tournaments, and a North American amateur tournament, and two world championships as a professional in the sport. After his career in kickboxing, he turned to MMA. To start, he had black belts in Japanese JuJitsu, American Kickboxing, and a 5th degree black belt in Kempo Karate; he also now holds the rank of brown belt in Brazilian Jiu-Jitsu. His range and diversity of strikes, especially his kicks makes him a hard fight for anyone. He also has very underrated hands, as does Pettis; both can hurt you with punches, and both can hurt you with  a wide range of kicks. Stephen's last win was over the man to just knock out formerly ranked number two contender last weekend, Jorge Masvidal, as you see him landing a punch on Jorge below.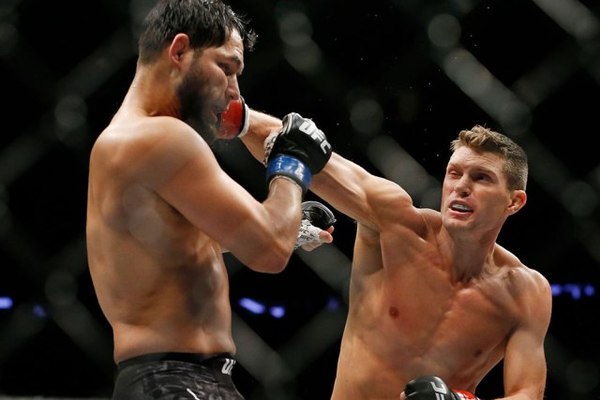 Both of his Tyron Woodley fights were incredibly close, and so was his Darren Till fight; the only person that ever beat him convincingly was Matt Brown back when Thompson was just 6-0, and Brown also humbly stated that Wonderboy almost knocked him out in that fight. Thompson has competed at the highest level of each combat sport he's partaken in, will he get another title shot with a couple good wins? I think he might, especially considering Tyron lost his title, and Thompson's never fought Usman. He hasn't fought in almost a year, and is 36 years old. Let's hope he's still at his peak.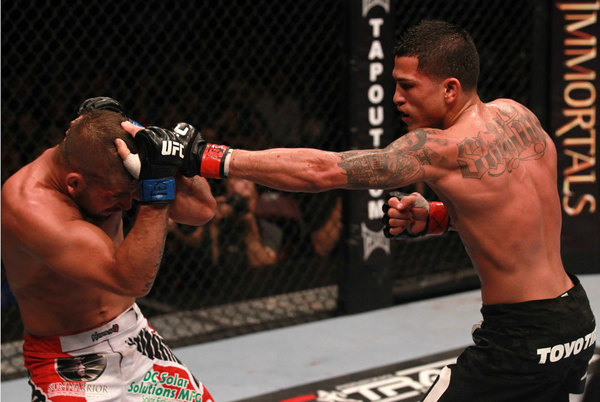 Anthony Pettis is coming back after healing his broken hand suffered in his UFC 229 fight with Tony Ferguson. Anthony Pettis has a very decorated resume inside the octagon, as a striker and a grappler. He also holds a 3rd degree black belt in Taekwondo and a black belt in Brazilian Jiu-Jitsu; my thought on that, it's about time considering he's been submitting black belts since he was a blue belt. Yep, that's right, when he submitted BJJ black belt Benson Henderson back at UFC 164 for the UFC Lightweight Championship, Pettis was just a blue belt.
Since then he's won four times, three more fights by submission, over two BJJ black belts, the other over brown belt Michael Chiesa, who's an absolute tank on the mat, and has a couple submission wins over BJJ black belts himself. The problem is he's lost six times since then; he'd never lost via stoppage until his sixth loss, which was to Max Holloway. Something that worries me a little, his last two losses were via injuries; the rib injury against Dustin Poirier, and the broken hand against Tony Ferguson. He's always been an injury prone fighter, I hope his body isn't quitting on him.
He's the former GFS Lightweight Champion, and before he won the UFC Lightweight Championship against Ben Henderson, he also held the WEC Lightweight Championship, and also defeated Ben Henderson for the belt in that fight. He was supposed to get an immediate title shot upon his UFC debut, however then champion Frankie Edgar and number one contender Gray Maynard were tied up considering their draw at UFC 125; he was then scheduled against Clay Guida.
He lost to Guida in his UFC debut, and in his next fight defeated Jeremy Stephens. He then KO'd Joe Lauzon with a beautifully set up head kick, and also KO'd 28-0-1 professional kickboxer Donald Cerrone with a liver kick, earning him the UFC Lightweight title shot. He was also a dangerous finisher in the WEC, going 5-1 with four finishes, and his only loss via split decision to a 45 fight veteran in just his tenth fight.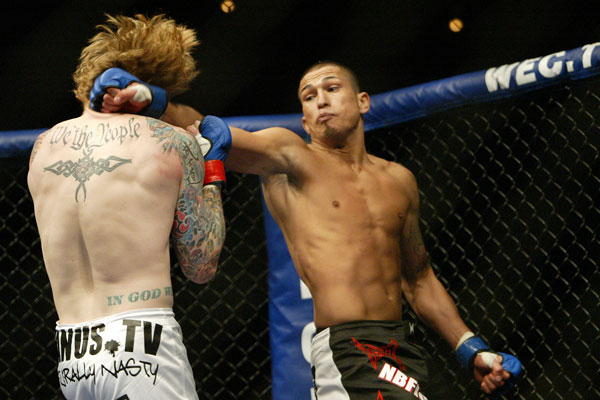 Anthony was something different that's for sure, he was special. The showtime kick, the knee he landed to Cerrone's face after jumping off the cage, how quick his kicks were, he can fight from both stances, how good his guard is; he's not just a lethal striker, he can wrap you up quick too. He lived up to the hype indefinitely, he just didn't keep it. He got passed by, unfortunately the blueprint on how to beat him was written too early on; the UFC could've really used a champion like him, he was so flashy, and he still is. He isn't done by any means, I just think most expected him to sit comfortably at the top for awhile, as did I. He can definitely win this fight, don't think he can't, everyone seems to think this is a gimme fight for Wonderboy, it's not, this is my reasoning: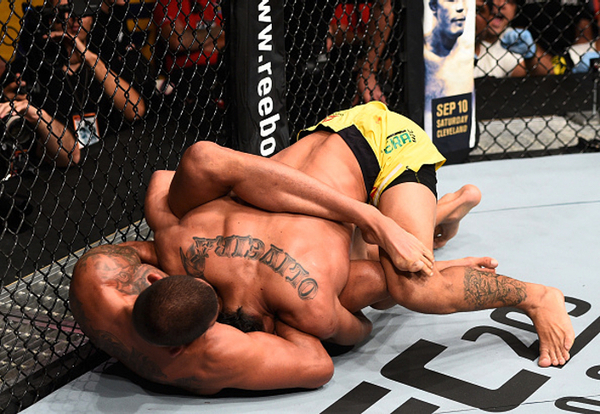 Remember when everyone counted out Jorge Masvidal against Darren Till just a week ago? Well, Anthony Pettis, like Jorge Masvidal, is coming up to welterweight to fight a top three welterweight; Till was ranked at number two, and Wonderboy is ranked at number three. Masvidal has been a welterweight for nine fights now, but was a lightweight his whole career prior. Anthony is testing out the welterweight waters considering he hates how his body always balloons up after weight cuts. Who knows, maybe he'll shock the world and 170 lbs will be his new home. People think, well Pettis is a Taekwondo black belt, and Thompson is a Karate black belt, it'll be a stand up fight and Thompson is bigger/better; first off, again, didn't we think the same with Till versus Masvidal?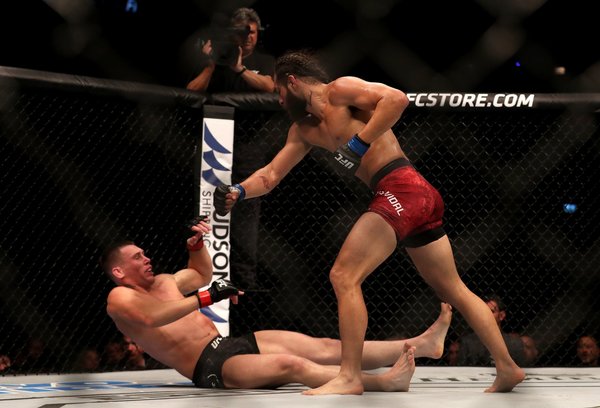 Secondly, has everyone forgotten this is MMA, and anything can happen? Anything like perhaps Anthony Pettis getting another submission? This isn't a kickboxing match. He's submitted higher level grapplers in the past, and anyone would be stupid to think there's no way this fight hits the mat. Yes it's more likely it'll be a stand up fight, but it's MMA, roughly nineteen out of twenty fights hit the mat at some point. Even Masvidal versus Till hit the mat a couple momentary times; all Pettis needs is a moment, he's incredibly quick with his submissions.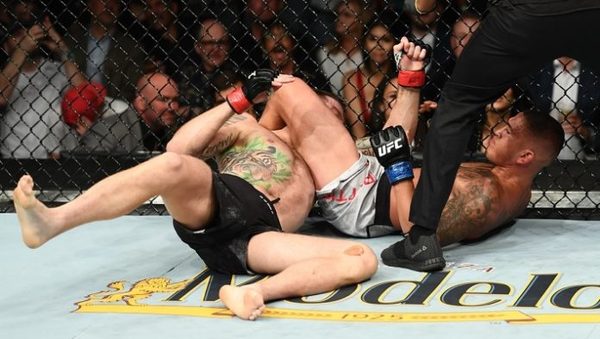 How do you see this fight going? Yes I agree it's more likely than not that Wonderboy takes it, but as I said, this is MMA, anything can happen. Both of these guys are finishers, and both are quite flashy; they both have great highlight reels. Will this Saturday be another highlight reel? I assume yes, but for who?
Tale of the Tape:
Wonderboy              Showtime
Age: 36        –        32
Height:    6′      –     5′ 10"
Reach:    75"    –    72.5"
Stance: Switch   –  Switch
Wins: 7 (t)ko, 1 sub, 6 dec    –    10 (t)ko, 7 sub, 4 dec
Losses: 3 decision    –    3 (t)ko, 5 decision
Training Martial Arts Since:
1986 – 1992
Pro Mixed Martial Artist Since:
2010 – 2007