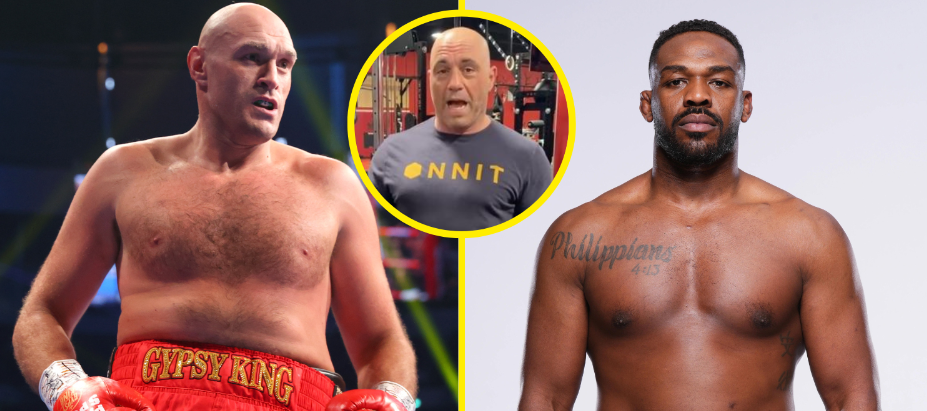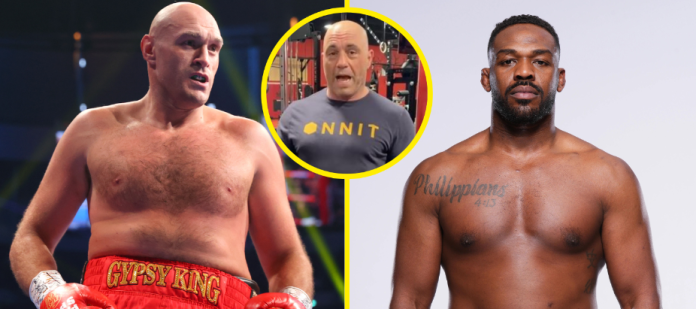 Tyson Fury blames Joe Rogan for his back-and-forth with Jon Jones and Dana White.
Last month, Fury slammed Rogan for saying that Jon Jones would smash him if they were locked in a room, and only one person were to survive. The Brit took issue with the UFC broadcaster's comments and slammed him, which drew reactions from Jones and Dana.
For the past few weeks, Fury and the UFC have been involved in a back-and-forth with the UFC even going as far as sending 'The Gypsy' King a hybrid fight offer.
Fury doesn't want to fight in a cage and wants Jones to step into his world, which the UFC heavyweight champion is willing to do.
Fury blames Rogan for the chaos.
"It was actually Joe Rogan, little s***bag, who [started this]," Fury said, according to Bloody Elbow. "Just out of the blue, there was no talk of me or Jon even fighting. Jon's a great guy, probably the GOAT of MMA. [Rogan] said, 'Oh if Tyson Fury goes in a room with Jon Jones he's going to get absolutely smashed to bits.' Like, if someone goes in the room with me and it's no holds barred. You're going to have to kill me to stop me."
Rogan wasn't the only one who remained on the receiving end of Fury's verbal jabs, the boxing phenom also accused Francis Ngannou of running scared.
"I've offered to fight Ngannou in a cage under boxing rules with four ounce gloves on and guess what's happened? His arsehole fell out," Fury said while responding to a question about Ngannou. "Obviously my forte is not taking people down and all that sort of stuff, it's different for me. It's like, yeah I'm going to fly a jet plane. I don't know how to fly a jet plane, I have no idea. In a stand up sport, in punching combat, whether it's in a cage, in a phone box, whatever it's going to be, if they want to do that, then no problem. But definitely not, I'm not going into any MMA fights."